Katie Stats' ACC Weekend Gambling Breakdown
Michael Dwyer. Shutterstock Images.
Ok ok ok, I know that this is very long, but if I'm diving into college football, I'm going to do it right. I divided up my break down of the games to help the read go quicker or to help you navigate to specific areas. I expect bettors or fans to come in and look at specific games they are interested in. If you read the full thing, bless your soul, and thank you. Last week I put these up on my twitter, so least being on the blog it will hopefully be more accessible. (Eventually, these will just be on Barstool Bets so get used to checking over there when Friday rolls around) Someone DMed me recommending that I put these on OnlyFans and charge for them, but my parents will read this and I wanted to spare them the heart attack. But regardless, I'm here, you're here; let's talk some football. 
Giphy Images.
#1 Clemson @ Georgia Tech, 12pm, opened at Clemson -27.6, 60.
Questions to think about: Can Georgia Tech catch Clemson sleeping? How do you think Jeff Sims, a true freshman QB, will fare under this mental and physical pressure? Will Georgia Tech's momentum from an upset win give them an advantage? When will Trevor and Travis be benched for 3rd string? 

Matchup: Clemson has won the last 5, with an average score of 38.8-15.2, but the just last two matchups have been an average of 50.5-17.5. Clemson is by far the more talented team, Georgia Tech could cover if Clemson takes the foot off the brake, or if they don't take them seriously and look to Syracuse. But there isn't anything about Syracuse that would make Clemson inclined to look ahead to them. About 20% stadium capacity. 

Clemson (4-0) coming off of a 42-17 win over #7 Miami, and a 41-23 win over Virginia the week before. Games are averaging 55.6 total points per game with Clemson scoring 42.3 of them. They're a very pass heavy and Travis Etienne team. Etienne has 392 rushing yards, the next RB has 67 yards. Clemson has a history of an ACC scare game early, with UNC (21-20) and Syracuse (27-23) the year before that, lost to Syracuse, in 2017, 27-24...and goes on. Xavier Thomas might see action this weekend if he gets in a full week of practice. Clemson has won the last 13 road games when favored.

Spread: Haven't covered a 3+ score game yet this year (3 games), but covered the 4 before them. With Trevor Lawrence, are 8-3 ATS as the away favorite, 16-5 ATS vs. ACC teams. Are 5-1 ATS when scoring 40+ in the previous game. 

Total: With Trevor, are 13-19 for the over as a favorite, when favorited by 21+ are 8-14 for the over. When a favorite on the road the over is 1-6 in the L7.

Georgia Tech (2-2) coming off of a 46-27 upset win over Louisville, and a 37-20 loss to Syracuse the week before. Games are averaging 57.3 total points per game with GT scoring 25.8 of them. Slightly a pass heavy team but does both. Has a true freshman as their quarterback, and this is going to be the biggest defense he has seen yet. Jeff Sims has shown signs of life and has the potential of being good at GT but nothing extraordinary, and consistent, this year so far. He leads his team in rushing yards as well. During the Louisville game was his first time not throwing an interception, after averaging 3 a game. He is about to get thrown in the deep end vs. Clemson, and we'll find out very quickly if he will sink or swim. 

Spread: Last time GT covered vs. Clemson was 2014, did push in 2017. Under Collins are 0-4 ATS after a win, 0-3 ATS vs. ranked teams, and 2-5 ATS as a home underdog. Are 2-9 ATS in the last 11 home games. 

Total: Last 3 games have gone over. Under Collins are 5-2 for over as home underdog, 3-0 for over vs. ranked teams. 

Opinion: Doesn't take a genius to see that Clemson is by far the better team here, and that is not close. So the question isn't who will win but who covers. If Clemson wants to cover they can, if they want to rest their starters then maybe not. For the past few years, Clemson has had a surprise ACC struggle game, so maybe this might be it? But this isn't a regular year, and I think a lot fewer teams are overlooking lesser opponents to tougher ones in the next week. So I don't think that Clemson sleeps on Georgia Tech and is forced to play the first team the whole game. Georgia Tech was the underdog last week and had to focus on that upset, and put likely everything on that. Also pour one out for Jeff Sims so is in for a rude welcome to the big league game. He'll likely have a play or two that will make you say "oh shit this guy can play" but Clemson's defensive line will win this battle throughout the course of the game.
---
Giphy Images.
Louisville @ #4 Notre Dame, 2:30pm, opened ND -16, 63.5
Questions to think about: What is Louisville doing so wrong? Was last week just shaking off rust for Notre Dame or FSU figuring something out? What has Notre Dame done to earn that #4 spot? Will Notre Dame take Louisville seriously, and prepare for them so?

Matchup: Met last year, Notre Dame won 35-17 at Louisville; this was the opener for both teams. Louisville covered, and the under hit. Notre Dame had a 3 week hiatus, and likely got all of the rust off last week vs. FSU. Louisville is off of its 3rd straight loss. About 20% capacity, just students and faculty. 

Louisville (1-3) off of a 46-27 loss to Georgia Tech with awful weather, a 23-20 loss to #21 Pitt, and loss to #17 Miami 47-34. Games have been averaging 63.3 total points per game with Louisville scoring 29 of them. Can run and throw, but more emphasis on throwing. Last week they allowed GT to go on a 19-0 run and a 20-0 run and were held scoreless in the 4th quarter. Had 3 turnovers that killed momentum and gave GT great field position. This is Louisville's third straight road game. Have the #9 RB in yards per game, Javian Hawkins, with 117.0. Louisville didn't lose back to back games last year and now have lost 3 straight. 

Spread: When an underdog by 14+ are 1-7 ATS since 2012. Under Satterfield (2019) are 1-3-1 ATS as an away underdog, and 4-2-1 ATS after a loss. When an underdog by 14+ are on a 1-7ATS, with that coverage coming in 2019 when they played Notre Dame. 

Total: are 3-1 for the over this season. Under Satterfield are 5-2 for the over as the away team, 3-2 for over as an away underdog, and 2-3 for over vs. ranked teams. 

SU: haven't won when an underdog by 14+ points since 2013 (8 games) and since 1988 when on the road. Under Satterfield are 2-5 SU as a road underdog. 

Notre Dame (3-0) off of a 42-26 win over FSU, and a 52-0 win over USF on 9/19. Games have been averaging 53.3 total points per game with Notre Dame scoring 14.3 of them. Are a slightly run heavy team, but can pass well too. Has #7 RB Kyren Williams who is averaging 119.67 yards per game, and has 4 TDs through 3 games. Looking back at last week's FSU @ Notre Dame game, that was the most points FSU has scored this year vs. ACC teams, and the best they've looked, objectively, in ACC play. Was that FSU finally figuring some things out, Notre Dame just being rusty after not playing for a while, or Notre Dame not living up to the hype? The 4th quarter was scoreless on both sides.

Spread: on a 20 SU win streak of when favored by 14+. Since 2019, after a win, they are 9-2 ATS. Are 1-2 ATS this year, and only covered the non-conference game (USF). Have covered the last 5 games when the total is 60+. 

Total: are 2-1 for the over this season. 8/L9 games have gone over.

SU: 21 straight home wins, and the last 10 have been by an average of 27 points. 

Opinion: UGH. I've said this before, and I'm going to say it again; Notre Dame is WILDLY overrated. I don't think they've earned that #4 title. Yes 3-0 but they haven't done anything revolutionary, they simply did what they were supposed to do. By no means am I saying they're bad, I'm just saying they haven't impressed yet. "BuT wHaT aBoUt BeAtInG uSf 52-0?" uhhh USF sucks. That's like calling Miami a top 10 team for beating the dumpster fire FSU team 52-10…oh wait the AP Poll did that. And look how quickly Miami was outed as being "just a good" team vs. Clemson. So yes, the same principles apply until Notre Dame beats someone of value. Unfortunately, that type of team won't be found this week. Louisville has lost 3 straight and this is their 3rd road game, and are coming off of a crushing upset loss. They're one game away from being confirmed bad, this game is the last test to see if there is any life left. If Notre Dame lets Louisville keep this within single digits, some of you better be joining me on the Notre Dame is an overrated bandwagon. 
---
Giphy Images.
#5 UNC @ FSU, 7:30pm, opened UNC -10, 61.5
Questions to think about: Can UNC fix their defense issues in one week? Is the UNC defense that played vs. VT enough to beat FSU? Was FSU's only 16 point loss to Notre Dame signs of FSU figuring it out or just Notre Dame being rusty? 

Matchup: UNC won the last matchup with an upset of 37-35 at FSU. (UNC kicker nailed a 54 yard FG to win, and Mia Khalifa tweeted at him that she hopes he tears both ACLs). Florida's governor has allowed for teams to have full stadiums, FSU claims that they will maintain its limited capacity, but don't be surprised if it looks more than 20% capacity.

UNC (3-0) is coming off of a 56-45 win over #19 Virginia Tech, and a 26-22 win @ Boston College the week before. Games are averaging 62 total points per game with UNC scoring 37.7 of them. UNC can run and throw the ball. Has debatably the best RB pair in the country with Michael Carter and Javonte Williams, who combine for 232.0 yards per game. The offense seems to have found its stride and can see its potential. But the defense is a bit of a worry; is it a big enough worry when playing FSU though? Seems still no Storm Duck.

Spread: are 2-1 ATS this year, the time they didn't cover was on the road vs. BC. Since 2019 are 7-3 ATS has the favorite, and 2-4 as the away team. 6-1 ATS in last 7 as the favorite. On a 5-1ATS streak. 

Total: are 1-2 for the over this year. 4 straight unders when favored by 10+.

SU: Since 2019 are 3-1 SU as the away favorite. Has won the last 6 when favored by 10+.

FSU (1-3) coming off of a 42-26 loss to #5 Notre Dame, and a 41-24 win over Jacksonville State. Games have been averaging 56 total points per game with FSU scoring 22.5 of them. FSU can run and throw the ball, but a heavier throwing team. Looked its best vs. Notre Dame (as compared to other ACC games) last week. Do you attribute that to FSU finally figuring themselves out, or a rusty Notre Dame after not playing for 3 weeks? Looks like their QB Jordan Travis will play, says he's 100% in interviews on Wednesday. FSU's top WR Tamorrion Terry underwent surgery on his knee on Thursday morning and will likely be out a few weeks. He led the team in receptions, with 275 yards and averaging 13.5 yards per reception. The next top receiver has 127 yards. 

Spread: are 1-3 ATS this year. New coach so take the following numbers with a grain of salt: Since 2019 are 3-5 ATS after a loss, 2-4-1 ATS as an underdog, 3-6 ATS at home, 1-4-1 ATS vs. ranked opponents. 0-4 ATS for the last 4 home games, but were favorites. 

Total: are 3-1 for the over this year. New coach this year so keep that in mind: Since 2019, are 5-2 for the over as the underdog, 4-7 for the over in ACC games, and 5-1 for over vs. ranked teams.

SU: have lost the last 17 games they were an underdog by 7+.

Opinion: As a UNC fan, I'll admit, I'm a little bit nervous about this one. UNC is on the biggest hot seat in the ACC this weekend. I think that UNC's offense, who seems to have hit their stride last week vs. VT, will do well vs. FSU's defense. The big question here is UNC's defense. In the same way, Alabama's defense let up 48 points to Ole Miss, and no I'm not trying to say UNC is on the same caliber as Alabama so hold your horses, it isn't a huge panic moment, but more of a let's see if this is a pattern or just a weird off game for them. And then maybe panic. I do think that Novell has figured some things out, and showed signs of life vs. Notre Dame. But don't think they look lively enough to beat UNC. FSU was sitting down trying to win a race against teams that were running; now they've learned how to walk. UNC has the talent to win by 21+, and right now only the offense is playing like that. 
---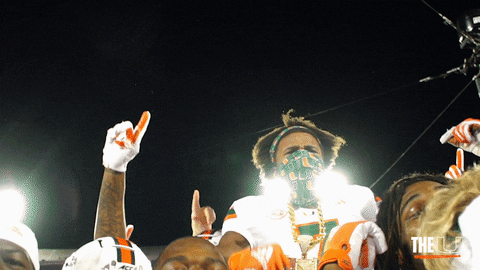 Giphy Images.
Pittsburgh @ #13 Miami, 12pm, opened Miami -10.5, 52.
Questions to think about: Did Miami deserve their #7 spot or are they just another good team in the ACC now? Can Pitt figure out their defensive issues? Think Pitt's defense can keep King in the pocket? Does either team have any momentum over the other? 

Matchup: Miami has won 4/L5 while Narduzzi has been at Pitt. 2019, Miami won 16-12 at Pitt. 2018, Miami won 24-3 at home. 2017, Pitt won 24-14 at home. Both teams are off of losses. Miami runs and throws the ball whereas Pitt relies more heavily on passing. The last 3 meetings have gone under. Pittsburgh has been struggling after a strong start, and Miami is back to the drawing board for expectations. Both teams need this win to help turn the page on their season and to see what the back half will look like. 

Pitt (3-2) off of back to back losses, @BC 31-30 OT, and vs. NC State 30-29. Games have been averaging 49.8 total points with Pitt scoring 31.6 of them. Had a 3-0 start to the season, but something has fallen apart with the last games. Can they get it right vs. Miami, or will it be a long night for Pitt? Pitt is averaging only allowing 52 rushing yards. Pitt's defense has been very impressive and consistent, but the last two games have been questionable. Has the defense been exposed for not being great, or have they just stumbled and will find their footing soon? Has only one main rusher besides Pickett, but 5 good options at the receiver with one standout. 

Spread: Under Narduzzi, when an underdog by 7+ on the road, is 8-2 ATS. Are 0-3-1 ATS for this year against ACC teams this year.

Total: Since 2017 are 1-11 for the over as the away underdog, and 14-29-1 for over for all games. As an away underdog of 7+, there have been 8 straight unders. Hasn't had 3 overs in a row since 2016. Under Narduzzi, when an underdog by 7+ on the road, there have been 8 straight under.

Miami (3-1) off of a loss at #1 Clemson 42-17, and the week before beat FSU 52-10. Games have been averaging 61.8 total points with Miami scoring 36.8 of them; before the Clemson game, they were scoring 43.3 ppg. Miami got outed as being just a good, not great, team vs. Clemson last weekend. Yet most teams are going to look like that when they play Clemson. Miami only had 9 first downs vs. Clemson, and less than 90 rushing yards. Special teams were the highlight with 3 blocked kicks and one returned for a TD. The two ACC teams Miami has beat are now a combined 0-6 in the ACC. 

Spread: Under Diaz (2019) are 5-3 ATS as a home favorite. Before Clemson, was 3-0ATS for the year. 

Total: Under Diaz (2019) are 5-3 for the over as home favorite. Are split 2-2 this year.

Opinion: Pitt's defense is normally very impressive, but flies under the radar because of their struggling offense. It seems that Pitt's defense is falling to its offense this year. They have had two back to back losses where they were favorited. Miami was as expected vs. Clemson, they had a few good moments and didn't embarrass themselves. I'd say they're now among UNC and Notre Dame with trying to figure out who the next best ACC team with. All good teams but haven't separated themselves from the pack. Rumor on the street is that Kenny Pickett has a broken ankle or at least a severe ankle injury. If that is true then Pitt will have no defense. Zero. Zilch. Goose egg. And Miami will handle them easily. Even if Pickett is okay, I think Pitt is on a downward spiral and will not be able to turn it around vs. Miami, likely later in the season, but not this week. 
---
Okay sad game time. These games are just meh. Maybe you care if your team is playing but on a national scale? No shot. A few teams are 1 or 2 wins away from making us pay attention, but that's not for this week. No gifs for you, be better.
Duke @ NC State, 3:30pm, opened NC State -4, 62.5. 
Nationally this has no relevance, and frankly not worth your time unless you're a fan of the two teams. And if you are? I'm so sorry. NC State is starting to gain ground in the ACC, won't do much to improve their draft stock to beat Duke, but if they lose? Credibility is lost. And for Duke? Just take the L and wait for basketball season.
Liberty @ Syracuse, 12pm, opened Liberty -2.5, 56.5. 
Syracuse sucks. Terrible. Awful. They gave an 0-4 team their first win. And now Andre Cisco, their All-American safety, tore his ACL, QB1 Tommy DeVito is likely out for the year (which might be a good thing for this team tbh), and word is that their RBs are banged up. Liberty is 4-0 but hasn't beaten anyone impressive. One of those teams is "UNA" like who even knows what school that is, I had to look it up. These two met last year and Syracuse won 24-0. Think Liberty wins this or keeps it within a score.
Virginia @ Wake Forest, 4 pm, opened Virginia -2.5, 64.
Again, nothing important with this game. These two teams are on the bottom side of the middle of the ACC pack. Maybe tune in it to see how much Virginia has fallen off this year? If Virginia loses this game, then sorry to all of their fans, but just pack it up and wait until basketball season. Overall snooze, don't waste your time.
Boston College @ Virginia Tech, 8pm, opened VT -11, 59.5.
There are some whisperings about BC and their QB Phil Jurkovec getting things going, but need to see some solid wins and by more than a touchdown. These two teams are in the third level of the ACC below UNC/ND/Miami, and can likely surprise a better team at some point. Wouldn't recommend the watch. UNC has beaten both of these teams for the record so there, wasn't pretty but a W is a W.
If you do decide to bet (I don't) on these games, please do so responsibly. Don't put 26.3 units on a player prop.