Barstool's Guide to Champions League Matchday 1(b) – Preview + Picks
Sam's Soccer Safe Space For Stoolies
Hi haters™,
The Champions League is back, baby. I did a little rundown of all the groups and whatnot yesterday (including some words about CBS's coverage decisions) so go check that out: HERE.
For now we will jump right into the previews and predictions for today's games… right after a little babymaking musical interlude:
---
---
Results from yesterday: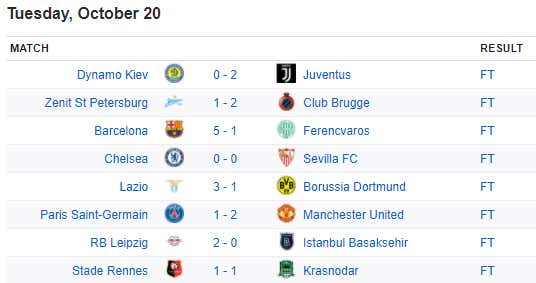 Schedule for today:
---
WEDNESDAY'S PICKS
Bayern Munich [-150]
Atletico Madrid [+425]
Draw [+310]
Bayern have not been great out of the blocks this season. That is probably 49% attributable to having next to zero summer break as a result of winning "last season's" Champions League like a week ago and 51% the result of being heartbroken about not winning the battle to sign Sergino Dest.
Point being they are not exactly the well-oiled machine you may remember from a little bit ago. I'm not saying Bayern won't re-find that form – there is no obvious reason they wouldn't since they only got stronger in the transfer window – but they are not lights out right now. To be fair neither are Atletico, who "boast" scoreless draws against Huesca and Villarreal among their two most recent results. 
Long story short, I'm not sure what to expect from Atletico. They have some firepower with Joao Felix and the aged but highly motivated Luiz Suarez but Diego Simeone has a long track record of bunkering in games precisely like this. I wouldn't be shocked if there were some (more) strange results today but I'm going with the path of least resistance in this particular game.
Prediction: Bayern win 2-1
---
Man City [-333]
Porto [+950]
Draw [+510]
I don't trust City. There, I said it. Along with the aforementioned Bayern, Pep's peoples have the best odds to win the competition… but right here right now they don't look that scary. They are still missing Aymeric Laporte meaning they will need make do with someone (like Nathan Ake) next to n00b Ruben Diaz, and then up top Sergio Aguero is coming off an injury and looked a half step slow this past weekend. Plus let's not forget rule #1 of Champions League: never ever ever everrrrr doubt the Portuguese.
Prediction: 1-1 draw
---
Ajax [+400]
Liverpool [-145]
Draw [+350]
Liverpool are physically banged up with VVD, Joel Matip and Thiago Alcantara all out, along with GK Alisson. The team also seems to be in a bad place emotionally with Klopp (and others) publicly whining about the situation surrounding VVD's injury. To be fair, they have a point. Jordan Pickford lucked his balls off not being sent off. But at some point you just have to get over it and move on… and they don't seem to have done so yet.
Thus, given all the injuries and distractions, I'm going with a bit of a flyer on an Ajax squad that on paper is not too terribly impressive (now that they have been bled dry of a ton of world class talent… and have yet to restock from their pipeline).
Prediction: Ajax win 3-1… and hedging that with the OVER (out of respect for Liverpool's ability to say "eff defense" and start throwing haymakers)
---
Some other picks in the hopes that I eventually get one right:
• RB SALZBURG 2-0 Lokomotiv Moscow
• Real Madrid 2-2 Shakhtar (yes, this is ballsy given Madrid's defense)
• Midtjylland 2-4 ATALANTA (must-watch and must-bet-OVER anytime Atalanta plays)
• INTER 3-1 Monchenpenisgladbach
• Olympiacos 1-2 Marseille
---
---
Reminder: another biggggggggg slate tomorrow……. kidding, it's just Europa.
Holler,
Samuel Army