Barstool's Weekend Soccer Preview + Predictions – The "fun, Fun, FUN" Edition
Sam's Safe Space for Soccer Stoolies
Hi Haters™,
Tired: Jordan Pickford is useless little dinosaur arm spaz.
Wired: Jordan Pickford is the most influential player in the 2020/21 Premier League season.
Liverpool fans still seem a little shell-shocked about the VVD injury and it is hard to blame them considering all the controversy surrounding the incident (and the game itself). But as the dust begins to settle and the reality of life without one of – if not the – world's best defenders for the rest of the season sets in we are all going to have to come to terms with something: this could turn into one of the most exciting title races in recent history… unless City decide to be cheeky wankers and run away with it.
That's TBD at the moment. For now let's look at what is on deck this weekend…
---
---
ENGLISH PREMIER LEAGUE
Scores from last weekend:
---
POWER RANKINGS
TOP 4
1. City
2. Everton
3. United
4. Tottenham
Honorable mention: Chelsea, Liverpool, Arsenal, Leeds
BOTTOM 3
20. Fulham
19. Burnley
18. Sheffield Utd
Dishonorable mention: West Brom, Brighton
Table as things stand: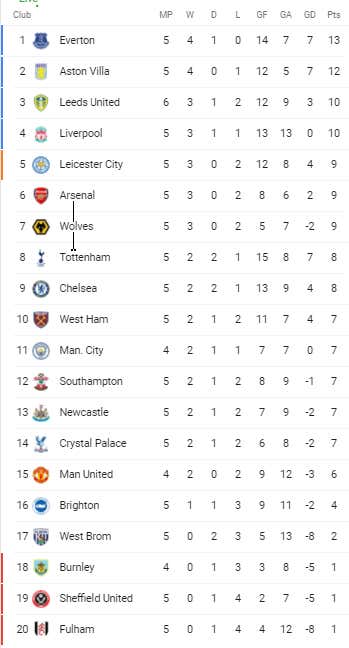 And the schedule for the weekend ahead:
---
PICKS OF THE WEEKEND
United [+140]
Chelsea [+195]
Draw [+260]
Fun, FUN, FUN! That is what this game screams – especially for neutrals. Chelsea's problems on defense so far in this young season have already been well-documented. Shipping three goals to West Brom and Southampton will have that effect. United's backline has somehow been worse, and that is before accounting for the fact that DDG – even after several tough seasons – is lights years better than Kepa the Keeper.
And yet this week's Champions League results saw Chelsea manage a scoreless draw against Sevilla while United waltzed into France and beat PSG by 2-1.
Da fuq?
Here's what I think about this game: I'm guessing Sevilla's befuddlement of Chelsea was kind of a one-off thing. The Spanish side sucked the air out of the game in a way that United are completely incapable of doing. I think we know what Chelsea is all about, and how good they are going to be. They are a solid top four contender relying on their potent attack, which will often (but not always) make up for holes at the back.
I still don't have a sense for what United are going to bring to the table this season. The Tottenham loss was an anomaly. Red Devils went down a guy and Spurs scored with every look they had at net. It's fun shit-talking ammo but little more than that. They showed in the second half against Newcastle they can score and against PSG that they can defense… but can they do either/both consistently? I'm not sure. And then there is the question of what Cavani – a legitimate #9 but one on the wrong side of 30 – is going to bring to the table. If he can add a new element in the way that Bruno did in January then United is going to be right there with Chelsea, Tottenham, Everton and (sadly) VVD-less Liverpool nipping at City's heels in the hopes they keep having injury problems and/or they somehow simply lose the plot.
Can't say I'm particularly confident about what to expect in this game other than goals, and anyone who likes money should be hammering the OVER, but as far as the winner goes I've waffled quite a bit but will stick with my pick from the podcast.
Prediction: United to win 3-2
---
Arsenal [-108]
Lester [+300]
Draw [+280]
The Foxes came up with a nice 3-0 win in Europa this week but that was against something called Zorya Luhansk, which I assume is these guys plus like five of their art school buddies.
Lester's defense was thin to begin with and is missing their best player in Lord Farqaad. That might get it done against some eastern European semi-pros but not against Aubameyang and Lacazette. Jamie Vardy is expected to be back so both teams to score smells like taking money from David Luiz's baby but in the end…
Prediction: Arsenal to win 2-1
---
West Ham [+700]
City [-250]
Draw [+425]
"I wouldn't be shocked if the Hammies somehow get a result against City," are words that came out of my mouth this week on the podcast. I would like to apologize to anyone who listened to that and actually followed that sage advice. (Thankfully I am pretty confident nobody actually did.) At the time I was a little hopped up on corona and the romance of their comeback "win" against Spurs… when in fact I even said just moments earlier that most of West Ham's return from the dead was directly attributable to Dear Leader Jozay's terrible substitutions.
So yes, the Hammies are better than a lot of people gave them credit for coming into the season (let's not forget they have spanked Wolves and Lester recently). But that is three straight unexpected results in a row for West Ham, and the moment anyone – even a non-fan such as myself – starts thinking they might actually be good enough to secure points against top clubs on a regular basis… that is the precise moment that they fall apart. I hate to say it but it's true. They will benefit from the fact City just played in the midweek but at the end of the day a leopard can't change it's spots and West Ham can't dispense with its long-term aversion to consistent success.
Prediction: City to win 3-1
---
Some more predictions… to increase the possibility that I eventually get one right, maybe (note: gonna start highlighting my BEST BETS – meaning the ones I legitimately like as opposed to just picking because it's kinda my make pretend job – in BOLD): 
• Villa 1-3 Leeds
• Fulham 2-2 Palace
• LIVERPOOL 2-1 Sheffield Utd
• Southampton 1-1 Everton (I have no explanation for this other than shit happens)
• Wolves 1-1 Newcastle
• BRIGHTON 2-0 West Brom
• Burnley 1-4 TOTTENHAM
REST OF WORLD
SPAIN – EL CLASICOOOOOOh how the mighty have fallen. Barcelona (a recent clown show) welcome Real Madrid (fresh off losses to Cadiz and Shakhtar) for what a couple season's ago was appointment television. I suppose it still is but with both clubs "going through some shit" and without Ronny it just doesn't feel quite the same. Then again, now our boy Sergino Dest is involved so if you ain't watching… shame on you (9am CT on Saturday).
MLS – Speaking of falling from grace, El Trafico is this weekend and nobody seems to care because (a) the strange scheduling means an overload of big rivalry games and (a) LAFC have stumbled this year while the Galaxy are straight up turrible. No bueno. Game is on Sunday (2:30pm CT) if you wanna catch it but the better matchup is on Saturday when Philly welcome Toronto (6:30pm CT) in a battle between #2 vs #1 in the East… and all of MLS.
USL Championship – we have reached the semifinals, which can be found on espn+… unfortunately all the teams I had a rooting interest in have been eliminated (Charlotte, St Louis and Tulsa) but still worth getting out there and supporting the homeys that are busting their ass to get the season in
GERMANY – Hate to continue the theme but this weekend will also see the Schalke visit Dortmund on Saturday (11:30am CT) in the Rivierderby… but sadly Schalke bring absolutely nothing to the table these days.
ITALY – so, um, are Milan back??? I know they spent a fair chunk of change this summer but they do that every summer and usually still end up sucking… or at least not living up to expectations. Yet here they are humming along at the top of Serie A in large part thanks to the dominance of MLS conqueror/5th place finisher Zlatan. Good for them/him. This weekend Roma comes to town on Monday (2:45pm CT). Should be a good one.
**
So there we have it. Thanks for reading you beauties!
Holler,
Samuel Army