Barstool's Weekend Soccer Preview + Picks – The "Danglies Be Danglin" Edition
Sam's Safe Space for Soccer Stoolies
Hi Haters™,
PSA: Two more weekends before another dreaded international break. Drink them in, boys and girls. 
---
---
ENGLISH PREMIER LEAGUE
Scores from last weekend:
---
POWER RANKINGS
TOP 4
1. Everton
2. United
3. City
4. Chelsea
Honorable mention: Liverpool, Tottenham, Arsenal, Leeds
BOTTOM 3
20. Fulham
19. West Brom
18. Burnley
Dishonorable mention: Sheffield Utd, Brighton
---
WATCHABILITY QUOTIENT (meaning highest on the must-watch TV – note: not always for complimentary reasons… and yes, Chelsea has an unfair advantage on this one thanks to The Babyjesus, deal with it)
1. Leeds
2. Liverpool
3. Chelsea
---
Table as things stand:
And the schedule for the weekend ahead: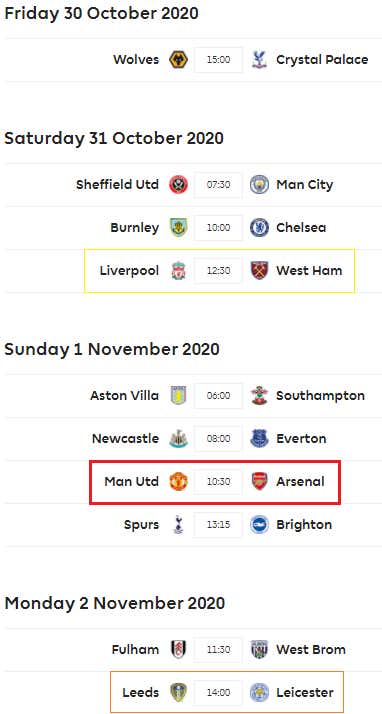 ---
PICKS OF THE WEEKEND
United [+110]
Arsenal [+260]
Draw [+270]
This matchup doesn't quite have the mutual hatred of days gone by when both clubs were fighting for the title every year
but it should still get the juices flowing, especially since both teams seem capable of both scoring and shipping goals – in theory anyway.
United have won 5-0 and lost 6-1 in recent games so you know that description fits the bill for their ol' schizophrenia ass. Arsenal, on the other hand, have the personnel where you might think goals on both ends make sense – they will probably have to start Skhodran Mustafi for heaven's sake and have Lacazette/Aubameyang up top – but Mikel Arteta seems to have succeeded in transplanting a defense-first mentality into the team.
So, yeah, perhaps OGS will go with a defensive XI like he did last weekend and both teams could avoid risk like Joe Biden at a corona party a week before the election… but eff that noise. Gimme Cavani up top flanked by Rashford/Greenwood (Martial is still suspended for choke-slamming Tottenham's Erik Lamela) with United's aggressiveness coaxing Arsenal to come out and play a bit as well. Could happen! Probably not but damit the possibility is real… to me!
The good news is this couldn't possibly be as boring as United/Chelsea last week. As far as my pick goes, everything seems to be trending in the Red Devils' favor with their BIG win over RB Leipzig this midweek… but right when you think Arsenal are about to be outclassed is precisely when they jump out of the tall-grass pygmy style and stab you in the dick.
Prediction: Arsenal to win 2-1 [note: I wanted to go with a higher-scoring game and am hoping for that but tough to go out that far on a limb given how solid both defenses have been… with 11 guys on the field anyway]
---
Leeds [+160]
Lester [+170]
Draw [+260]
Two teams that play VERY different styles but should make for an entertaining matchup for neutrals. Leeds are comfortable possessing and look to play beautiful soccer, whereas the Foxes have no problem playing bend-don't-break defense and trying to catch them with the only weapon they got: a Vardy sucker punch on the counter. I felt a lot more confident in my pick before being reminded how long Lester injury list is (it now includes Timothy Castagne while Jonny Evans will be a game-time decision). Game won't necessarily be high-scoring – if it is that'd be a bad sign for Lester – but should be a great game for soccer purists.
Prediction: Lester to win 3-2
---
Liverpool [-260]
West Ham [+700]
Draw [+430]
"I wouldn't be shocked if the Hammies somehow get a result against City," are words that came out of my mouth last week on the podcast.
"I would like to apologize to anyone who listened to that and actually followed that sage advice… City to win 3-1," are words that I subsequently wrote down in last week's blog.
And wouldn't you know it, West Ham went out and did the damn thing – ie, shocked the world – yet again by holding City to a 1-1 draw. Let that be a lesson to all you young bloggers out there: trust your first instinct.
Just an incredible run by the Hammies over the last month and a half. Four results against four of the top seven clubs in last season's final table. As someone who knows all about what it means to have to rely on small and/or moral victories for satisfaction, I hope West Ham fans have been reveling in this little unexpected run of form. Something somewhere way down deep inside me hidden away in a bad, angry place within my soul is telling me that they are going to follow up this run by losing a bunch in a row against the likes of Fulham, Sheffield Utd, Brighton, Southampton and West Brom… but we can cross that bridge if/when we come to it.
For now the opponent is Liverpool… and not a bad time to catch the returning champs if we are being honest. Not only are the Hammies making moves but Klopp may have to suit up and play CB this weekend given all the injuries his club is dealing with (eg, VVD, Matip and now Fabinho – who was a fill-in to begin with). Unfortunately there is a real chance that not being able to rely on a strong CB pairing could fundamentally alter the way Liverpool play since TAA and Robertson may be more hesitant to bomb down the wings.
Giphy Images.
I really do! I do think West Ham have a chance, BUT the absence of Michail Antonio – ma mans been en fuego lately – is a massive miss. I am rooting for the Hammies to somehow pull off five straight results but unfortunately it is the hope that really truly kills you…
Prediction: Liverpool to win 2-1
---
Some more predictions… to increase the possibility that I eventually get one right, maybe (note: gonna start highlighting my BEST BETS – meaning the ones I legitimately like as opposed to just picking because it's kinda my make pretend job – in BOLD): 
• WOLVES 3-1 Palace
• Sheffield Utd 0-1 CITY
• Burnley 1-1 Chelsea
• VILLA 2-0 Southampton
• Newcastle 1-3 EVERTON
• TOTTENHAM 3-2 Brighton
• Fulham 2-2 West Brom
---
---
REST OF WORLD
MLS – Regular season is scheduled to finish up on November 8 and the league is going to pack in as many games as they can before – as it was just announced – using points-per-game to determine playoff seeds. (They may not need to do that in the east but will definitely have to in the west where teams like Colorado have no chance of playing all their original scheduled games.) Anyway, what is still at stake is that Philly can clinch the on-again, off-again (but back on) Supporter's Shield with a win over Columbus (Sunday at 2:30pm CT) while Colorado, Dallas, Montreal and San Jose can all clinch playoffs spots with wins (and usually some other stuff happening).
USL – sadly the League One title game was called off due to a rash of COVID-19 cases in Union Omaha team, though congrats to John Harkes' Greenville Triumph on surviving (literally) to the end and lifting the trophy. The Championship title game is supposed to be played Sunday (7:30pm CT on espn+) with Tampa Bay Rowdies hosting Phoenix Rising… buttttttt the Rowdies coach just tested positive so fingers crossed that.
SPAIN – coming off their loss to Real Madrid in El Clasico, Barcelona now sit in 12th place some six points below their vanquisher and seven points behind 1st place Real Sociedad. Tough to say they are already in "must win" territory in October but certainly feels a lot more like that than it should at this point in the season. Barcelona visit 15th place Alaves on Saturday (3pm CT) and if Dest isn't starting we riot.
ITALY – 2nd placebo Napoli welcome 3rd place Sassuolo on Sunday (11am CT). Nice little bonner fluffer for NFL.
GERMANY – 1st place RB Leipzig will still be rubbing aloe vera on their bottom after their spanking from United on Wednesday but have a quick turnaround trip to 6th place Borussia Monchenpenisgladbach on Saturday (12:30pm CT).
---
---
So there we have it. Another week of Champions League coming up… for some clubs anyway.
Thanks for reading you beauties!
Holler,
Samuel Army