BMOC on Basketball... NBA Draft Mail Bag PLUS ENTIRE NBA FINAL MOCK DRAFT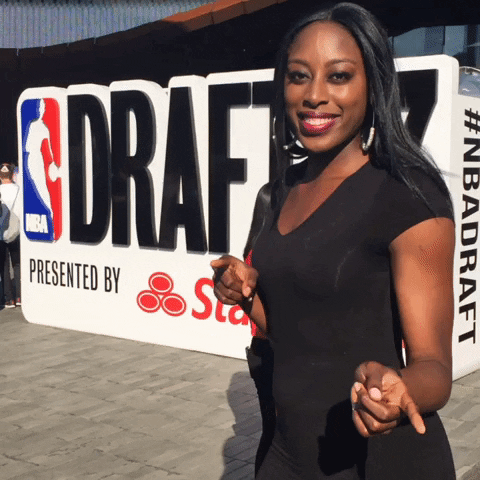 Giphy Images.
I know it's popped up quickly for a lot of people. The NBA Draft generally meant for June is happening this week basically 5 months later then it should. It's a fuckin weird 2020 and this continues to prove that. Coming up this week once Barstool Sportsbook releases I will release my prop bets that I will be betting. 
Time for a mailbag to answer your questions submitted but first my final mock. If you want my first mock before the changes noted below you can view it here: https://www.barstoolsports.com/blog/2962422/2020-first-round-nba-mock-draft-1.0-from-the-bmoc
FINAL MOCK:
1. Timberwolves: Anthony Edwards, SG, Georgia
2. Warriors: James Wiseman, C, Memphis: 
3. Hornets Lamelo Ball, PG, Australia 
4. Bulls:  Deni Avdija, SF, Maccabi Tel Aviv 
5. Cavaliers: Obi Toppin, PF, Dayton 
6. Hawks: Isaac Okoro, SF, Auburn 
7. Pistons: Killian Hayes, PG, France
8. Knicks: Tyrese Haliburton, PG, Iowa State 
9. Wizards: Onyeka Okungwu, C, USC
10. Suns: Tyrese Maxey, SG, Kentucky
11. Spurs: Saddiq Bey, SF, Villanova. 
12. Kings: Patrick Williams, PF, Florida State 
13. Pelicans: Aaron Nesmith, SG,SF, Vanderbilt
14. Celtics: Kira Lewis Jr, PG, Alabama
15. Magic: Devin Vassell, SF, Florida State 
16: Blazers: RJ Hampton, PG/SG, Australia 
17. Timberwolves: Josh Green, SG/SF, Arizona
18. Mavericks: Robert Woodard, Forward, Mississippi State
19. Nets: Theo Maledon, G, France
20. Heat: Cole Anthony, PG, North Carolina
21. 76ers: Tyrell Terry, PG/SG, Stanford
22. Nuggets: Precious Achiuwa, PF, Memphis 
23. Jazz: Jaden McDaniels, PF, Washington
24. Bucks: Desmond Bane, SG, TCU
25. Thunder: Jalen Smith, PF, Maryland
26. Celtics: Aleksej Pokusevski, C, Serbia
27. Knicks:  Isaiah Stewart, PF, Washington 
28. Lakers: Malachi Flynn, PG, San Diego State
29. Raptors: Tyler Bey, PF. Colorado
30. Celtics: Zeke Nnaji, SF/PF, Arizona 
NOW YOUR QUESTIONS FROM THE MAILBAG:
It's interesting how lines move. Last night, Edwards was the dog to go number one. It's becoming increasingly clear Minny is worried about Ball's shot and his release. Edwards is a hard worker and will devote everything to becoming the best pro possible. He fits well in an off ball position. They like Russell and pairing him at the 2 makes total sense. Edwards reminds me a lot of Dwayne Wade. Edwards to me is the pick and the only pick at this hour. I'd play that. 
Because he's off an injury, barely played at UNC and talk was he wasn't a great teammate. I also wouldn't say he had an awful supporting cast. He's good but I still think is working on some maturity issues. Miami would make sense. With a great culture there, I think he shakes out of it and becomes a very capable heir to the PG throne from Dragic for Miami. He's uber talented, can shoot and has crazy potential, but sometimes he can be a bit overconfident. Good situation to continue to develop there. 
Cassius Winston: I think he can come in and play right away. Tough with a lot of experience. Can do anything, command an offense and plays good defense. Tremendous basketball IQ. Has an Eric Snow vibe to him. Think he will be a good solid pro and will help a winner
Another one: Robert Woodard… good around rim, big solid kid, good in the midrange. Really positive future as an NBA defender. Think he can turn into the wing defender that guards the best player on a team. Would fit Dallas well and is a better option than Kleber and has bigger ceiling than Finney-Smith. I'd look at him at 31.
I'm not so sure. He will be drafted but first round is a bit high. He has limitations at this level. He's not particularly gifted athletically and will struggle against quicker guards. He plays hard though and is a good floor general. Obviously has a TJ McConnell vibe to him. Nothing will be given to him in the NBA. He will either be TJ or Aaron Kraft. We will see. I feel like he's much more talented than both but all have similar skill sets. He's going to have to work for it. Early 40's seems fair. I'll be frank I wouldn't hate him going to my Sixers at 49 if he were to drop. They sadly moved on from McConnell. 
Odd take. I mean first of all he's one of the most popular draft picks in the history of the league. He will do more for a franchise then you know. On the court he's got incredible vision and is a natural floor general. What's not to like? 
Props on Wed!… stay tuned!