Champions League Matchday 4(a) Preview + Predictions
Sam's Soccer Safe Space For Stoolies
Hi haters™,
Big day. Biggggggggggggggg day. The first three matchdays are all nice. Everybody gets an initial look at the other teams in their group. Size each other up a bit. Now things get surrious. Especially teams that got off to a slow start (cough PSG and Inter cough). Time to start separating the wheat from the Champions League chaff.
Also, on a semi-related note, today is not only a big day. Today is a good day. A very good day.
So let us stop for just a moment and give thanks to the lawnfairy lord for instilling in us the strength and wisdom of being jogo bonito fans.
[moment of thanks]
And now onto the footy… and not just any footy but the best soccer on soccergod's green earth – after we get our minds right:
---
---
GROUP STAGE
Results from last time round:
After the first three of six games the group tables look like this: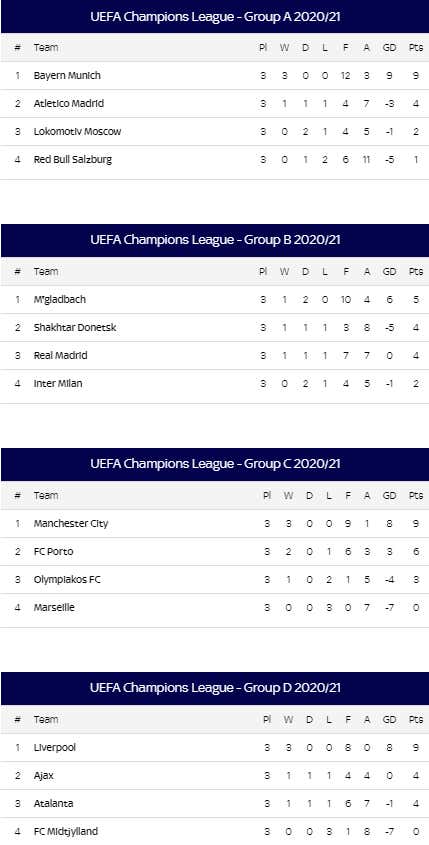 With that, these are the matchups on deck for today and tomorrow: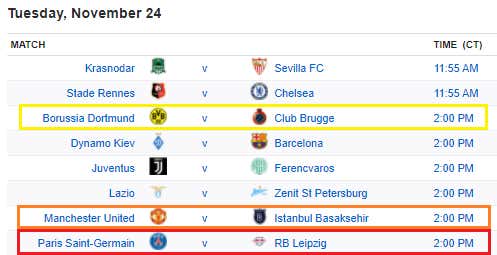 ---
TUESDAY'S PICKS
PSG [-160]
RB Leipzig [+400]
Draw [+350]
Leipzig JUST beat PSG two weeks ago (in an empty stadium) and are now +400 underdogs against the Frenchies (in an empty stadium). Veryyyyyy interesting. Have we discovered a market dislocation?
Alas, probably not for two key reasons. The first is that Neymar and Mbappe are likely to start together for the first time since October, which should give the Parisians a lot more bite this time around. Secondly, PSG now has a fire lit firmly under their ass. Crashing out at the group stage would be as calamitous as it would be hilarious for a team whose only ambition in life (since their domestic league is a comparative walk in the park) is to win the Champions League. Fact is you can't lose in the Round of 16 if you don't make it to the Round of 16, and losing this week would all but kill their chances of making it there. For that reason alone I'm going… 
Prediction: PSG to win 3-1
---
Man Utd [-375]
Istanbul Basaksehir [+1000]
Draw [+525]
Yeah, yeah, United suck at home and just lost to this same Turkish side a couple weeks ago. I know all that. There is really only one thing matters about this game: the Red Devils' injury list includes Phil Jones, Luke Shaw, Jesse Lingard and Eric Bailly. That right there is an absolute murderer's row of guys you don't want anywhere near the field if they play for your team.
Prediction: United to win 2-0
---
Dortmund [-324]
Brugge [+1000]
Draw [+480]
Credit to the little mother Bruggers, they have been a game opponent so far in this competition… against clubs without any Babyjeuses. Unfortunately they got TRUCKED a couple weeks ago by this same Dortmund team – and that game was in Belgium. My one and only concern about BVB this week is that Favre may rest some guys. But they have enough talent on the bench, including Youssoufa Moukoko (who turned 16yo last week and marked the occasion by scoring against Hertha in his Bundesliga debut), who if you haven't heard about yet you sure as heck will soon. He's no Babyjesus Jr, but he's good.
Prediction: Dortmund to win 2-1
---
Some other picks in the hopes that I eventually get one right (note: those in BOLD are ones that I am a little more confident in):
• Krasnodar 1-1 Sevilla
• Rennes 1-2 CHELSEA
• Dynamo Kiev 2-2 Barcelona
• JUVENTUS 2-0 Ferencvaros
• LAZIO 2-1 Zenit (note: Zenit are better than they have shown so this one makes me nervous)
---
---
Reminder: another big slate tomorrow. An even better slate, in fact. HUGE games for Inter and Atalanta (among others). Tune back in for that you massive beauties.
Holler,
Samuel Army