The PGA Season Continues With The Mayakoba Golf Classic In Playa Del Carmen, Mexico
Cliff Hawkins. Getty Images.
The PGA Tour is back with a quick trip down to Meh Hee Co for the Mayakoba Golf Classic. This is a tournament usually played in mid-November, but got bumped to early December because some tournament called the Masters or something took its place. Given its place in the fall of the wrap-around schedule, it's usually a relatively weak field but this year's edition actually packs a bit of a punch. Big names like Justin Thomas, Brooks Koepka, Tony Finau, and Rickie Fowler headline the lineup south of the border.
One of the fun little wrinkles of this event is that this is the last PGA Tour event that counts Official World Golf Ranking points in the calendar year. The Hero World Challenge was canceled, the QBE Shootout doesn't award points, and neither does that Father-Son challenge later this month. Why does that matter? The OWGR top 50 at December 31, 2020 get an invite to the 2021 Masters Tournament (it always comes back to Augusta somehow, doesn't it?). That means this is a great chance for a handful of guys who haven't punched their tickets through a variety of other qualifications to solidify their spot in the year's best tournament.
Who might those players be? Believe it or not…. Rickie Fowler is on the ropes as he's fallen all the way to 49th in the world. That'll happen when you don't have a top 10 since January and 7 MC's in that span. It's crazy to think that he hasn't secured his spot in some other fashion but when you play poorly, miss the Tour Championship, and don't have a major to your name, that's exactly what happens. I'm no OWGR math wizard, but he'll likely have to make the cut at a minimum, and a Top 25 should be more than enough to get the job done. Guys on the fringe chasing him in this week's field that have also not punched their 2021 Masters tickets include Kevin Streelman (52nd), Chez Reavie (54th), and Corey Connors (55th). 
Brendon Todd took last year's tournament, narrowly beating out Adam Long, Carlos Ortiz, and Vaughn Taylor by a stroke. The list of recent winners goes to show that this is a tournament chock full of birdies that tends to treat veteran players well.
Recent Winners
2019: Brendon Todd (-20)
2018: Matt Kuchar (-22)
2017: Patton Kizzire (-19)
2016: Pat Perez (-21)
2015: Graeme McDowell (-18)
Last Year's Leaderboard
The Course
El Camaleon Golf Club is a Greg Norman hog Par 71 design measuring about 7,000 yards. It's not terribly dissimilar to Sea Island in that it favors accuracy off the tee over distance. None of those names on the recent winners list nor last year's leaderboard are notorious for bombing and gouging courses. Statistics show that this is a top-5 course with regards to rewarding driving accuracy. Most of the holes are tree-lined, especially on the back 9 as evidenced by the course map:
As you can see, the course is not overly narrow, but it's just tight enough to test your nerve if you're shaky off the tee. All 3 of the par 5's should be reachable with an accurate tee shot, and three of the four par 3's are surprisingly short and should only require a short iron or wedge to hit. Some quick research shows that that 4th hole is the 2nd shortest hole on Tour, behind the legendary 106 yard 7th at Pebble. One thing that stinks about this course is that it's one of the few courses where the PGA Tour does not provide shotlink data, so you won't be able to track hole-by-hole on their website. Anyway, here's your scorecard.
Ignore that rating and slope number because it's simply incorrect.
The Weather
El Camaleon is more or less Cancun, so you would think you'd be getting gorgeous weather for 4 days. Clearly… not so much. Expect conditions to be wet and soft, and there may be delays throughout the tournament. For that reason I'm including Monday's weather as well. Good chance these guys play preferred lies at points during the tournament as well. Fingers crossed they can get this thing in on Sunday.
Best Hole - 7th Hole, 554 yard Par 5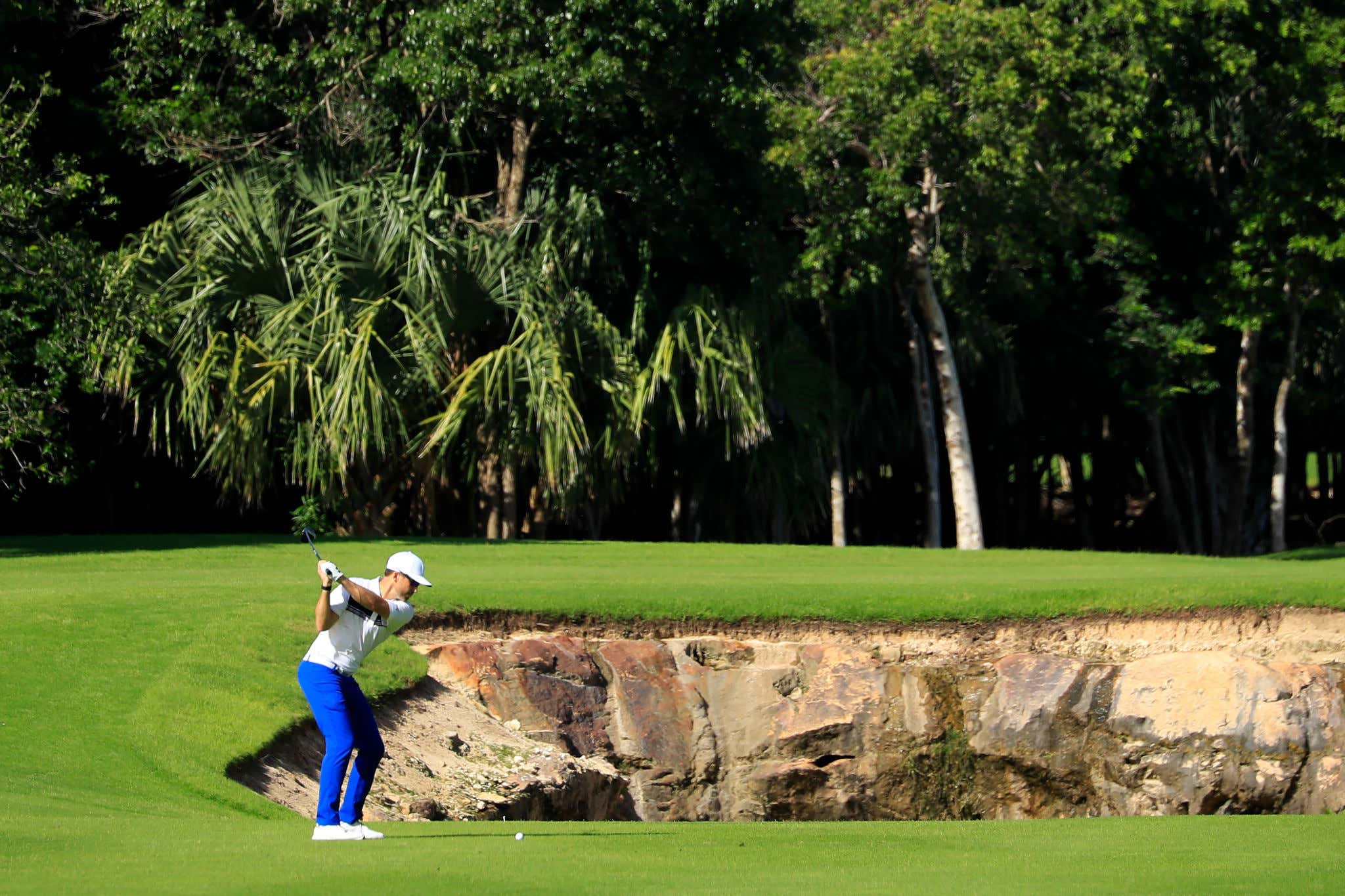 Cliff Hawkins. Getty Images.
Another fabulous google maps 3D job by ya boy
This course is well known for having a wide variety of different terrains. Cavernous sink holes, oceanside holes, tropical features… you name it, this course has it. For best hole I gotta take the 7th simply because of how preposterous this fairway bunker is.
That's just a ridiculous trap and it could not be more directly in the center of that fairway. Will be fun to see how some of these guys navigate it throughout the week.
The Trophy
Cliff Hawkins. Getty Images.
That's what I'm talking about right there! If you're not a prestigious Tour event, you can miss me with that generic garbage we saw at the RSM. You want something that captures the local flavor and this does that in spades. What better prize at a golf club called El Camaleon than a big fucking chameleon? Forget the $1.2M, gimme this big hunk of stone on my mantle all day every day. 
Firm 8.2/10.
The Favorite
Sam Greenwood. Getty Images.
(as of 7 AM ET on Wednesday)
JT is the prohibitive favorite at +600 on the Barstool Sportsbook. He's going to be the favorite at just about any tournament these days that DJ isn't at. (DJ, by the way, was originally scheduled to play in this event and then banged it after winning his green jacket. He's probably in Cancun this weekend anyway, but nowhere near this golf course.) Initially I was surprised that the price is as steep as it is against the field given that JT has never played this course, but it started to make some sense as I did more research.
The best course comparison with regards to both style and leaderboard overlap is Waialae Country Club in Hawaii, where the Sony Open is played every January. Matt Kuchar and Patton Kizzire have BOTH won at the Sony and the Mayakoba in the past 3 years. The Sony (and Hawaii in general) is a place where JT has had a ton of success, including winning in 2017 with a Thursday 59 and a tournament PGA Tour record 253. So that +600 price is an example where course fit and just flat out being a great fucking golfer meet. I'm going to pass on that price personally just because +600 is tough to get out of bed for, but I wouldn't fault anyone who wants to take some longer shots and buy JT as an insurance policy.
The guy I'm taking a bit further down the board is Abraham Ancer +1800. That number has moved from opening around +2400, so there's a lot of steam here and rightfully so. He gained some notoriety for playing in that final pairing at Augusta a few weeks ago, but this guy has been due for a win for a couple years. At #22 in the world, he's the highest ranked player in the world without a W on the PGA Tour or European Tour in his career. What better place for the guy to get his maiden than in his home country? He's slowly risen to prominence in the past 3 years, and has placed T-8, T-21, and T-9 in those years here. He's 25th this season in driving accuary and 171st in distance, so he definitely fits the accuracy over distance profile. I'm on the Abe. Darts all around, and I'm not just talking 2nd shot approaches.
Other Plays
Abraham Ancer Group A Winner +550 
Corey Conners Top 5 +600, To Win Group B +400 (No Mayakoba history but T-12 and T-3 at Sony in his career)
Patton Kizzire each way - To Win +6600, Top 5 +1200, Top 10 +600, Top 20 +275 (see above - past winner, past Sony winner, coming off T-10 and T-11 performances in his last 2 starts.)
Brendan Steele Top 5 +4000, Top 20 +700 (Lost this year's Sony in a playoff. Not playing great recently but that's why you get a number like +4000)
Carlos Ortiz To Win +4500, Top 5 +1100 (Home country, finished 2nd here last year, won the Houston Open last month)
Tony Finau To Win +1600 (WARNING: This is merely a FOMO pick. Been chasing that Tony win for like 3 fucking years and there's just no way I'm going to miss the boat. This pick will be a mainstay here for the foreseeable future, ride or don't.)
Enjoy the Mayakoba Golf Classic.