Champions League Matchday 5(a) Preview + Predictions
Sam's Soccer Safe Space For Stoolies
Hi haters™,
Welcome to matchday 5 where things evolve from "real" to "really interesting" as we got some teams sitting pretty, we got one that is completely eliminated, several hanging on by their fingernails (including Inter Milan – yikes) and a whooooooole bunch with everything still to play for. In other words a two days full of phenomenal soccer with things actually on the line to distract us from TPS reports. Can't wait.
But first time to get your mind right:
---
---
MATCHDAY FIVE
Results from last week:
After the first four of six games the group tables look like this: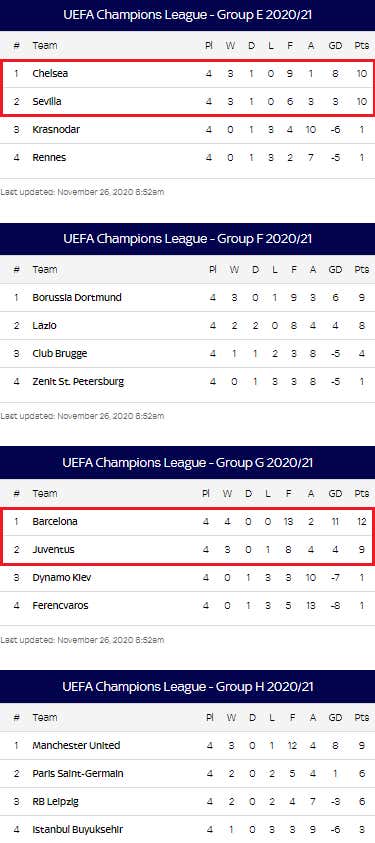 Note the teams boxed in red. They have already advanced and are likely to engage in a lottttttt of squad rotation. Also, poor little Midtjlyjlqjylland has been officially eliminated from qualification for both the group stage and (impressively) for finishing third and getting a parachute into the Europa League.
With that, these are the matchups on deck for today and tomorrow: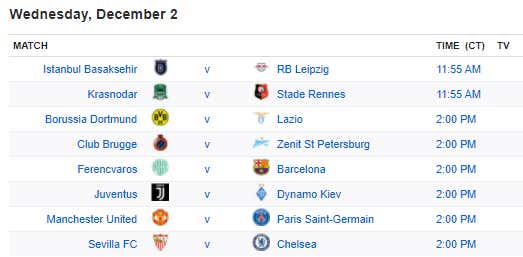 ---
TUESDAY'S PICKS
Gladbach [+200]
Inter [+130]
Draw [+280]
Borussia Monchenpenisgladbach are riding high in Champions League after managing to finagle two wins and two draws in their first four matches, including 6-0 and 4-0 drubbings of a Shakhtar squad that looked pretty damn good against Real Madrid and Inter on earlier matchdays. So is Gladbach sneaky good or Shakhtar sneaky bad?? Gotta be honest and say I'm not sure.
Inter, on the other hand, have been solid in Serie A but disappointing as all get out in Champions League. I've been riding (and losing) with them so far this season, though, and I'm sticking with them at least one more time for two reasons: (1) they looked like the better team when they played Gladbach in October and (2) their latest crap result against Real Madrid last week was marred by a horrifically dumb red card picked up by Arturo Vidal.
So despite how strongly this game smells like easy money (and attractive odds) on a consistently underestimated but unsexy home team facing off against an overrated name brand opponent who has shit the bed several times and is primed to shit the bed again…
Prediction: Inter to win 3-1
---
Liverpool [-133]
Ajax [+360]
Draw [+350]
I warned y'all! I said I was nervous about Liverpool right before they came out and beat the bejesus out of Lester and made me look like a dummy and everybody laughed at me… but I stuck to my guns and the Reds followed it up with a loss to Atalanta (first at Anfield in eons) and settled for an ugly draw with Brighton this weekend. Then the globally beloved Herr Klopp went on a tirade against broadcasters making them play too many games (wah wah) proving that he is absolutely rattled at the moment.
Add to that the fact that Ajax have been pounding everyone they face lately – albeit Midtjyjyqjkljlland and Eredivisie opponents – and perhaps Klopp is right to be a little nervous. Not today though. Jordan Henderson is back and part of why Liverpool looked so lackluster this weekend was because Sadio Mane rested and Mo Salah was subbed off early. Ajax are good and tough to call Liverpool a LOCK given their mix and match defensive unit (especially since missing Robertson and TAA has a big impact on both ends of the field)… but I'm going with them to pull it out.
Prediction: Liverpool to win 3-2
---
Atletico [-324]
Bayern [+1000]
Draw [+480]
15 games. Most clubs have not won 15 games in the Champions League in their history Bayern Munich are in the midst of a 15-game winning streak in the competition. Not unbeaten streak. WINNING STREAK. Against the best opponents the world has to offer. That is incredible. Their success may actually be a bit of a problem in this particular game, however, because they are already through to the knockouts and could rest some guys, while Atleti is in a dogfight with Lokomotiv Moscow for second spot.
Seems like an ideal setup for Bayern to take their foot off the pedal but I'm not even sure they are capable of that, plus Atletico are missing a bunch of guys through injury/rona so I'll go with a…
Prediction: 1-1 draw
---
Some other picks in the hopes that I eventually get one right (note: those in BOLD are ones that I am a little more confident in):
• Lokomotiv 1-2 SALZBURG
• Shakhtar 1-3 REAL MADRID
• ATALANTA 4-1 Midtjjtjllllyyland [note: might have to mess around and hammer that over]
• Porto 1-1 City
• Marseille 2-1 Olympiakos
*
Reminder: another big slate tomorrow. And in the meantime we got more MLS playoffs coming up tonight as Seattle and Dallas look to book a place in the Western conference finals.
As always, thanks for reading you beauties.
Holler,
Samuel Army