The Reags Report For 12/3: Picks, Breakdowns And All The Betting Stats You Need For Today's College Basketball Games
Welcome on back #ReagsReaders. Yesterday was frustrating with our first losing day at 5-6. But it's about a bounce back and looking at a uhh weak slate today. It kinda sucks after loaded schedules  the last couple of days, but it's college hoops. We're two days away from 1 v 2. Hard to argue with that. 
Just a reminder that every single day there are games, this blog will go up. We're giving out stats too - I'm tracking every team in the country, going to give out trends and stats that matter as I go through games along with a breakdown of teams. Take it for what you will, but essentially this will be your one-stop shop for everything you need to get bets in, every day there are games. Once we get more trends they'll be in here too, obviously tough to do zero or one game in the season. Let's get into it. I'll update the blog if lines come out for later games that I want to play too.
Just a reminder every single one of these lines comes from the glorious Barstool Sportsbook. Make sure you download the app here.
Today's schedule (obviously games can still be cancelled)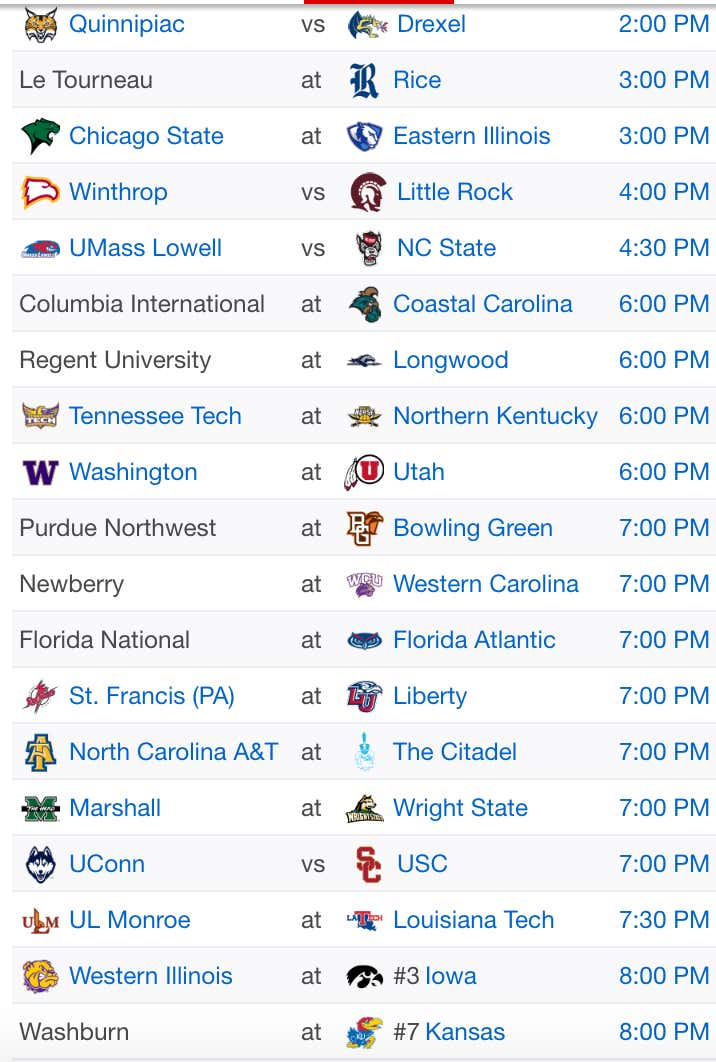 Game is at 3pm at EIU
Eastern Illinois (0-3, 2-1 ATS, 1-2 on the over)
Key player: Josiah Wallace (14.3 ppg, 3.3 rpg, 2.7 apg)
Chicago State (0-3, 0-3 ATS, 0-3 on the over) 
Key player: Jordan Polynice (10.7 ppg, 1.3 rpg)
Pick: Eastern Illinois -24
Reasoning: Let me be very clear here. This is a full on fade of Chicago State. Their head coach Lance Irvin is sitting out this year due to coronavirus concerns. Chicago State is also just flat out bad. They rank 355th out of 357 team on KenPom. They almost covered in game 1 against Ohio (still lost by 23). The other two games? Lost by 59 to Illinois and 30 as a 12 point dog to North Caolina A&T. We're full fade. That's it. That's the analysis. You want more? Fine. Chicago State is 356th defensively and Eastern Illinois actually isn't bad offensively - ranking 147th. They should have no problem scoring.

Game is at 6pm at Utah
Washington (0-2, 0-2 ATS, 0-2 on the over)
Key player: Quade Green (10.0 ppg, 4.0 rpg, 3.0 apg)
Utah (0-0 across the board)
Key player: Timmy Allen (2019-20 stats: 17.3 ppg, 7.3 rpg, 4.0 apg) 
Pick: Under 136.5
Reasoning: Utah is coming out of quarantine otherwise I'd be on them. The fact is this Washington team isn't bad. Sure, you can chalk that up to the Naz Carter suspension. But they just don't have a ton of talent on that roster. They are coming off a 15 point loss to UC Riverside where they scored 42 points. They scored 52 against Baylor. The only thing they are doing is defending well, ranking 63rd thanks to Mike Hopkins zone. On offense? They can't make a shot. They don't get to the line. That's the key here. They also don't foul. Assuming that trend holds, we'll see limited chances for free points. Utah coming out of quarantine and a team that can't score? Give me the under.

Game is at 7pm at The Citadel
North Carolina A&T (2-2, 2-1 ATS, 1-2- on the over)
Key player: Tyrone Lyons (10.0 ppg, 4.8 rpg)
The Citadel (1-0, 0-0 across the board)
Key player: Kaiden Rice (27.0 ppg, 2.0 rpg, 1.0 apg)
Pick: Over 163
Reasoning: Not the best number on the board, but I'm still taking it. The main reason why? The pace. Two of the fastest teams in the country, especially Citadel. They want to run up and down and launch threes. If shots go in, the over hits with ease, no matter the number. NC A&T brought in Will Jones as an interim coach halfway through the season last year and their pace can only be described as 'extreme.' Citadel attempted 39 threes in their first game. That's going to be a trend. We'll play the pace here.

Game is at 7pm in Connecticut 
USC (3-0, 2-1 ATS, 2-1 on the over)
Key player: Evan Mobley (16.3 ppg, 9.0 rpg) 
UConn (2-0, 1-1 ATS, 1-1 on the over)
Key player: James Bouknight (19.0 ppg, 6.0 rpg)
Pick: USC +1.5
Reasoning: USC is one of the few teams in the country that can match UConn's size. Yes, Bouknight is a star and he should have a big game. But part of what makes UConn good this year is the size on the interior, the ability to protect the rim and the fact those guys know their roles. Long term I like UConn. But right now I'm bullish on USC. Evan Mobley is legit one of the 10 best players in the country. He's a top-5 NBA Draft pick and he's playing like it. Him and his brother provide a mismatch typically in the frontcourt. The one trend I'm taking here though is the free throw line. Now both teams fucking suck at the line, USC especially shooting just 57% as a team. But they get to the line at a rate that's 13th best in the country and UConn fouls a ton (240th in the country). On the other side, UConn hasn't gotten to the line and USC doesn't foul (33rd in the country at not fouling). This is the best game of the day and I'll take the points here.

Game is at 10pm at Cal
Arizona State (2-1, 0-3 ATS, 2-1 on the over)
Key player: Remy Martin (15.7 ppg, 3.7 apg, 2.7 rpg)
Cal (2-1, 1-1 ATS, 0-2 on the over)
Key player: Matt Bradley (19.3 ppg, 5.7 rpg)
Pick: Arizona State -6.5
Reasoning: Cal wants to play fast, which plays right into Arizona State's hands. There might not be a team in the country that's better at an uptempo game than Arizona State. They have the All-American lead guard in Remy Martin. But they also have the best talent on the floor in 5-star Joshua Christopher, who looks the part early. If we think Arizona State is a top-20/25 team which I do, then they need to win games like this. The 3pt line is the biggest difference. Cal has struggled early defending it, both from an attempt standpoint and a percentage standpoint. Well, guess how ASU likes to score? On the other side, Arizona State actually defends the 3pt line well, forcing teams to run off of it. Yes, Alonzo Verge is questionable tonight but I still like ASU with Martin/Christopher/Bagley as the top-3.
Game is at 7pm at Wright State
Marshall (1-0, 0-1 ATS, 0-1 on the over)
Key player: Taevion Kinsley (17 points, 7 rebounds, 3 assists vs Arkansas State)
Wright State (0-0 across the board)
Key player: Loudon Love (2019-20 stats: 15.9 ppg, 9.7 rpg)
Pick: Marshall -1.5
Reasoning:Wright State just got out of quarantine on Tuesday. It's the angle I've talked about and played so much early in this season. A team that's comparable to another team that is just coming out of quarantine is someone I'm going to fade. That's what we have here. Yes, Wright State should win the Horizon. Yes, they have experience especially with Loudon Love. But it's still so hard to come right out of quarantine and look the part in game 1. That's especially true when Marshall plays the 4th fastest tempo in the country under Dan D'Antoni. They have the run and gun style that we've seen for years under him. 
Total picks
32-27 overall, 11-8 on favorites, 10-8 on underdogs, 7-8 on the over, 4-2 on the under
Eastern Illinois -24
Under 136.5 Washington/Utah
Over 163 North Carolina A&T/Citadel
USC +1.5
Arizona State -6.5
Marshall -1.5