Every Last Fucking Thing You Need To Know About Boxing Before Tonight (Spence v Garcia)
BIIIIIG fight tonight, which I will get to, BUTT FIRST...
SHOWTIME has a documentary out this weekend that appeals to many different demographics. 
Specifically, this will be right in your wheelhouse if you are either Puerto Rican, grew up in NYC in the 80s, are a boxing fan, OR if you simply love(d) cocaine. 
Giphy Images.
It's called MACHO: THE HECTOR CAMACHO STORY and it's (obviously) a documentary about the life and times of Hector "Macho" Camacho, who not only had some of the quickest hands I have ever seen, he also had the uncanny ability to consume mountains of blow right up until fight-time and still perform at a very high level.
The stories of Hector's flamboyant life and tragic death, the clips of old school Spanish Harlem, and the boxing footage make this one worthwhile, so I would check it out if I were you.
MILD FLEX- I got a screener of this documentary a couple of weeks ago and it made me want to run out and take down a couple of rails before fighting a Mexican (preferably Chavez).
Joe Cavaretta. Shutterstock Images.
By the way… Instead of just writing "Chavez" in the sentence above, I was going to either type out his full name: Julio Cesar Chavez OR shorten it by just using his initials: JC Chavez.  And that is when I noticed that the greatest Mexican fighter to ever live is merely one keystroke away from being the second-or-third-greatest-boy-band member to ever be in NSYNC (depending on how you feel about Joey Fatone): JC Chasez.
Giphy Images.
And before someone says it- People who consider Canelo Alvarez to be the greatest Mexican boxer of all time just never took the time to study Chavez… First off, Chavez did something that Canelo will never do and that is beat a Mayweather, and he did it TWICE (he beat Floyd's uncle, Roger Mayweather, in 1985 and 1989).  Plus, this fucking "Leyenda" (which is Mexican for "legend") went 87-0 before staining his record when he fought one of the greatest defensive fighters of all time, Pernell "Sweet Pea" Whitaker (RIP), to a draw, and THEN went on to amass an astounding career record of 107-6-2 with 86 KOs before retiring in his mid-40s.
Chavez is front and center in MACHO: THE HECTOR CAMACHO STORY, which is yet another reason to tune in if you have the time.
But Macho Camacho was then… Errol Spence Jr is now.
And tonight, FOXPPV gives us the opportunity to see a long-awaited matchup when Spence (26-0, 21 KO) defends his WBC and IBF welterweight world titles against former two-division champ Danny Garcia (36-2, 21 KO).
I said long-awaited above not because these 2 fighters are the number 1 matchup on everyone's wishlist in the welterweight division… That fight would undoubtedly be Spence vs Bud Crawford… But ANY fight Errol takes part in tonight is technically "long-awaited" since he has spent the last 14 months either training or rehabbing injuries sustained in a horrific car crash last year.
But I'll talk about Danny Garcia first…
Garcia's career was HOT out of the gate, starting 33-0 before losing two of his next three fights (to Shawn Porter and Keith Thurman). He is a former WBA and WBC junior welterweight champion and also held the WBC title at welterweight, but after losing to Thurman and Porter, this fight will decide if he still deserves to be in the ring with Top Tier competitors.
Spence, on the other hand, is undoubtedly a Top Tier fighter, but promoters have been trying to push this fight with the big question- "Is Errol fully recovered from that horrendous automobile accident?"
Listen, I know the footage of that crash is both frightening and shocking, but let's all just take a breath and remember that Spence's injuries from that crash were not.
So far, I have called the aforementioned crash horrific, and horrendous, and frightening, and shocking, but there is only one adjective I will use to describe Errol's actual injuries, and that word is "minor."
Errol was drunk and without a seatbelt, so he was thrown from the $300,000 Ferrari.  He walked away with no broken bones and was later blasted for boasting on social media, "No broken bones, I am a savage!" after the death-defying (but also booze-soaked) crash.
SO I ain't buying the whole "Is he back?" storyline.
He never left
So outside of a little rust from having so much time off (and I'll throw in a small chance that Spence has some PTSD after a near-death experience), I am just going to look at the Tale Of The Tape before picking a winner tonight…
You see what I am seeing, right?
Spence is younger, taller, and more deadly (KO%) than Garcia on paper… I would also mention Errol being a lefty, but Garcia hasn't had problems with Southpaws in the past.
You throw in that Spence is fighting in his hometown (tonight's venue is AT&T Stadium in Arlington, Texas), and I am having a tough time giving Danny any chance here.
Here are my only issues with Spence- I was very disappointed that Errol didn't knock Mikey Garcia out in their mismatch back in March of 2019, and then he let Shawn Porter go the distance in his last fight.  Because of those two performances, I give Danny the respect that he can also take this fight to the cards, but ultimately I like heavy-favorite (-400) Errol Spence Jr. in a decision over Danny Garcia.
"What about the undercard, Large?"
I am glad you asked… 
There are a couple of worthwhile fights on the undercard tonight, starting with a welterweight prospect (and New Jersey's own) 17-year-old Vito Mielnicki Jr. who is taking on someone named Steven Pulluaim.  
This one will be on early in the card, and I am only watching because I am rooting for this kid to contend for a belt at some point and then head straight down to Seaside Heights for a cheesesteak with Big Ev.
Elsewhere, Josesito Lopez should have no problem when he takes on Francisco Santana (also at welterweight tonight), and then we get to see a freakshow…
Giphy Images.
The 6-foot-5 super welterweight Sebastian Fundora is back when he takes on Habib Ahmed at 154 pounds. 
Frank Micelotta. Shutterstock Images.
Fundora was originally expected to face Jorge Cota, who tested positive for COVID-19 earlier in the week and was forced to withdraw, so the fight has been taken off most betting boards.  I know nothing about Habib Ahmed except that has never fought lighter than middleweight, so maybe he can stay in there with his lanky opponent, but it should be fun to watch either way.
And there you have it… You're all caught up with all the knowledge you need to enjoy a big PPV card and a random boxing documentary that'll help get you through the weekend as COVID continues to ravage the college and pro football landscape.
Enjoy the fights, and take a report.
-Large
---
I will be back with another preview next week when Anthony Joshua steps into the ring against "The Kissing Bandit" Kubrat Pulev.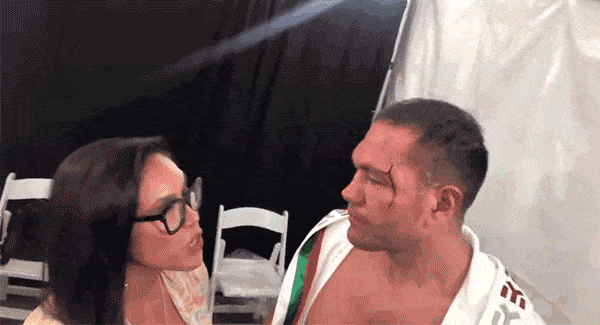 TAR
-L