The Reags Report For 12/6: Picks, Breakdowns And All The Betting Stats You Need For Today's College Basketball Games
Welcome back #ReagsReaders. It paid to read yesterday as we finally hit our perfect day. A nice little 5-0 bounce back after a shitty Friday and getting back into the lab. Got a little lucky with a banked three and a tip, but that's what we needed. That's why college hoops is a marathon and not a sprint. There will be bad days. Trust me there will be shitty days. Then we'll have days like yesterday, which actually sucked because we had Gonzaga/Baylor cancelled. I'm still not over it. 
Just a reminder that every single day there are games, this blog will go up. We're giving out stats too - I'm tracking every team in the country, going to give out trends and stats that matter as I go through games along with a breakdown of teams. Take it for what you will, but essentially this will be your one-stop shop for everything you need to get bets in, every day there are games. Once we get more trends they'll be in here too, obviously tough to do zero or one game in the season. Let's get into it. I'll update the blog if lines come out for later games that I want to play too.
Just a reminder every single one of these lines comes from the glorious Barstool Sportsbook. Make sure you download the app here.
Today's schedule (obviously games can still be cancelled)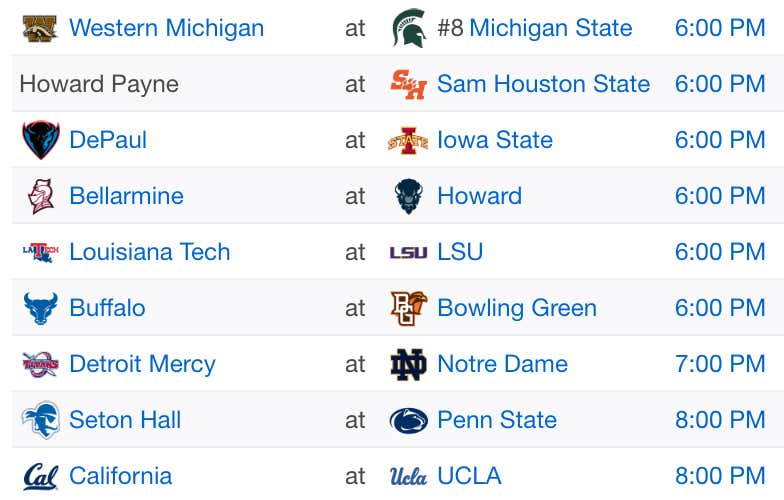 Game is at 1pm at Texas
Villanova (3-1, 2-2 ATS, 2-2 on the over) 
Key player: Jeremiah Robinson-Earl (15.5 ppg, 9.3 rpg, 1.5 apg)
Texas (4-0, 3-1 ATS, 2-2 on the over) 
Key player: Matt Coleman (16.2 ppg, 5.0 apg) 
Pick: Villanova +1.5
Reasoning: Yes, Texas is back. I'm not doubting Texas by any means. I'm bullish on them. But guess what? This feels like everyone is going to be on Texas. Plus, there's no science here or anything, but I'm pretty sure every Maui winner gets their ass kicked in the first game following. The main reason I like Nova? They are going to give Texas a completely different look. We saw Davidson take Texas to the buzzer with that spread out motion offense. Nova can do something similar and is way better than Davidson. They'll pull the Texas bigs out to the high post and post up guys like Gillespie or let him attack into the post where he's an excellent passer and finisher.

Game is at 2pm at Wichita State
Missouri (2-0, 2-0 ATS, 2-0 on the over)
Key player: Xavier Pinson (19.5 ppg, 3.5 rpg, 3.5 apg)
Wichita State (1-0, 0-1 ATS, 1-0 on the over)
Key player: Tyson Etienne (26 points, 4 rebounds, 3 assists vs Oral Roberts) 
Pick: Over 141.5
Reasoning: I can't believe I'm saying this, but I think Missouri is underrated this year. It's going to for sure to come back and bite me in the ass, but I actually think they are a decent team. They have the guard depth, they have the talent and if Jeremiah Tilmmon can stay out of foul trouble they will be okay. More importantly here they want to play uptempo this year. They are led by Xavier Pinson, who is perfect for this spread out offense. He's excellent at getting to the rim and finishing while also creating havoc.

Game is at 3pm at Cincinnati 
Xavier (5-0, 2-3 ATS, 3-2 on the over)
Key player: Paul Scruggs (12.4 ppg, 7.4 apg, 4.0 rpg)
Cincinnati (1-0, 0-1 ATS, 0-1 on the over)
Key player: Mika Adams-Woods (16 points, 3 rebounds, 2 assists vs Lipscomb) 
Pick: Xavier +1
Reasoning: Just going to go on pure experience and the fact Xavier has played 5 games already at this point. More importantly they are adding even more depth with three guys getting out of quarantine and Adam Kunkel, a transfer from Belmont eligible. I know I've preached that up transfers don't typically live up to the hype, but here's where Kunkel is important. He's an elite shooter. Xavier needs to keep spacing the floor so Scruggs can attack off the dribble (where he's at his best from the wing) and let Freemantle/Carter go there. Keith Williams can be a difference maker for Cincinnati in this game but I like Xavier's depth. Also just one of the best rivalries in the game. These programs legit HATE each other. Sucks we don't get fans for this, which actually matters in a game like this.

Game is at 4pm at Michigan
UCF (1-0, 1-0 ATS, 0-1 on the over)
Key player: Dre Fuller (13 points, 7 rebounds, 5 assists, 3 steals vs Auburn)
Michigan (3-0, 2-1 ATS, 3-0 on the over)
Key player: Isaiah Livers 20.0 ppg, 5.0 rpg, 2.7 apg)
Pick: Under 142
Reasoning: This UCF offense is uh not great. That's to put it lightly. That's what happens when you lose Collin Smith for the year, a guy who they ran the offense through a year ago. I know Michigan wants to push tempo, but UCF's zone defense could slow it down a bit. That's going to be the key. If they can get back and slow down Michigan just a second or two each possession, we're fine. The other reason I like the under? There shouldn't be a ton of turnovers. That limits free points, which is what we're trying to go for here. We need non-steal turnovers, where a defense can get setup.

Game is at 4:30 at Georgetown
West Virginia (3-1, 3-1 ATS, 2-2 on the over)
Key player: Derek Culver (15.8 ppg, 11.2 rpg)
Georgetown (1-1, 0-2 ATS, 1-1 on the over)
Key player: Jahvon Blair (20.0 ppg, 7.0 rpg, 3.5 apg)
Pick: WVU -10.5
Reasoning: Georgetown stinks. They flat out stink. It's weird. Patrick Ewing has actually done a decent job, but then everyone just leaves. Think of a couple years ago when they won at Illinois. They had James Akinjo and Mac McClung in the backcourt as freshmen. It was promising all around. No one is back. They rely on Jahvon Blair and Jamarko Pickett, two guys I like, but not good enough to carry a team. They want to play uptempo? Perfectly fine for WVU. They are getting guard play, especially by Miles McBride. More importantly than that, they take away the 3pt line, where Georgetown loves to play from. Their offense is predicated on getting threes and offensive rebounds. That's a game WVU is comfortable defending. Give me a bounce back after that loss to Gonzaga.

Game is at 5pm in Atlanta
Kentucky (1-2, 2-1 ATS, 0-3 on the over)
Key player: BJ Boston (15.7 ppg, 7.7 rpg)
Georgia Tech (0-2, 0-2 ATS, 2-0 on the over)
Key player: Moses Wright (25.5 ppg, 12.0 rpg)
Pick: Kentucky -6.5
Reasoning: Fuck it! I can't believe I'm even taking Kentucky here ATS. But they are due for a game where the offense actually looks like a college offense. Why not against a team that hasn't practiced with contact this season? Why not against a team that lost to two mid-majors to start the season? Georgia Tech's defense is a bit of a mess to start the season. They don't force turnovers, they don't challenge at the rim and they don't rebound. Kentucky should LIVE on the offensive glass with Sarr, Jackson and Fletcher. The key though is figuring out this offense. It's been dogshit and that's a compliment. They are talking about moving Terrence Clarke more to a playmaker guard role similar to what they did with Isaiah Briscoe. The difference is that worked because you played shooters/play makers around him. Kentucky needs to go with Clarke as the point forward. Play some combo of Mintz/Askew/Allen/Boston with one of Jackson/Sarr around him as much as possible. You won't lose length, defense or rim protection. 

Game is at 6pm at Howard
Bellarmine (0-1, 1-0 ATS, 0-1 on the over)
Key player: Ethan Claycomb (13 points, 2 rebounds, 2 assists vs Duke)
Howard (0-3, 1-1 ATS, 2-0 on the over)
Key player: Kyle Foster (12.3 ppg, 1.3 apg)
Pick: Over 146.5
Reasoning: There's no Makur Maker, which yeah is a worry for Howard's offense, but this defense is awful. I know Bellarmine plays a slower pace. But they are efficient on offense, going back to their Division II days. They run a simple, spread out, motion offense predicated on cutting and an extra pass. They will be one of the better passing teams you see this year. They remind me a bit of Belmont, who scored 90+ against Howard. Bellarmine's offense just looks for the defensive confusion than attacks. No one will get confused on defense more than Howard. Then on offense they want to fly around. This game should be played at a faster pace and Bellarmine should have no problem scoring. 
Total picks
40-37 overall, 14-14 on favorites, 13-11 on underdogs, 9-9 on the over, 4-3 on the under
Villanova +1.5
Over 141.5 Missouri/Wichita State
Xavier +1
Under 142 UCF/Michigan
WVU -10.5
Kentucky -6.5
Over 146.5 Bellarmine/Howard