Every Last Fucking Thing You Need To Know About Boxing Before Tonight (Joshua v "The Kissing Bandit" Pulev)
Good afternoon, everyone... Ready for some boxing and some unrelated GIFs?
DAZN has a heavyweight matchup today with obvious implications on what could be next year's biggest boxing event.
IBF/WBA/WBO heavyweight champion Anthony Joshua vs Kubrat Pulev (28-1, 14 KOs)… The card starts around 2 PM Eastern and I would think the Main won't start until around 5, or so. 
The undercard is relatively unremarkable… Hughie Fury (24-3, 14 KOs) is the only name that stands out (mainly because of his exponentially more famous cousin). Hughie is a heavily favored heavyweight (-650) vs a Polish giant named Marius "The Viking" Wach (+475 with a record of 36-6, 19 KOs, and a weird hype video). 
Both of these heavyweights have the unfortunate distinction of consistently losing to top-tier competitors, so I am tempted to take a shot on a 6'8" Polish puncher's chance versus a 6'6" Brit who also has nothing but a mediocre career to look forward to. 
But keep in mind that Wach is 40 years old, Fury is 26, and I think the Fury family has come to grips with the fact that Tyson and Hughie will never be the heavyweight familial dynasty that the Klitschko brothers once were BUT they are still going to pit the lesser cousin against worn-out tomato cans (like Wach) just so Hugh can remain on the undercard of real fighters. 
(overhand right by Fury)
Still, I am unconfidently burning $100 to win $450 on Wach with a lucky punch in what should be a sloppy fight. 
(overhand right by Wach)
On to the Main Event…
Andy Ruiz Jr gave fat Mexicans worldwide (but mainly in Mexico) a reason to celebrate on some date on June 9th, 2019 when he took it to Anthony Joshua and shocked the world.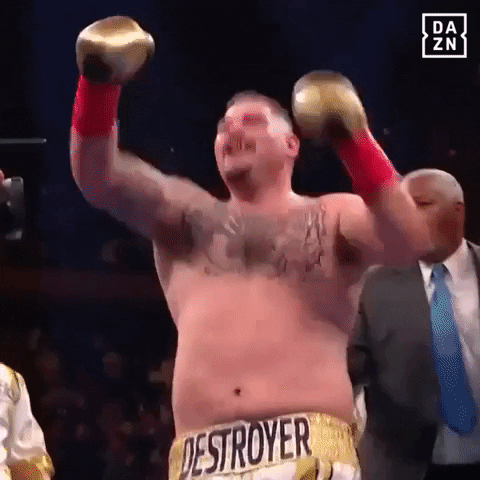 Giphy Images.
He then exposed himself 6 months later as a guy who values carbs more than belts when he came into the rematch looking like a bloated piñata.  
("Gracias, El Presidente.")
And he was easily frustrated by a Joshua who learned a lesson in their first go-around. 
Now Joshua faces Kubrat Pulev… A man who (apparently) does not respect boundaries…
To put it simply, Kubrat Pulev is no Andy Ruiz Jr.  So elderly Bulgarians worldwide will have to bide their celebration until the next Olympic Games because Joshua should walk away with the W tonight.
Giphy Images.
(Apologies, Kubrat.)
To have any shot, Kubrat better come out swinging (like he did in a losing effort vs Klitschko in 2014) because catching a younger, bigger, stronger, and (arguably) more skilled Joshua with an overhand to the temple and then following up with a flurry is probably the only game-plan that makes sense for his corner.  
And I am not in the business of threatening professional athletes but KUBRAT PULEV BETTER NOT EXPOSE JOSHUA TONIGHT AND FUCK UP THE VERY REAL CHANCE WE GET TO SEE FURY (the good one) VERSUS JOSHUA SOMETIME IN 2021. 
That heavyweight unification between two European fighters will truly be a super-fight and will undoubtedly pack a (hopefully) post-Corona soccer stadium to the fucking rafters with drunk and rowdy Brits… I can't fucking wait. 
Giphy Images.
Enjoy the fights and take a report. 
-Large
---
I have a heavyweight bias (because I am fat), but there another card tonight that is intriguing. Shakur Stevenson, the undefeated former featherweight world champion from Newark, N.J., is fighting Toka Kahn Clary in a 10-round junior lightweight bout on ESPN.
Clary has no shot in this fight… The fight was put together on short notice with Top Rank looking to fill a main-event void left when Miguel Berchelt was forced out of his junior lightweight title defense against Oscar Valdez due to a positive COVID-19 test.
So why watch?… Three reasons, actually:
1) It's free… Top Rank does a great job giving fight fans good cards at the right time.  So after all the football is done, it's an easy flip over to ESPN after 10 PM to watch some good matchups or to flip back-and-forth between UFC 256.
2) As Stevenson (14-0, 8 KO) finds a weight where he is comfortable fighting in, he has some potentially great matchups at multiple weights vs names like Tank Davis, Lomachenko, and maybe even Teofimo Lopez (if Lopez doesn't move up).  And fights like this, Shakur has to win in dramatic fashion… And he has more than enough skills to do that tonight.
3) Edgar "The Chosen One" Berlanga is on that undercard, and I highly recommend tuning in to see if he can keep his winning streak of 15-0, ALL WITH FIRST ROUND KNOCKOUTS. 
He's not a pretty fighter (he's a fucking wrecking ball) but he's fun to watch.  Just don't go to the men's room once the fight starts… It's scheduled for 8 rounds, but you could miss all the fireworks in the first 3 minutes. 
TAR 
-L