It's Time We Start Talking About Florida State As A Team That Can Win A National Title
Welcome back #ReagsReaders. That is unless you're a Purdue fan. Go fuck yourself after blowing that lead to Miami and costing us a winning day last night. I do want to talk about Creighton/Kansas for a second. By far the best game of the day with two of the best teams. I gotta admit I'm surprised by Creighton. Don't get me wrong, I thought they'd be fine, but they look better than I imagined without Ty-Shon Alexander. That's mostly due to the development of Denzel Mahoney and Damien Jefferson. Yeah, if they have Alexander they are probably the No. 4 team in the country or so for me. He was that good defensively and let them run their best lineup. But what they have now is so good. As for Kansas, that's a huge win. Agbaji didn't score, they actually got points and positive stuff from McCormack. But more importantly they are getting Jalen Wilson and that's allowing them to run their best lineup. He legit might be the most improved player in the country after a redshirt. 
Just a reminder that every single day there are games, this blog will go up. We're giving out stats too - I'm tracking every team in the country, going to give out trends and stats that matter as I go through games along with a breakdown of teams. Take it for what you will, but essentially this will be your one-stop shop for everything you need to get bets in, every day there are games. Once we get more trends they'll be in here too, obviously tough to do zero or one game in the season. Let's get into it. I'll update the blog if lines come out for later games that I want to play too.
Just a reminder every single one of these lines comes from the glorious Barstool Sportsbook. Make sure you download the app here.
Today's schedule (obviously games can still be cancelled)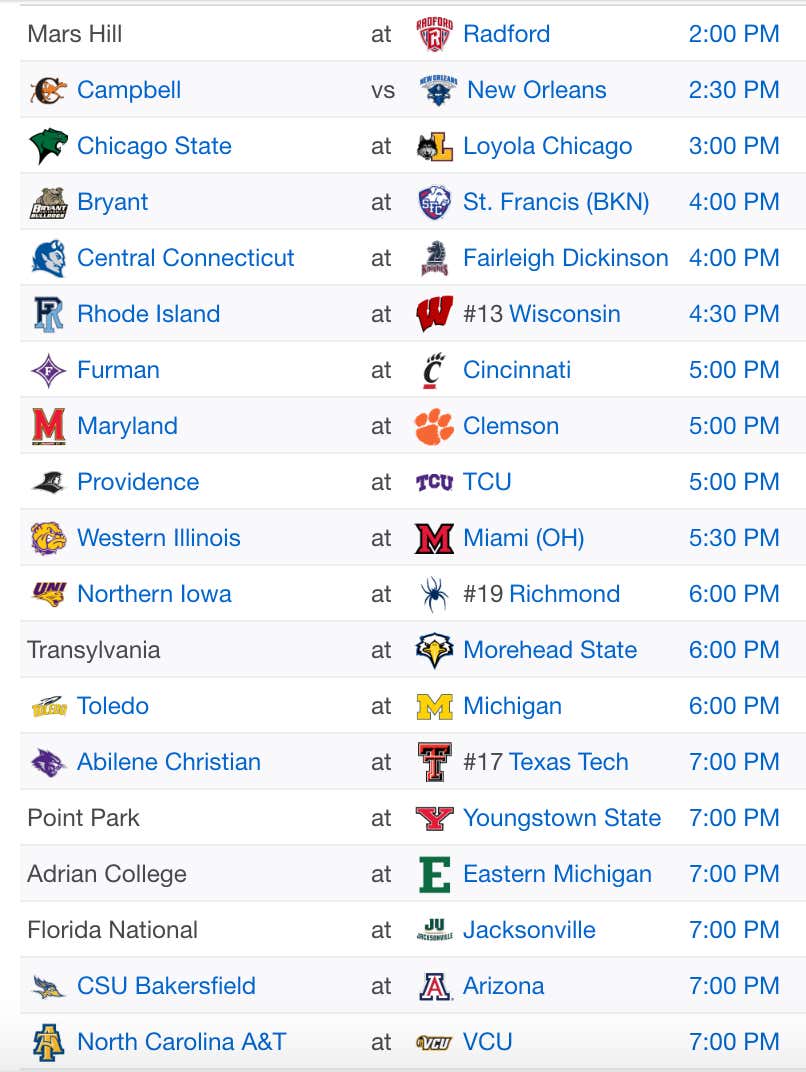 Game is at 9pm at BYU
Boise State (2-1, 2-0 ATS, 0-2 on the over)
Key player: Derrick Alston Jr (13.7 ppg, 3.0 rpg, 2.0 apg)
BYU (5-1, 4-1 ATS, 0-5 on the over)
Key player: Alex Barcello (19.2 ppg, 5.2 rpg, 3.3 apg)
Pick: Boise State +5
Reasoning: We've weirdly been on a side in pretty much every BYU game. I don't know why, they are just one of those teams that I have a good feel on and their lines seem to stick out. This time though it's opposite. We're going Boise here. The main reason is Boise's 3pt defense. They thrive on taking away the 3pt line from you, something that BYU needs for their offense. They don't run packline, but they run a packed man-to-man defense. They sit in the paint and then rotate to take away the 3pt line. They want you to beat them on midrange shots. They are 21st in the country on 3pt percentage defensively, 85th on 2pt% defenively, 28th in effective field goal percentage defensively and 20th in turnovers forced. Not only that but there is a ton of talent on this Boise team. Give me the Broncos.


Game is at 5pm at TCU
Providence (3-2, 1-4 ATS, 3-2 on the over)
Key player: David Duke (18.0 ppg, 5.2 rpg, 2.8 apg)
TCU (4-1, 2-3 ATS, 3-2 on the over)
Key player: RJ Nembhard (15.8 ppg, 3.8 rpg, 3.5 apg)
Pick: Providence +1
Reasoning: I wanted to take the over, but the adjusted tempo between the two teams is just too slow and their offenses are way too inconsistent. That said, the more games for Providence, the more I trust Cooley to figure out the defense. They should have the two best players on the court in Duke and Watson and that's nothing against Nembhard and Samuel, I just like them more. TCU's defense has actually struggled guarding inside the paint. Look for Providence to get the ball to Watson early and then let Duke drive. If Bynum can start getting more comfortable in the Providence system their offense shouldn't be AS bad. Perhaps the best thing for Providence is Dixon preaches running teams off the 3pt line and taking that away. That could open up the paint for Watson. Also, Providence can't shoot.

Game is at 3pm at Loyola
Chicago State (0-5, 1-4 ATS, 2-3 on the over)
Key player: Xavier Johnson (8.4 ppg, 2.6 apg) 
Loyola Chicago (1-0, 0-0 across the board)
Key player: Tate Hall (17 points, 2 rebounds, 2 assists vs Lewis)
Pick: Loyola Chicago -35.5
Reasoning: FADE CHICAGO STATE. There's a chance they are completely short on players today. They are having serious problems keeping guys on the court. They also don't have their head coach and are down to just 1 assistant coach for today. That's it. That's who is on their bench. That's a problem when they are playing a top-50 team in Loyola Chicago. Plus any time you can take a 35.5 point favorite, you kind of have to. Loyola will get easy buckets with Cam Krutwig in the post and then they have the guards in Tate Hall and Lucas Williamson that can attack and shoot. Again, strictly a fade Chicago State play.

Game is at 7:15pm at Florida State
Indiana (3-1, 3-1 ATS, 2-2 on the over)
Key player: Trayce Jackson-Davis (21.5 ppg, 7.0 rpg)
Florida State (1-0, 1-0 ATS, 0-1 on the over)
Key player: Scottie Barnes (8 points, 6 rebounds and 6 assists vs North Florida)
Pick: Florida State -3.5
Reasoning: Archie's teams do typically take away transition, but this Florida State team is different man. They are deep, they are long and they'll press. Scottie Barnes truly is a difference maker. The 5-star freshman is an absolute freak and just gives them a different look. FSU's defense is reliant on being aggressive and switching everything. That can be a real problem for Indiana's guards. The other thing is Indiana is actually just average on the defensive glass. FSU is always one of the best offensive rebounding teams in the country.

Game is at 7pm at Texas Tech
Abilene Christian (5-0, 4-0 ATS, 1-3 on the over)
Key player: Kolton Kohl (11.4 ppg, 5.6 rpg)
Texas Tech (4-1, 4-1 ATS, 1-4 on the over)
Key player: Mac McClung (17.2 ppg, 2.8 apg)
Pick: Abilene Christian +15
Reasoning: This Abilene Christian team is actually one of the best mid-major teams in the country. I love them. Offensively they want to play through the post. That's what they rely on. Now there is a problem with Texas Tech's defense here and how they force everyone baseline and take away the post. BUT, Chris Beard and Joe Golding are good friends. Golding should have a plan to attack Beard and there's a chance Beard doesn't run it up against one of his guys. He could call off the press a few minutes early. Have them just play a basic man defense a few minutes early. ACU also forces turnovers more than all but 5 teams in the country. That could get us to the number.

Game is at 7pm at Evansville
Eastern Illinois (2-3, 2-3 ATS, 3-2 on the over)
Key player: Josiah Wallace (17.0 ppg, 3.4 rpg, 2.6 apg)
Evansville (0-3, 0-3 ATS, 1-2 on the over)
Key player: Noah Frederking (16.3 ppg, 2.7 rpg)
Pick: Eastern Illinois -3.5
Reasoning: I'm not sure what I'm missing here. Everything is showing EIU as a 7 point favorite but the line is just 3.5. Against a team that hasn't had a win since ... well, nevermind. You know who they beat last. EIU should EAT Evansville alive on the post. They are actually the 93rd best offensive rebounding team in the country and Evansville is 245th in defensive rebounding. This line just seems a couple points too low. It might be a sucker pick, but I'm taking it. I don't care. Evansville sucks. EIU is at least average. I'll take that. 
Game is at 5pm at Cincinnati
Furman (4-0, 2-0 ATS, 1-1 on the over)
Key player: Mike Bothwell (21.8 ppg, 5.0 rpg, 4.0 apg)
Cincinnati (1-1, 0-2 ATS, 1-1 on the over)
Key player: Keith Williams (12.5 ppg, 3.0 rpg, 2.5 apg)
Pick: Furman +4
Reasoning: This sounds weird, but Cincinnati is completely lost defensively. Just rewatch that game against Xavier especially. They got lost on switches. They got lost on rotations. It led to a ton of layups and easy looks. Furman, again, one of the best mid-majors in the country, runs a motion offense that is built to get you lost defensively. Furman is 2nd in the country in effective field goal percentage offensively. That's a disaster for Cincinnati right now until they get more reps in. Furman doesn't crash the glass and gets back in their defensive sets. That should take away easy points from UC too. I'm going to fade Cincinnati until they figure out the defense. 
Total Picks
48-49 overall, 16-18 on favorites, 16-15 on underdogs, 11-12 on the over, 5-4 on the under
Boise State +5
Providence +1
Loyola Chicago -35.5
Florida State -3.5
Abilene Christian +15
Eastern Illinois -3.5
Furman +4