An Important Reminder For Tonight's Games: Mick Cronin Doesn't Give 'A Fuck About Your Shit' If You Complain About Him
Welcome back #ReagsReaders. We took yesterday off due to the shitty slate and not really having a blog to put together. But we're back today with a decent slate of games. I will note that San Diego State's win over Arizona State is worth talking about. ASU not having Marcus Bagley is massive and important to watch for this team. He's so important to what they want to do and add that length/offense. San Diego State though just keeps churning out wins. 4-0 with 3 top-100 wins. 
Just a reminder that every single day there are games, this blog will go up. We're giving out stats too - I'm tracking every team in the country, going to give out trends and stats that matter as I go through games along with a breakdown of teams. Take it for what you will, but essentially this will be your one-stop shop for everything you need to get bets in, every day there are games. Once we get more trends they'll be in here too, obviously tough to do zero or one game in the season. Let's get into it. I'll update the blog if lines come out for later games that I want to play too.
Just a reminder every single one of these lines comes from the glorious Barstool Sportsbook. Make sure you download the app here.
Today's schedule (obviously games can still be cancelled)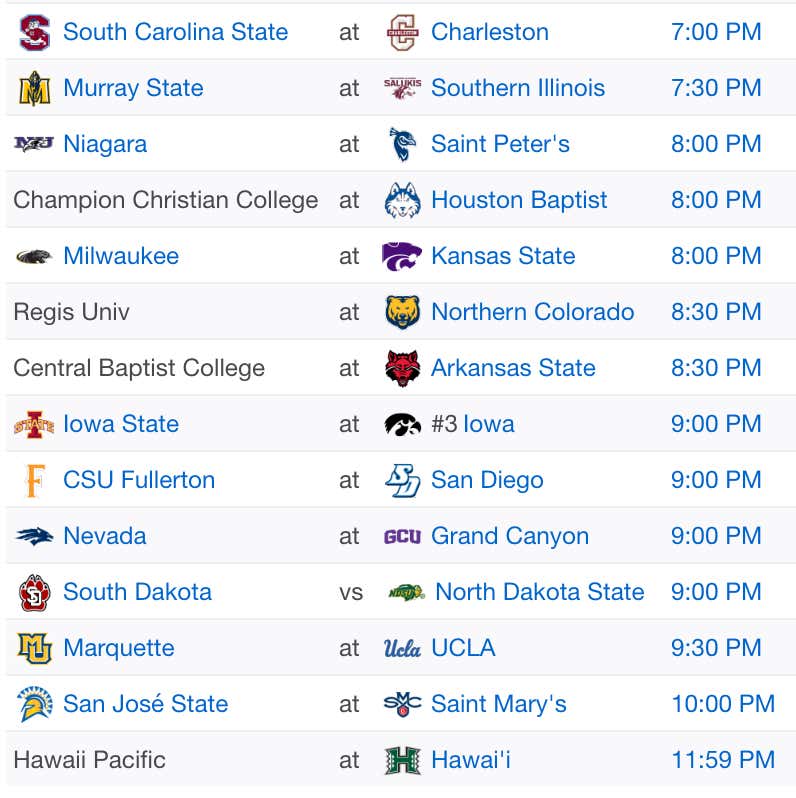 Game is at 3pm at WVU
North Texas (1-2, 1-2 ATS, 2-1 on the over)
Key player: Zachary Simmons (12.3 ppg, 8.7 rpg)
West Virginia (4-1, 4-1 ATS, 3-2 on the over) 
Key player: Derek Culver (15.4 ppg, 10.8 rpg)
Pick: North Texas +15
Reasoning: How do you stick with West Virginia? Slow down the game, rebound the ball and don't turn it over. Cliche but simple. Especially the rebounding portion. WVU is one of the best offensive rebounding teams in the country and we see them take advantage of that over and over again. I will say I have been impressed with WVU's offense in general and that's mostly due to Miles McBride. But they still are a team that relies on that offensive glass. North Texas is a damn good defensive rebounding team and they are one of the slowest teams in the country. They have an adjusted tempo that ranks 320th nationally. Limit possessions, take us to a cover. 
Game is at 4:30pm at Seton Hall
St. John's (
5-1, 3-3 ATS, 5-1 on the over)
Key player: Julian Champagnie (22.0 ppg, 7.0 rpg)
Seton Hall (3-3, 4-2 ATS, 4-2 on the over)
Key player: Sandro Mamukelashvli (18.5 ppg, 7.2 rpg) 
Pick: Seton Hall -5.5/over 153.5
Reasoning: Tempo, tempo, tempo. St. John's ranks 10th in adjusted tempo nationally and they are running that version of 40 minutes of hell. We saw Seton Hall take advantage of that against Iona and get some easy buckets in transition and while St. John's is clearly better than Iona, they've seen that sort of tempo. St. John's is really struggling defending though if they don't get turnovers. That's why we're playing the over along with St. John's offensive rebounding. At the same time I expect Seton Hall to take care of the ball with experienced guards and get open looks. They are shooting the ball well to start the year and St. John's relies on gambling so much right now.
Game is at 7pm at Creighton
Nebraska (3-2, 2-3 ATS, 2-3 on the over)
Key player: Teddy Allen (17.2 ppg, 5.4 rpg)
Creighton (3-1, 2-2 ATS, 2-2 on the over)
Key player: Marcus Zegarowski (13.3 ppg, 6.8 apg, 3.3 rpg)
Pick: Creighton -14
Reasoning: Listen, we know what happened against Kansas. Marcus Zegarowski, a legit Big East POY candidate, missed his final FT with a second left to tie the game. That was really the story of the game though. Creighton was the 7th best free throw shooting team in the country, shot under 50% in the game. That doesn't happen. Now it's a rivalry game back at home? This screams bounce back. This screams like Creighton gets their offense figured out, especially because Nebraska's defense is suspect at best. Both teams fly around on offense, so there should be plenty of possessions. I'm playing a strict bounce back game here for a team that looks the part of a top-10 team in the country.

Game is at 7pm at Georgetown
Villanova (4-1, 3-2 ATS, 2-3 on the over)
Key player: Jeremiah Robinson-Earl (16.2 ppg, 9.0 rpg)
Georgetown (2-2, 2-2 ATS, 2-2 on the over)
Key player: Jahvon Blair (20.2 ppg, 5.5 rpg)
Pick: Over 142.5
Reasoning: You know the best way to not give up points to Nova? Have a guy that can stretch and defend Jeremiah Robinson-Earl and then don't leave shooters. You know what Georgetown does? Gives up a SHIT TON of looks from three. They rank 210th in the country in 3pt/FGA. Now they are decent at recovering and it's part of Ewing's theory to defend the paint. But you can't give up that many looks to Nova. We saw what they did against Texas, a team that got lost on a guard getting into the paint and relocation. At the same time Nova struggles defending the three both from an attempt and percentage standpoint. Georgetown can score. So we're going to play the over here. It should be a relatively free flowing game and Georgetown can get some cheap points due to their offensive rebounding. 

Game is at 9:30pm at UCLA 
Marquette (4-1, 3-2 ATS, 2-3 on the over)
Key player: Koby McEwen (16.6 ppg, 4.2 rpg)
UCLA (5-1, 4-1 ATS, 3-2 on the over)
Key player: Chris Smith (15.0 ppg, 7.0 rpg)
Pick: UCLA -4.5
Reasoning: This UCLA team lost its opener to San Diego State and then have somehow slid under the radar. This isn't a knock on Marquette or anything, who I like. But in Marquette's its two high major opponents are just 13-for-43 from three. Small sample size, sure, but worth nothing. Why? Because Mick Cronin's defensive theory is to give looks from three. Pack the paint, make the shoot over you. That's why they rank 256th in 3PA/FGA but 78th in defensive 3pt percentage. That matters in the context of UCLA's defensive scheme. At the same time UCLA will mitigate Marquette's strength on the offensive glass. You don't punk a Mick Cronin team there, right? PS: Still an all-time quote:
Game is at 7pm at Delaware
George Washington (1-3, 1-3 ATS, 4-0 on the over)
Key player: James Bishop (20.5 ppg, 7.8 apg)
Delaware (1-1, 0-1 ATS, 0-1 on the over)
Key player: Kevin Anderson (19.5 ppg, 6.0 rpg)
Pick: George Washington +1
Reasoning: Sometimes you have to find the shittiest game and bet it. Sure, this game is at Delaware. Both these teams are awful. So why GWU? First, Delaware has played just one division I team so far this year. It's an angle I've been trying to play. Then it's just George Washington's offense. They are scoring this year and I am a big fan of their head coach Jamion Christian. Oh and Delaware can't defend the paint and that's where GWU wants to score. The difference there? GWU is 75th offensively in 2pt percentage and Delaware is 256th in defensive 2pt percentage. 
Game is at 8pm at Kansas State
Milwaukee (0-0 across the board)
Kansas State (1-4, 0-5 ATS, 1-4 on the over)
Key player: Mike McGuirl (15.2 ppg, 3.4 rpg)
Pick: Under 132
Reasoning: Uhh we saw Kansas State lose to a Division II right? They can't score. They have one of the slowest tempos in the country. They turn it over. They can't shoot. But they can defend! Seems ripe for an under. Especially when Milwaukee is coming out of quarantine and has the first game. 
Total Picks
52-52 overall, 17-20 on favorites, 19-16 on underdogs, 11-12 on the over, 5-4 on the under
North Texas +15
Seton Hall -5.5/over 153.5
Creighton -14
Nova/Georgetown over 142.5
UCLA -4.5
George Washington +1
Under 132 Kansas State/Milwaukee