I Hope Canelo Alvarez Loses Tonight
Good afternoon.  
May I have your attention for a moment
First off, here's a little boxing recap from last night…
There was an upset on DAZN's Friday night undercard when highly favored super-middleweight (and GGG protogé) Ali Akhmedov got knocked-the-fuck-out in the 12th and final round by an Ecuadorian named Carlos Gongora… Great fucking fight and Akhmedov was ahead on all cards before Gongora knocked him down twice in the 12th.
There were over 1,500 punches thrown in this fight before Damon-Wayans-lookalike-Gongora put Akhmedov on Queer Street with this left uppercut…
Then DAZN threw in a worthless female fight before they fucking CRUSHED the scheduling of their Main Event… One of my favorite middleweights of all time, GGG, returned to the ring after 14 months and demolished an undefeated Polish guy I have never heard of… And here's the best part- The fight was OVER before 9:30 PM.
Gennady knocked the guy down 4 or 5 times over 7 rounds and hit him with more jabs than a junkie's arm… GGG looked very good versus a mandatory challenger that did not deserve to be in the ring.
More importantly, it was a historic 21st middle-weight title defense for Golovkin and it sets the 38-year-old up to choose the pick of the litter for his next opponent in a division stacked with young talent like Boo Boo Andrade, Jamie Mungia, and one of the Charlo brothers.
Or he could give me what I want, and fight Canelo Alvarez for the third time.
This brings us to tonight's action… Another DAZN production, but the Main Event, unfortunately, won't go off until after 11 PM EST…
WBC "Franchise" middleweight champion Canelo Alvarez challenges Callum Smith for the WBA (Super), The Ring, and vacant WBC super-middleweight titles tonight in San Antonio, Texas at the Alamodome where a limited number of fans will be in attendance.
At last check, Canelo Alvarez (53-1-2, with 36 KOs) is a -670 favorite and Callum Smith (27-0, with 19 KOs) is a +400 underdog.
And I hope Canelo gets his fucking ass beat tonight.
Over the last year-and-a-half, I have been lucky enough that Barstool has given me access to either sit down or video conference with the biggest boxing and MMA fighters and promoters in the world, both past and present.
I spoke with Mike Tyson, Bob Arum, Stipe Miocic, Dana White, Tyson Fury, Kamaru Usman, Colby Covington, Oscar De La Hoya, GGG, Bernard Hopkins, Tito Ortiz, Vasyl Lomachenko, Lionheart Smith, Shannon Briggs, Georges St-Pierre, Ryan Garcia, Mick Conlan, Gerry Cooney, The Charlo Brothers, Tank Davis, and Teo Lopez to name more than a few, and I have NEVER had an issue.
(I didn't mention this guy, but I guess I should've… #teamproblemchild)
There have often been technical glitches that needed to be fixed, but the fighters and their camps have always worked with my production team to get shit done.
Then I went to interview Canelo Alvarez for the first time this week, and he "big-timed" me.
I over-prepared for the interview because I knew I had a tight window with Alvarez at the end of a media car-wash.
I realized that I was going to be going through an interpreter, so I tailored my questions to fit the bi-lingual format.
My team and I were logged on early and fully prepared to bang this thing out in order to capture a couple of marketable sound bites.
Canelo logged on 15 minutes late, and immediately I could tell the device he was using was either muted or had the speaker turned down very low on his end… My end was tight.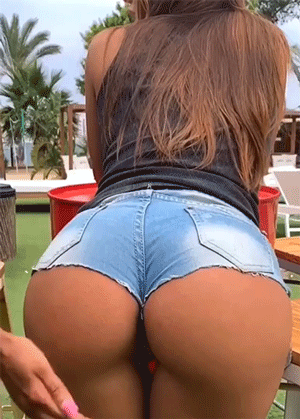 He looked dumbfounded at the camera for about 15 seconds and then said something unintelligible in Spanish before logging off… Leaving me sitting there with my dick in my hand.  Not literally… I rarely masturbate during interviews (but mainly because I haven't had Paula Deen on yet).
Giphy Images.
Now, I know I am not a big personality here at Barstool, so big-time celebrities don't have to pay me any kind of respect.
But I also know that I do not need to show big-time celebrities who typically give terrible interviews any respect in return, so I hope that Saul Alvarez gets knocked out by Callum Smith tonight.
(By the way, I am no longer calling Saul Alvarez "Canelo"… It's a cool nickname and I don't think he's a cool guy, so fuck him… He can call me by my real name if he likes… My real name, "Mike", is a helluva lot better than Saul.)
Giphy Images.
Assuming Saul doesn't get caught "accidentally" eating any more steroid laced Mexcian sausages before the opening bell sounds tonight, I hope Smith finds a way to use his considerable height and reach advantage to keep Alvarez at bay…
And maybe catch a frustrated Saul on the button as his tiny arms flail aimlessly at Callum's chin…
The height difference between Saul and Callum is glaring but I think there is a better set of stats to consider in this chart…
Callum is VERY productive with his jab while Saul is VERY deadly connecting with power punches once he gets inside, but, here's the thing… Callum has to throw non-KO-powered jabs for 36 minutes tonight to have any chance at winning.  And, even then, judges suck Alvarez's dick more than any fighter I have seen in recent memory.
On the other hand, Canelo (I mean Saul… DAMMIT!) WILL get inside the lanky Englishman at some point, and could easily end this fight going either upstairs or to the body.
If there was ever a night to fade my picks, this might be it, because I am betting Callum Smith to pull off a MAJOR update versus some immensely talented kid named Saul.
I don't know how he'll do it.  I just know that I need for him to get it done.
Fuck you, Saul… Good luck, Callum… And take a report.
-Large
---
And for anyone who thinks that it is out of character for Barstool to burn a bridge with arguably the best pound-for-pound fighter alive, my fearless leader, Dave Portnoy (who has done more for small businesses lately than the US Congress), wrote this blog in 2013…
Which was a great call by Pres because Mayweather put on a fucking CLINIC that night against an admittedly unseasoned Saul…
So, if you were #teamportnoy back in 2013, then you are de-facto both #teamcallum AND #teamlarge tonight, and ultimately #teamamerica for the rest of time…
Giphy Images.
(even though neither fighter is from the US)
TAR
-L