The PGA Tour Heads To Historic Torrey Pines For The Farmers Insurance Open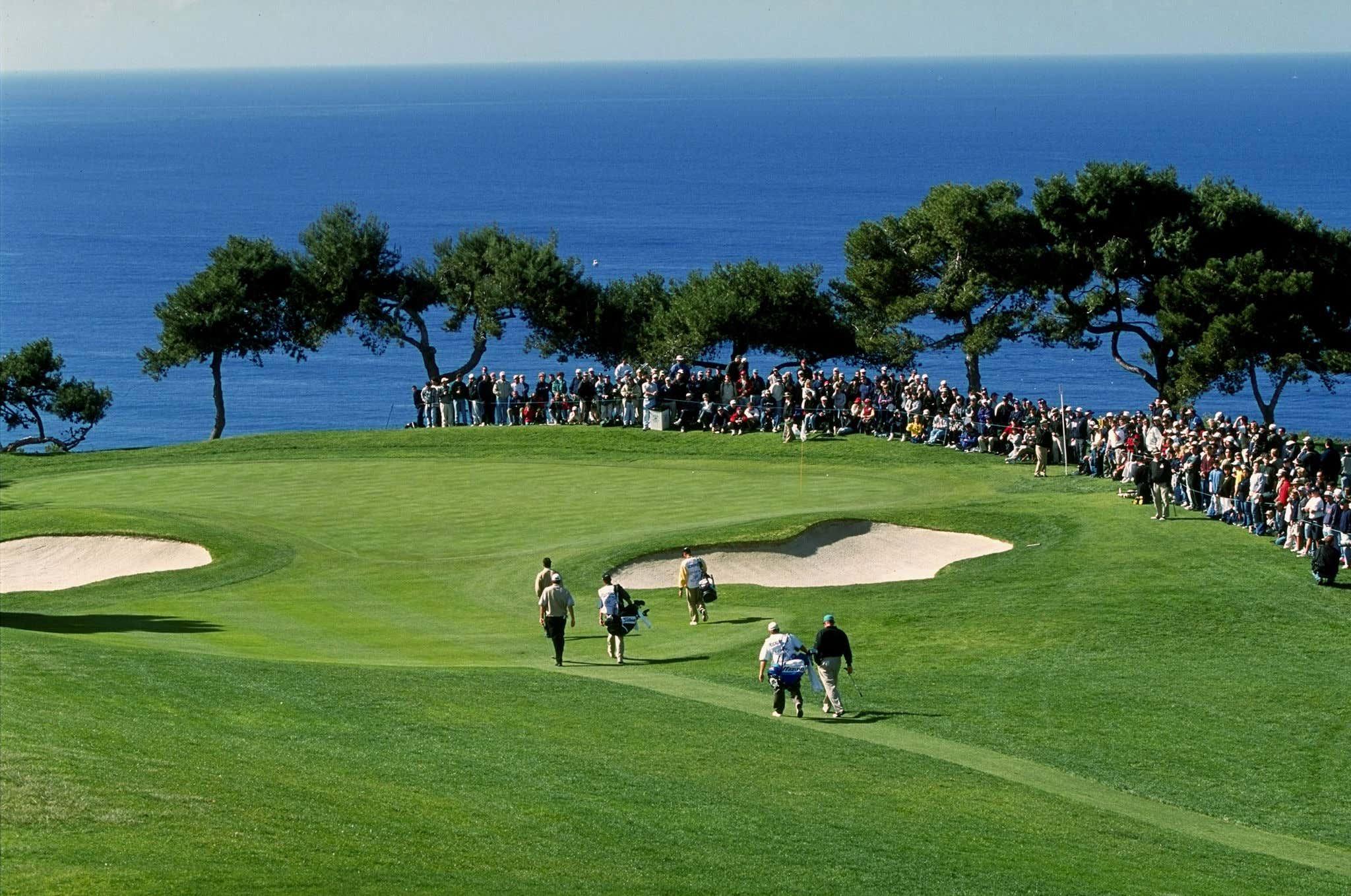 Chris Condon. Getty Images.
Here we go. This is where the PGA Tour schedule starts to pick up. From here on out until we reach Augusta, we're pretty much playing on a premier course at one of the Tour's prestigious stops. We're talking Pebble, we're talking Scottsdale, we're talking Bay Hill, but this week… brings us Torrey Pines in La Jolla, California. 
Originally known as the San Diego Open and later the Buick Invitational, this is a tournament and golf course that has been owned by one man. Eldrick. Tont. Woods. He often started his season here, and has won on this course as many times (8… eight!) as he has anywhere else. Perhaps his most infamous win (or at least until 2019) came when he won the 2008 US Open here (in 91 holes no less) with a torn ACL and broken left leg. I wouldn't be doing my job if I didn't leave this here.
Alas, I am sorry to report that Tiger will not be joining us this week. Back surgery. Very sad. But it's fine, you'll get your fix of Tiger at Torrey later this year when the 2021 US Open is contested here again in June. He'll be healthy and he'll be here. I promise. As for this week's tournament, the show must go on.
Last year it was Australian Marc Leishman who took home the W by narrowly beating out 54-hole leader Jon Rahm by 1 stroke with a final round 65. Here's your final leaderboard featuring some pretty big names including Rory, Reed, Bubba, and Top 10 legend Tony Finau. Quality tournament for sure.
Recent Winners
2020: Marc Leishman (-15)
2019: Justin Rose (-21)
2018: Jason Day (-10, in playoff over Alex Noren and Ryan Palmer)
2017: Jon Rahm (-13)
2016: Brandt Snedeker (-6)
2015: Jason Day (-9, in playoff over Harris English, Scott Stallings, and JB Holmes)
The Course
This tournament, like last week's American Express, will be played on two courses on Thursday and Friday - Torrey Pines North and Torrey Pines South. The South course is the main track that the US Open will be played on, as will the final 36 holes here after the 65 player (plus ties) cut. I won't get into the North course too much because it's only 25% of the tournament and will rarely be on TV anyway.
The South is course is all about distance. In fact, at about 7,700 yards it is the longest stop on the entire PGA Tour. There are a few exceptions over the years (like Brandt Snedeker winning this tournament twice) but by all intents and purposes this course is a bomber's paradise. Hell, the 2004 edition is where John Daly earned his 5th and final PGA Tour win. If you're into the gambles or building a DFS team, you might want to start by targeting guys near the top of the driving distance and Strokes Gained: Driving leaderboards. You've got four par 5's to attack, and six par 4's measuring over 450 yards. You're going to be facing an uphill battle here if you're not knocking it well past 300 yards off the tee. 
Another thing to keep an eye on is the poa annua greens, which is typical of courses on the West Coast swing. These greens are notorious for getting bumpier as the day gets longer and more and more footprints and pitchmarks eat up the green, so that can turn things sideways down the stretch on Sunday. Putting on poa has sometimes been described as a game of plinko. Sometimes putting is just up to the golf gods (or at least that's what I tell myself).
The Weather
Real mish mosh of weather here, but ultimately it'll be a little chilly. Rain a factor on Friday, but hopefully it doesn't cause any delays. Good news is with the tournament being played on two courses, there's a little more opportunity to adjust those round 2 tee times and avoid major delays.
TV Coverage
Thursday: Golf Channel 3-7 ET
Friday: Golf Channel 3-7 ET
Saturday: Golf Channel 1-3 ET, then CBS 3-6 ET
Sunday: Golf Channel 1-3 ET, then CBS 3-6 ET 
Featured Groups on PGA Tour Live this week are big heat:
Best Hole - 3rd hole Par 3, 201 yards
Stan Badz. Getty Images.
The 3rd hole at the South Course is the signature par 3 at Torrey Pines. If it weren't for the 7th at Pebble Beach, it'd probably be the most iconic par 3 on the entire West Coast. It's a downhill tee shot with a mid-iron with a deep bunker protecting the front of the green and nothing but trouble long. Distance control is absolutely crucial with this one. View of the Pacific ain't bad either. The 18th is a great par 5 with water protecting the green that makes for great drama, but this simply must be the pick.
The Trophy
Stan Badz. Getty Images.
Tiger's got a goddamn forest up on his mantle with these things
Torrey Pines and Cypress trees are an iconic duo, and a beautiful one at that. That's what they're going for with this trophy and they nailed it. I've always said that a good trophy is one that captures the taste of the week, and this trophy does that superfluously. Big points for that. With that said it is also, quite simply, a tree. And not a very big one at that. Still gonna give it a 7/10. 
The Favorite
Donald Miralle. Getty Images.
Torrey Pines is the site of Jon Rahm's coming out party when he won his maiden here in 2017. He is the favorite on the Barstool Sportsbook at +700. In that first win, he buried a 60 foot eagle putt on 18 to win it. Electric moment to say the least.
The world's 2nd ranked player hasn't won here since, but finished runner-up last year, T-5 in 2019, and T-29 in 2018. Pretty damn good track record to say the least. He's also finished in the Top 10 in 11 of the last 20 events he's played, including 2 wins. He deserves to be the favorite this week and I actually think it'd be foolish not to take him, even at +700. If you're building a DFS lineup, start with him and build from there. Here are the other names at the top of the board.
Admittedly Rory scares the hell out of me. Rory played this tournament for the first time 2 years ago (possibly because he knew the 2021 US Open was on the horizon) and has finished 3rd and 5th. He's coming off a great week in Abu Dhabi where he held the 54-hole lead and unfortunately finished 3rd. He says he liked the shape his game was in at the end of 2020 and didn't take much time off in order to stay sharp. When Rory's game is in great shape, there's few better and he might be poised for a big year. He also hits big time bombs so fading him at this course is not something I feel great about doing.
In contrast, the X man is a La Jolla native. He knows this course like the back of his hand. But for whatever reason he just doesn't come thru here. In 5 tries, he's missed the cut an astonishing 4 times. His only made cut was a 25th place finish in 2019. Makes no sense. Sure a couple of those results were before he was an established pro, but even after his rise he's struggled here. It's confounding. Fading him here until further notice.
The other guy I'm going to take a stab at is Jason Day +3300. This is almost solely a course history pick. He's won here twice and has a runner-up and a 5th place finish as well. There's quite a bit of risk here given his injury history and lack of super recent success, but he did flash a run in the summer where he reeled off four straight top 10's. He might have something left in the tank or he might not. This is the kind of place where we'll find out. I'm willing to roll the dice.
Other Plays
Rahm Top 5 +188/Top 10 +100 - Send it.
Rory Top 10 +125 - I have to at least take some action on Rors to cover myself and this is a Rahm hedge I'm comfortable with.
Ryan Palmer Top 10 +500 - Finished runner-up to Day here in 2018 and has quietly crept up to #28 in the world with some solid play of late.
Harris English Top American - I can so easily see a scenario that a European (see, Rahm, Rory) wins this thing so this might make for some fun side Sunday action.
X to miss the Cut +300 - Might as well ride this train while I'm at it
Phil Mickelson to miss the cut -134 - Sorry to say it but I'm starting to think this dude is fried. Might have to blog about it soon. Missed 4 out of 7 cuts and his best result was T-44 at the Safeway Open. This ain't the Safeway Open.
Tony Finau +1600 to win - (WARNING: This is merely a FOMO pick. Been chasing that Tony win for like 4 fucking years and there's just no way I'm going to miss the boat. This pick will be a mainstay here for the foreseeable future, ride or don't.)
There ya have it. Enjoy Torrey Pines.