Samuel Army's Weekend Soccer Preview/Picks – The "Arsenal's Top 4 Dreams vs United's Title Hopes" Edition
Sam's Safe Space for Soccer Stoolies
Hi Haters™,
Games are coming fast and furious these days so no time to beat around the bush. Let's get right to the good stuff…
---
ENGLISH PREMIER LEAGUE
Scores from the midweek: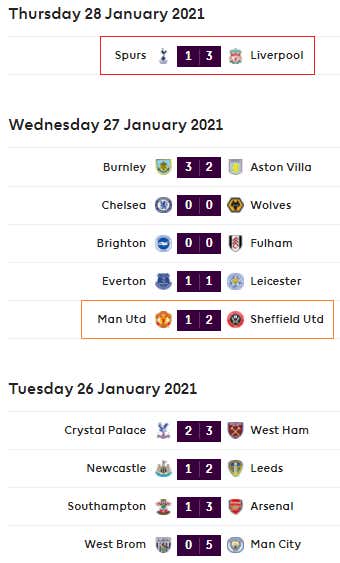 ---
POWER RANKINGS
TOP 4
1. City
2. United
3. Liverpool
4. Everton
Honorable mention: Lester
BOTTOM 3
20. Newcastle
19. Sheffield Utd
18. West Brom
Dishonorable mention: Fulham, Wolves
---
WATCHABILITY INDEX (must-watch… not always for complimentary reasons)
1. Chelsea (let's see whatcha got Tommy!)
2. Leeds (crackheads make for good people-watching)
3. West Ham (wait, is y'all good?)
---
Table as things stand:
Dangly status: getting a LOT chilly up in here
And the schedule for this weekend:
---
PICKS OF THE WEEKEND
ARSENAL [+190]
UNITED [+150]
Draw [+250]
We talked about this game at some length on the podcast so I'll spare you the long-winded explanation and summarize it this way: United are the better team. There are nevertheless two reasons to doubt them: (a) they looked like poop this week with suggestions that their two-headed engine of Bruno and Pogba may be getting tired; and (b) Arsenal have seemingly stopped sucking. I agree with the latter point, to a certain extent anyway, but am willing to believe for the time being that United's loss to 8-points-having Sheffield Utd at home was more of a one-off craptastic performance than a serious red flag. So at the end of the day I'm going with the better team in this one. 
Prediction: UNITED TO WIN 2-1
---
WEST HAM [+350]
LIVERPOOL [-130]
Draw [+310]
Bookies apparently think that Liverpool's solid win over Spurs – can't spell "slumpbusters" without em – put the Reds right back on the straight and narrow. I'm not so sure about that, especially with the injury to Joel Matip forcing Klopp to start James Milner at CB this weekend. Not really but I bet you thought it might be true for a second which proves my point. Liverpool's defense probably looked a bit better than they are at the moment thanks to Tottenham dropping a big ol' watery deuce all over themselves on Thursday, and West Ham (healthy as all get out for what feels like the first time in decades) is the kind of team that can give anyone trouble given all the different guys that can hurt you and, importantly, their dangerousness on set pieces. That could be especially problematic for whatever fourth-choice Liverpool backline gets thrown out there.
So I like the Hammies to give Liverpool some trouble… but I'm going with the defending champs to pull it out. Mane, Salah and Firmino's lack of precision lately has made the team seem a lot tamer than they really are. That can only last so long (for the first two anyway).
LOCK ALERT: Loving the OVER in this game.
Prediction: LIVERPOOL TO WIN 3-2
---
WEST BROM [+240]
FULHAM [+130]
Draw [+220]
Biggggggggggg bottom of the barrel six-pointer. The Baggies just signed a Senegalese dude named Mbaye Diagne from Galatasaray who has been one of the best strikers in Turkey this season. Sounds like a smart move considering they have only scored 15 goals in 20 games this season. Less than a goal per game, for those scoring at home, is absolute trash (though to be fair West Brom is far from alone in being below that line this season). So credit to Big Sam for trying to address a big problem. Unfortunately that isn't even the club's biggest problem, though, as they have shipped a whopping 43 goals. Good lord get it together fellas. Which, to get around to the point, is my way of saying that since Diagne likely won't play and their defense is worse than absolute trash… I'm definitely all aboard the Fulham train this weekend. The Cottagers have gotten their act together defensively and as long as West Brom acts defends like West Brom they should get enough looks to make it work.
Prediction: FULHAM TO WIN 2-0
---
Some more predictions… to increase the possibility that I eventually get one right, maybe (note: gonna start highlighting my BETTER BETS – meaning the ones I legitimately like as opposed to just picking because it's kinda my make pretend job – in BOLD): 
• EVERTON 2-0 Newcastle
• Palace 0-1 WOLVES
• CITY 3-0 Sheffield Utd
• Southampton 1-2 VILLA
• CHELSEA 2-1 Burnley
• Lester 2-3 LEEDS
• Brighton 1-2 TOTTENHAM
---
REST OF WORLD
Bundesliga: RBL (2nd) vs Leverkusen (3rd) on Saturday at 11:30am CT
La Liga: Villarreal (5th) vs Real Sociedad (6th) on Saturday at 2pm CT
Serie A: Atalanta (5th) vs Lazio (7th) on Sunday at 8am CT
There we have it. Quick turnaround with a full slate on deck again next week. Strap in boys and girls. Lots of games and the potential for big changes in what is a very packed table. PLUS we got a bloodbath on our hands as USMNT will exact a little more revenge from T&T so stay tuned for a preview of that on Sunday.
Thanks for reading you beauties!
Holler,
 Samuel Army