Samuel Army's USMNT vs T&T Preview – Prediction: Pain
Sam's Soccer Safe Space for Stoolies
Hi haters,
January camp always feels a little odd, so one taking place in the middle of a worldwide pandemic was always going to be weirder than Armie Hammer's YouPorn search history. But no matter. The 23 guys – including 12 senior team guys and 11 call-ups from U23 camp – have been in Florida for basically all month at this point so time to see what we're working with…
---
---
USMNT vs Trinidad & Tobago
This is what I'm not going to talk about today: 2017. That shmershmortion is over and done with. In fact I'm not even mad at the Trinidadians or Tobagonians (anymore). We shat the bed. That's on us. We paid our penance by having to deal with three straight years of lazy ass "make a world cup then talk" smack talk on the interwebs. Time to turn the page. That was then and this is now, and now is a beautiful time to be an American soccer fan. We have never had anywhere near as much talent in the pipeline as we do waltzing into 2021. Many of our first choice guys are playing in Europe and not available for January camp but there are a lot of MLS guys who are in the mix as well so this kind of game is important for identifying who should fill out the roster for important interim competitions taking place this year, including the Gold Cup and start of World Cup qualifying.
---
STARTING XI
Several starters have already been pre-announced or confirmed, Matt Turner (GK) and Miles Robinson (CB). There are some other guys who will almost certainly be in the XI, including Aaron Long (CB), Sebastian Lletget (MF), Chris Mueller (MF) and Daryl Dike (ST). The rest of the XI is really anyone's guess and will likely depend on what Gregggg has seen from guys at camp. I'll give it a shot here but – unlike games that that actually matter – I'm not going to get too worked up if he ends up going with some or even a lot of "surprises".
This is is my best guess at what Greggg will go with: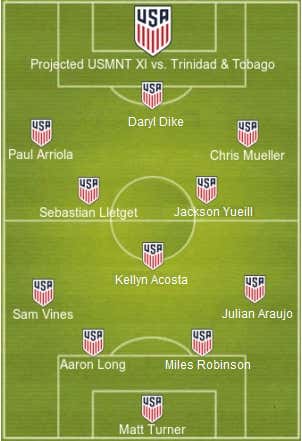 The only possible changes I could see would be Andres Perea in for Acosta at DM (I'd actually prefer that) and/or maybe Christian Roldan in at one of the MF slots (no thanks). George Bello could also slide in for Sam Vines at LB (both look good so no problem there).
---
THINGS TO WATCH
1) MOST IMPORTANT: Need to see who wants it in midfield. Possession is nice and there should be plenty of it against a team like T&T but what I care about is seeing which guys are willing to go at guys, take chances, look for dangerous passes and actually make things happen.  
2) Jozy picked up a little injury [shocker], which could be a good thing since it gives us a good chance to see what Daryl Dike brings to the table. He's looked like a big strong man in MLS in his rookie season and at 6'2", 220 lbs and fast as shit he could be a real problem for a lot of defenses. There are obviously names (eg, Josh Sargent and even n00b Matthew Hoppe) who bring more sexiness thanks to their overseas credentials but I'm excited to watch Dike and think he has a good chance to make the WC squad.
3) Always interesting to see how the CBs work together. I would have thought that Long and Zimmerman were going to be the duo but reports suggest Robinson – fresh off a disappointing season in Atlanta – snagged the second slot, which suggests that (a) he has played well and (b) the two of him and Long must have had a good understanding during camp. Hopefully they look like it tonight.
4) Debut for our guy Matt Turner. He won't see much work unless something goes very wrong but gotta stay tuned in just in case.
---
RESULT
We are looking at a young squad from T&T that includes a number of teenagers and guys that quite frankly we don't know a ton about. This game really shouldn't be about them though. We are the better team – much better. Anything less than a multi-goal win would definitely be a disappointment but MUCH more important is seeing some guys step up and force Greggg to call them in when the Pulisic's, McKennie's, Adams' (et al) of the world are available this spring.
Prediction: USMNT win 3-0
---
So there we have it. Another full slate of Premier League next week so keep your eyes peeled for the usual preview blog.
Holler,
Samuel Army