Samuel Army's Weekend Soccer Preview/Picks – The "Can Liverpool Keep Hope Alive?" Edition
Sam's Safe Space for Soccer Stoolies
Hi Haters™,
Huge weekend ahead. Liverpool vs City will dominate the headlines but several other games a little further down the table are worth paying attention to as well. Time to get our minds right…
---
---
ENGLISH PREMIER LEAGUE
Scores from the midweek: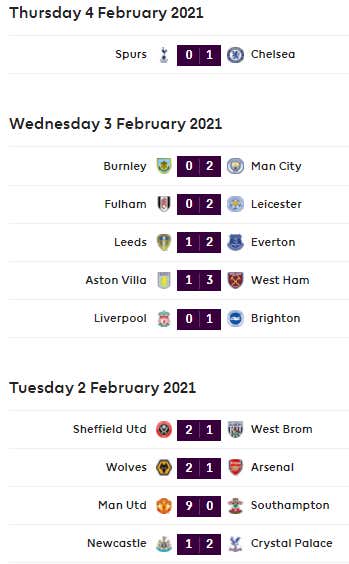 ---
POWER RANKINGS
TOP 4
1. City
2. Lester
3. United
4. Arsenal
Honorable mention: West Ham
BOTTOM 3
20. West Brom
19. Newcastle
18. Tottenham
Dishonorable mention: Burnley, Fulham
---
WATCHABILITY INDEX (meaning must-watch … not always a good thing)
1. Chelsea
2. Leeds
3. Tottenham
---
Table as things stand:
Dangly status: extreme nippliness!
And the schedule for this weekend:
---
PICKS OF THE WEEKEND
LIVERPOOL [+245]
CITY [+115]
Draw [+270]
City are fully back thanks to their shutdown defense and, out of nowhere, İlkay Gündoğod. Guy was an afterthought these last few years but has been a man on a MISSION this season. I thought maybe KDB going down was going to be a problem, especially given the continued absence of Sergio Aguero, buttttt NOPE. After a shaky first few months their backline has come together after the addition of Ruben Dias and renaissance of John Stones, while it has been next man up in a big way on offense. Tough not to give Pep a lot of credit for how this squad has gotten it together.
Liverpool, on the other hand, are fresh off a 0-1 loss (at home – not that that means much this season) against Brighton that was an appropriate encapsulation of where the team is at the moment: a makeshift defense doing what it can with an offensive unit that is dangerous but woefully inconsistent. And yet the analytics nerds still give them the second best shot at winning to the title this season:
Let's be serious. There is no good reason to pick Liverpool in this game other than a loss would put them 10 points back of City and do irreparable damage to the chances of a title race. So I'll admit that this prediction may be based at least as much on "hopes" as "thoughts" but I also suspect that the Reds could recapture some of the magic of 2018-19 when they didn't win the title but did get the best of a better-on-paper City team. It's not unthinkable Kabak and Fabinho at CBs could free up the rest of the squad to get back to the pressing and wing attacks that were their calling card the last couple years. Is it likely? Meh, probably not. But I'm saying there's a chance…
Prediction: LIVERPOOL TO WIN 2-1
---
UNITED [-180]
EVERTON [+525]
Draw [+330]
These odds are bananaland. The teams are not THAT uneven. Sure, United have stopped sucking so much at home but Everton have been the best road team in the league over the last couple months. And yes, Bruno will be the biggest difference maker on the field but there have been signs that he may be tiring a bit in recent weeks. But I wouldn't be shocked at all if Everton – very solid and increasingly healthy – sneaks up on a United squad that may be a little full of themselves after their 9-0 BEATDOWN of Southampton.
Prediction: EVERTON TO WIN 2-1
---
VILLA [+175]
ARSENAL [+160]
Draw [+250]
It brings me no joy to say that Arsenal seem to be rounding into form lately. The loss to Wolves hurt but can easily be explained away by the fluky red card David Luiz got just before halftime that changed the entire dynamic. (Harsh but right call, btw.) Even after going down a man the team looked almost as likely as Wolves to find a winner. Didn't work out in the end but not a bad performance by any means. The Gooners will also want some revenge for the 3-0 spanking they took from Villa at home in November.
So gun to head and I had to pick one team to win I'd probably lean Arsenal but I have been a fan of this Villa squad all season and – even after the disappointing loss to the Hammies this week – I think they are good enough and healthy enough to keep it tight on Saturday (at the buttcrack of dawn).
Prediction: 1-1 DRAW
---
Some more predictions… to increase the possibility that I eventually get one right, maybe (note: gonna start highlighting my BETTER BETS – meaning the ones I legitimately like as opposed to just picking because it's kinda my make pretend job – in BOLD): 
• Newcastle 0-2 SOUTHAMPTON
• Burnley 1-1 Brighton
• FULHAM 2-1 West Ham
• TOTTENHAM 1-0 West Brom [note: I wouldn't bet on this with your money]
• Wolves 1-2 LESTER
• Sheffield Utd 0-2 CHELSEA
• LEEDS 3-1 Palace
So there we have it. FA Cup is back next midweek then another full slate featuring Liverpool/Lester and City/Tottenham.
Thanks for reading you beauties!
Holler,
Samuel Army