Is Mike Anderson About To Make St. John's A Tournament Team: Picks, Breakdowns And Betting Stats For Today's Games
I talked about futures a bit earlier today with liking Oklahoma at 40/1 right now. But for the sake of argument who do you like outside Baylor/Gonzaga since we've officially reached the stage of them two vs the field. That really became official the last week or so with Michigan on pause and 7 of the top-11 teams losing over the course of a week or two. That's college hoops this year though man. On to today's games.
Just a reminder every single one of these lines comes from the glorious Barstool Sportsbook. Make sure you download the app here.
Today's schedule (reminder that games can still be canceled)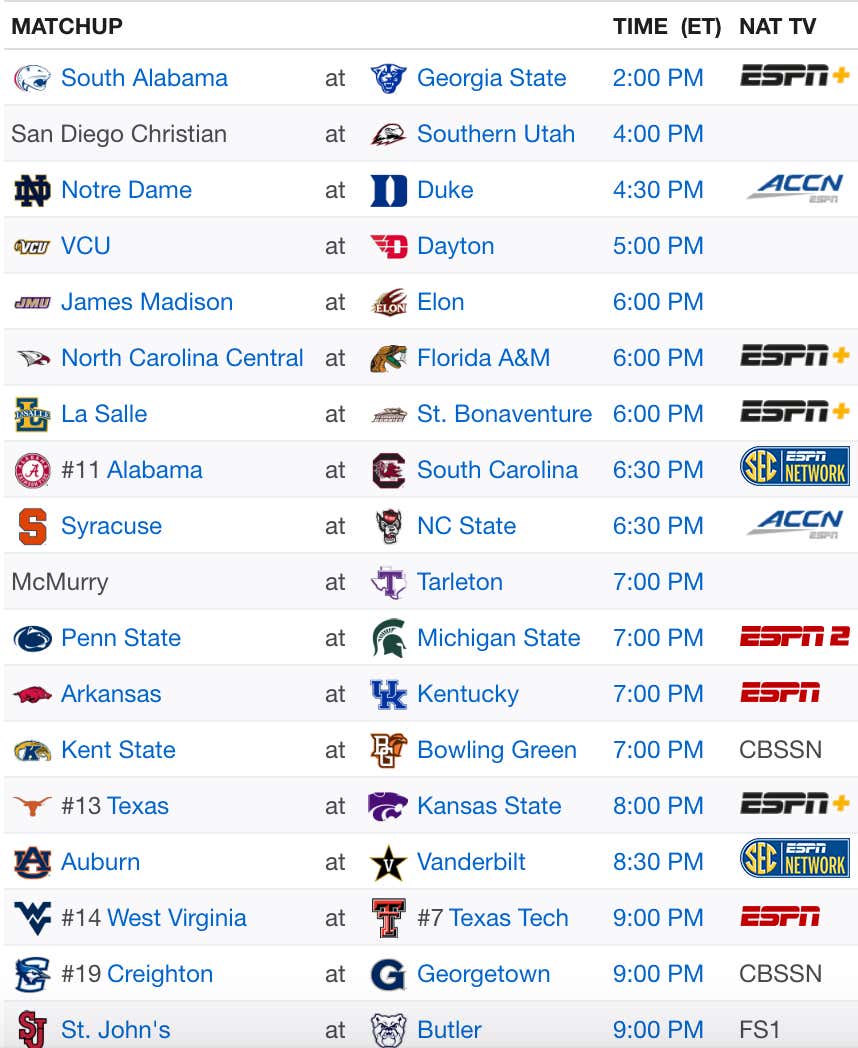 Game is at 5pm at Dayton
VCU (13-4, 9-8 ATS, 6-11 on the over)
Key Player: Bones Hyland (19.2 ppg, 3.7 rpg)
Dayton (11-5, 9-7 ATS, 8-8 on the over)
Key Player: Jalen Crutcher (19.4 ppg, 4.6 apg)
Pick: VCU -1.5
Reasoning: We saw these two teams play earlier this year and Dayton just couldn't score. Now the question is was that a one-off night or was that VCU's defense creating too much pressure for them? It's not like VCU shot the shit out of the ball or anything, they were just 30% from three. The biggest reason I'm on VCU though is the defense. They are 5th in the country in turnovers and Dayton is still struggling at taking care of the ball. Now most of these turnovers are dead ball turnovers, which is important against VCU, but I expect to see Dayton have 15+ turnovers. The other reason is VCU's 3pt defense. Dayton is actually a great 3pt shooting team. They are 65th in 3PA/FGA and 70th in percentage. VCU takes that away. It's just not a great matchup for Dayton.
Game is at 6:30pm at South Carolina
Alabama (15-5, 12-7-1 ATS, 9-11 on the over)
Key Player: Herb Jones (11.9 ppg, 6.0 rpg)
South Carolina (5-7, 5-7 ATS, 7-5 on the over)
Key Player: AJ Lawson (17.3 ppg, 4.0 rpg)
Pick: Alabama -6
Reasoning: Bounce back, bounce back, bounce back. Alabama needed a massive comeback to make the game against Missouri close on Saturday. Now they get a South Carolina team that doesn't really guard the perimeter well. Not the best recipe when playing Alabama, even if their shooting is regressing. In conference play South Carolina is 11th in 3PA/FGA and 10th in 3pt percentage. South Carolina thrives on turnovers and there's no doubt Nate Oats pushed that after what happened in Missouri. We're playing a bounce back here.
Game is at 7pm at Michigan State
Penn State (7-8, 8-7 ATS, 7-8 on the over)
Key Player: Myreon Jones (14.7 ppg)
Michigan State (9-7, 4-12 ATS, 7-9 on the over)
Key Player: Aaron Henry (14.0 ppg, 5.8 rpg)
Pick: Penn State +2.5
Reasoning: This is a bad Michigan State team. I'm banking on that. KenPom actually projects Penn State as the winner here, so it's a couple free points if you like to use that as a basis. If you want numbers we can go right to the turnovers. Penn State is 2nd in conference play in forcing turnovers and Michigan State is the absolute worst team in the conference at taking care of the ball. Penn State is also the best offensive rebounding team in the conference and Michigan State is 9th. Not a great combo if you're banking on teams that are equal in talent to winning a game and covering. I just don't know how to trust this Michigan State offense right now. It's looking more and more like that 80 point game against Iowa was the aberration.  
Game is at 9pm at Butler
St. John's (13-7, 12-8 ATS, 12-7-1 on the over)
Key Player: Julian Champaigne (19.7 ppg, 7.3 rpg)
Butler (6-10, 7-9 ATS, 6-10 on the over)
Key Player: Jair Bolden (12.0 ppg, 3.7 rpg)
Pick: St. John's +1.5
Reasoning: This feels like a rat line, but I'm taking it. This St. John's team is starting to figure shit out with Mike Anderson. Mostly it's been the development of Posh Alexander living up to his hype as the No. 2 guy next to Champaigne. Now Butler is incredibly balanced, they have 5 guys averaging double digits and no one over 12 points. St. John's won't shoot a lot of threes - they are 10th in the conference in 3PA/FGA, but they are making them. That's huge to combine with that uptempo pressing defense. Butler is taking care of the ball, but again, you're talking a defense that just forces turnovers. St. John's is on a 6-game winning streak putting them square on the bubble. They can't lose this game if they want to make the NCAA Tournament. I'll play that side. 
Game is at 9pm at Texas Tech
West Virginia (13-5, 9-9 ATS, 12-6 on the over)
Key Player: Deuce McBride (15.8 ppg, 4.6 apg)
Texas Tech (14-5, 7-12 ATS, 9-10 on the over)
Key Player: Mac McClung (17.2 ppg)
Pick: West Virginia +5.5
Reasoning: I'm trying to figure out why this line is so high. Home court advantage isn't nearly worth what it has been in past years, even if Tech has a few thousand fans there. Both teams will kick each other's ass on the offensive glass and won't shoot a ton of threes. They played earlier this year to a 1 point game and that's just how that feels this game is. They are about as equal as equal gets. WVU can match Tech with the 4-out, 1-in look ever since Oscar T. transferred and Huggins embraced playing around Culver with a bunch of guards. There's not a huge advantage at the free throw line from a percentage standpoint but WVU does get to the line way more and Tech fouls way more. I'll take the points here.
Total Picks
134-135-2 overall, 51-51-1 on favorites, 52-38 on underdogs, 23-29-1 on the over, 7-15 on the under
Dayton -1.5
Penn State +2.5
St. John's +1.5
WVU +5.5