Every Single Damn Thing You Need To Know About Saturday's NCAA Tournament Games
What an absolutely beautiful start to the NCAA Tournament. We waited two years for this event and it's delivering. We had Oral Roberts and North Texas winning. We had overtimes, we had Rutgers and Oregon State winning for the first time in nearly 40 years. We had Dave making commish decisions and giving basically every team in #BarstoolBracketBlockers to Hubbs and Tommy, #GiveReagsATeam. We had bad beats, looking at you Liberty and Baylor. We got the guys out in Chicago and if you're in Illinois, Michigan and Pennsylvania you better be downloading the Barstool Sportsbok. What I plan on doing on the blog each day is this preview. Everything you need to know. Schedule, storylines, picks, if you want something different let me know and I'll adjust. It's March. It's all about adjustments in order to survive and advance. Let's get into it. 
Schedule
Bracket
It's beautiful mayhem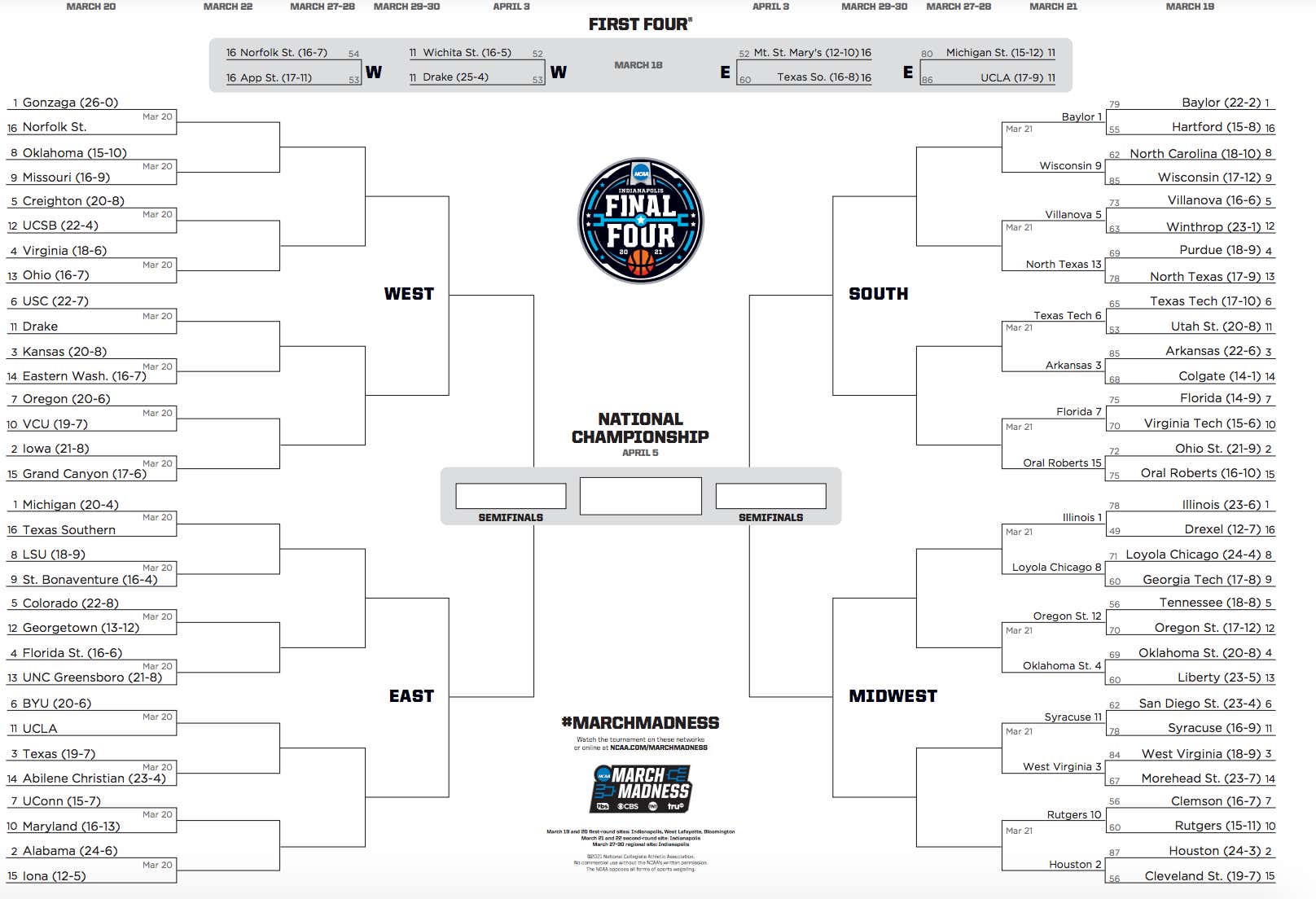 5 best games today
LSU/St. Bonaventure, UConn/Maryland, Ohio/Virginia, Oregon/VCU, UCLA/BYU
Storylines + Game Previews
1. How do the team dealing with COVID look in round 1: Again, we know Virginia didn't get into Indianapolis until yesterday and had just one practice. They've been in a full on quarantine for the last week with no practice, no conditioning, nothing. They have to deal with Ohio's uptempo offense, who can shoot over the Packline and Jason Preston. Kansas won't have Jalen Wilson. I've said it before but Kansas is at its best when Wilson is playing. EWU is another mid-major that flies around offensively and can really score. How do these teams coming off/dealing with COVID stuff handle that.
2. Gonzaga's first Tournament as a favorite: This is the first time that Gonzaga has ever been the clear cut No. 1 team in the country. Yes they made their name in 99 with Blake Stepp and Dan Dickau and that whole group. Man Dan Dickau was fucking awesome. Also Gus's call of 'the slipper still fits' is ELITE. But now Gonzaga is the clear cut favorite to win this thing. They shouldn't struggle at all against a 16 seed today, but this is more long term shit. I want to know how they look as the favorite against other teams. They get that night in and night out in the WCC, but what about in a win and advance situation? 
3. UCLA keeping the tradition of a First Four team winning: I got my eye on UCLA vs BYU. They came back against Michigan State - yes, I'm aware Drake did the same against Wichita State, but I think Wichita State kinda sucked. Now they draw BYU, who is a good team despite people not talking about the WCC. UCLA actually matches up well with what BYU wants to do in the sense of spreading you out and putting Haarms in PnR. What worked for UCLA was small ball, something I'm fond of. Make Haarms guard you on the perimeter or hit threes. This UCLA team is actually decent offensively. Johnny Juzang can shoot. Jaime Jacquez can score. Tyger Campbell can get into the lane. 
4. Another popular 12/5 upset pick: Shit, you can pick either Georgetown over Colorado or UCSB over Creighton. Both 12 seeds are popular picks. I actually like UCSB and the way they matchup against Creighton, mostly because they are awesome at running teams off the 3pt line. They also have high major transfers - JaQuori McLaughlin, know the name. He transferred from Oregon State, can get his own bucket and really took over in the Big West title game. 
5. The Rick Pitino show: I simply can't get over the fact that Rick Pitino is coaching a 15 seed in the NCAA Tournament. We're talking about one of the 5 best coaches in the history of this beautifully stupid sport. Now he's wearing a full suit and roaming the sidelines for Iona. He's a double digit dog against Alabama, but we have some history here. Remember Pitino took Providence to the Final Four in 1987. You know who they beat? Alabama's best ever team, until potentially this year. Let's get weird. 
Picks
Download the Barstool Sportsbook here
Ohio +9 (jumped on it earlier in the week)
Eastern Washington +10
UCSB +7.5
Missouri +1
Texas -8.5
St. Bonaventure +2
Grand Canyon +15
Florida State -10.5