The PGA Tour Rolls On To The RBC Heritage At Harbour Town Golf Links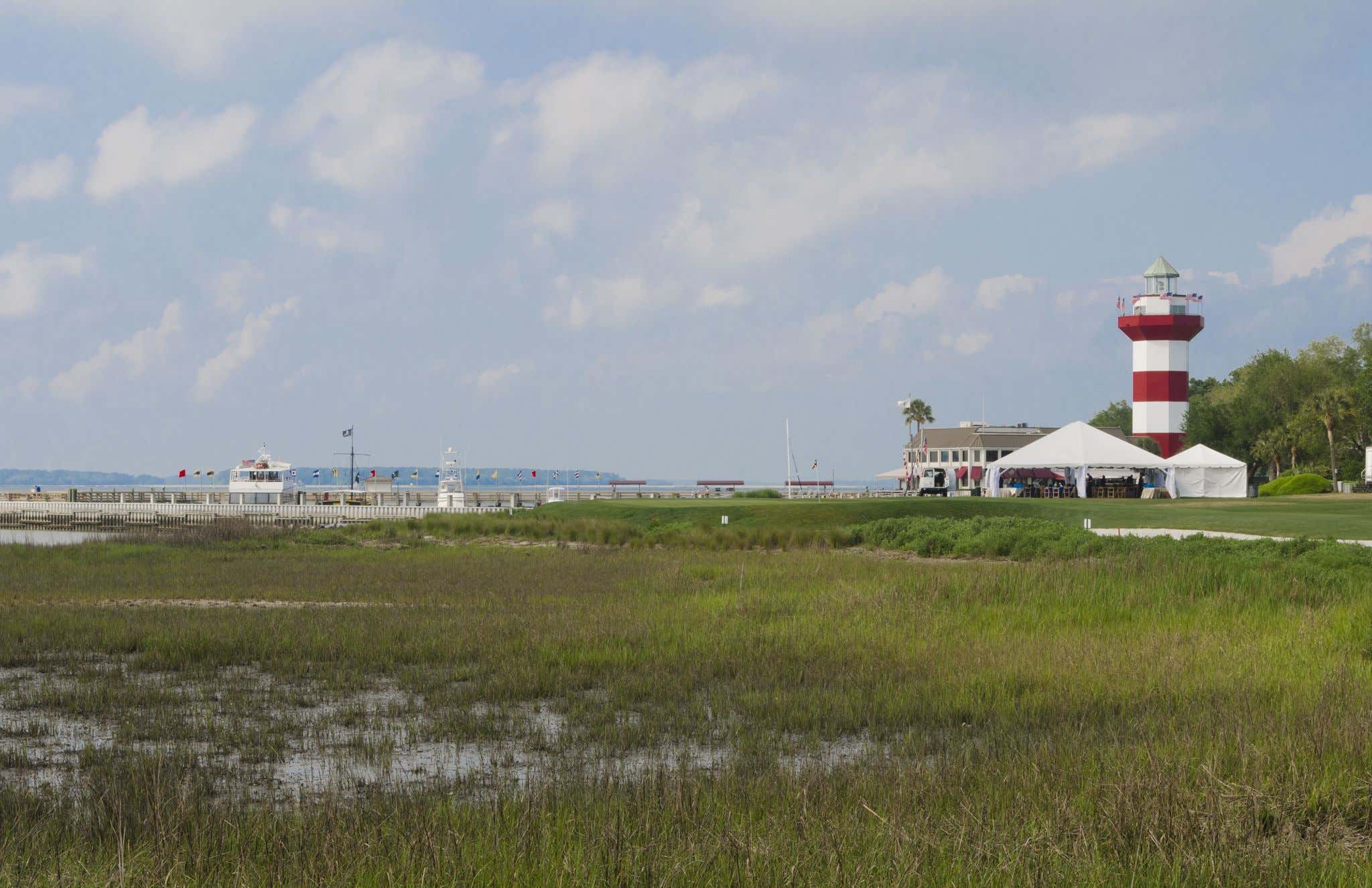 UniversalImagesGroup. Getty Images.
PGA Tour can't stop won't stop. After another exciting Masters we move on to the RBC Heritage at Harbour Town Golf Links in Hilton Head, SC.
It's generally rated as one of the players' favorite stops on Tour. It's a great course with an iconic finishing hole. In spite of that, this is a tournament that often fell victim to its spot on the schedule directly following The Masters. Last year the RBC Heritage got a reprieve from that affliction - it was the 2nd event following the COVID restart in June, so everybody wanted a piece. It was an awesome field and a lot of players have chosen to return. 42 of 88 players who competed in The Masters have made the trip, far more than typical.
Webb Simpson was your winner last June with a final round 64. As you can see, packed leaderboard with some great names in the mix.
The Course
Harbour Town Golf Links is a par 71 measuring 7,099 yards designed by….. none other than Pete Dye. I feel like I'm blogging a Pete Dye course every damn week. What a legend that guy was. Predictably, it's a track that encourages target golf. There are a lot of holes here where players will be hitting less than driver simply because the fairway runs out - they have no other choice. You can't just spray and pray here. There are other holes where positioning in the fairway is crucial in terms of getting clear angles at the greens. These greens are some of the smallest on the PGA Tour and carry a GIR rate of 58%, so you're going to want a ball-striker and a guy who can scramble around the greens. You'll also see one of Pete Dye's trademarks - bulkheads. That's how you end up with creative shots like these.
Lastly, given that it is a links course by the water, this course is best protected by the elements. At this time of year the wind is usually a factor. Think Sea Island, which ironically was the course that followed the November Masters. When this event was played in June instead of April last year, the wind was down and the scores reflected that. Expect the scores to regress a bit this year from a winning score of -22.
Best Hole - 18th hole, Par 4 472 yards
This is probably the easiest pick of any of the previews I've done so far. When you think of Harbour Town, you think of that lighthouse behind the green that serves as a target line off the tee. As picturesque as it is, it's got some teeth too. You've gotta hit the peninsula that juts out there with your tee shot, and then you've got to carry move of the junk on your approach. All of it is susceptible to the wind coming off the water to the left. And all of it is awesome. One of the best golf holes in America that I'm dying to play some day.
The Weather
Doesn't look tooooo good with some rain forecasted on 3 of 4 days, but hopefully it's merely showers and not a downpour. The wind doesn't look all that serious, but this is weather for Hilton Head as a whole and not necessarily right off the water. I still think we can expect the scores to go pretty low in some soft conditions though.
The Television Coverage
Thursday: Golf Channel 3-6
Friday: Golf Channel 3-6
Saturday: Golf Channel 1-3, CBS 3-6
Sunday Golf Channel 1-3, CBS 3-6
As per usual, PGA Tour Live is your friend.
Tiger's Silly Shot of the Week
New little segment in the preview blog - if Tiger's played an event, there's a good chance he's done something silly at it. So here is your silly shot from the fairway bunker on 6 in the only time he played this event back in '99.
The Trophy
Streeter Lecka. Getty Images.
Alright so this is an interesting one. I've seen this trophy a bunch of times over the years and didn't think too much of it. It's just some fancy lookin fella wearing some type of top hat. Figured it was Sir Walter Raleigh or one of those other pre-Revolutionary War settler names that seem to be synonymous with that corner of the country or something. Seeing as I've made trophy-evaluation my duty, I decided to do some research. From hiltonhead.com:
Sir William Innes was a wealthy Scottish golfer. In 1790, the first golf print was published of Sir William Innes, the Captain of the Society of Goffers at Blackheath in Scotland. It was based off an original oil painting by Lemuel Francis Abbott in 1778.

Some say that Innes moved to Blackheath to be close to the golfing society there and that he loved golf so much, he had the iron railings and gates at his house shaped like golf clubs.
Oooook. So it would seem that years and years ago, the Heritage just adopted some rich Scottish dude from a couple hundred years ago that really loved golf as the mascot of this Tournament. It's a bit odd, but I love that the way that they've gone all in on it. They've got a guy running around in his plaid giddy-up getting people excited about golf. They've got the cannon to kick off the event.
And the best part of all, the winner gets the plaid jacket to go with his trophy. So all in all, a lot of bonus points earned back for a trophy that, on it's face, is pretty bizarre. I'll give this a 7.2/10.
The Board
The defending champion Webb Simpson is the betting favorite at +1000 at the Barstool Sportsbook. Clearly the win last year showed that this course is a perfect fit for him. He's just another in a long-line of short-hitting ball-strikers who have gotten it done here. This course is very similar to Sea Island where he puts up Top 5's every single year too. I'm going to be on him Top 5 +225 and Top 10 +110, but he's not my pick to win.
It's surprising to see Dustin Johnson at a higher number (+1200) than he was going into last week's Masters (+900). I suppose a missed cut will do that, but this is a far inferior field he's up against and he's DJ. I wouldn't fault anybody for taking him on that principle alone.
My official pick this week is going to be Collin Morikawa at +2000. I've picked him a couple times before and whiffed, but it's always a matter of whether he can putt. He's giving almost a half stroke a round back to the field in strokes gained putting this year. That's 180th on Tour. Last week he didn't roll it great, but still managed to finish T-18 at Augusta despite not having his best stuff. This is a course that I think can bring the best out of him. Lot of long irons off the tee, par 3's that require precision, and a birdie fest should fit his game perfectly. The putting is a big question mark, but I just don't believe he should be +2000 at this point given his accomplishments, especially at a course that hits his game.
Other Plays
Si Woo Kim To Win +3500 - Great tee-to-green for most of last week. Optimistic it carries forward
Billy Horschel Top 5 +1000 - Getting far too little respect for a guy who won a WGC just 3 weeks ago (and a T-2 at a WGC 6 weeks ago)
Kevin Kisner Top 10 +500 - Same thing I said about Webb at Sea Island applies here.
Will Zalatoris First Round Leader +3300 - I actually got him at +3000 to win this whole tournament but his odds have drifted to +2200 and understandably so. Would be a really fun storyline if he rode all that mo to a win here. There's still value in the 1RL number so I'm posting that here
Winning Margin - Playoff +350 - There's been a playoff in 5 out of 11 years and last year's leaderboard was a crammed one. Plus it feels like we're due for one. Don't think we've had one since Homa-Finau in LA?
There ya have it. I'll be out there in Hilton Head all week on a golf trip and will be enjoying the action in person on Friday. If you're out there, gimme a holler @barstoolbanks. Enjoy the RBC Heritage.