Every Single Damn Thing You Need To Know About Today's Kentucky Derby
Alright today's the day. I know yesterday was ugly, we tried to be Malahaart, didn't work out too hot. But that's the beauty of horse racing, there's always tomorrow...somewhere. So here we are. Derby Day. The day that everyone in America tuned in to watch the ponies. I love it. It's hard not to get excited about the Derby. Obviously there's a ton to get into. Like I said yesterday, during the Triple Crown, Breeders Cup, etc., I'll have one of these longer previews with some bets involved. Let's have a damn day. 
The Track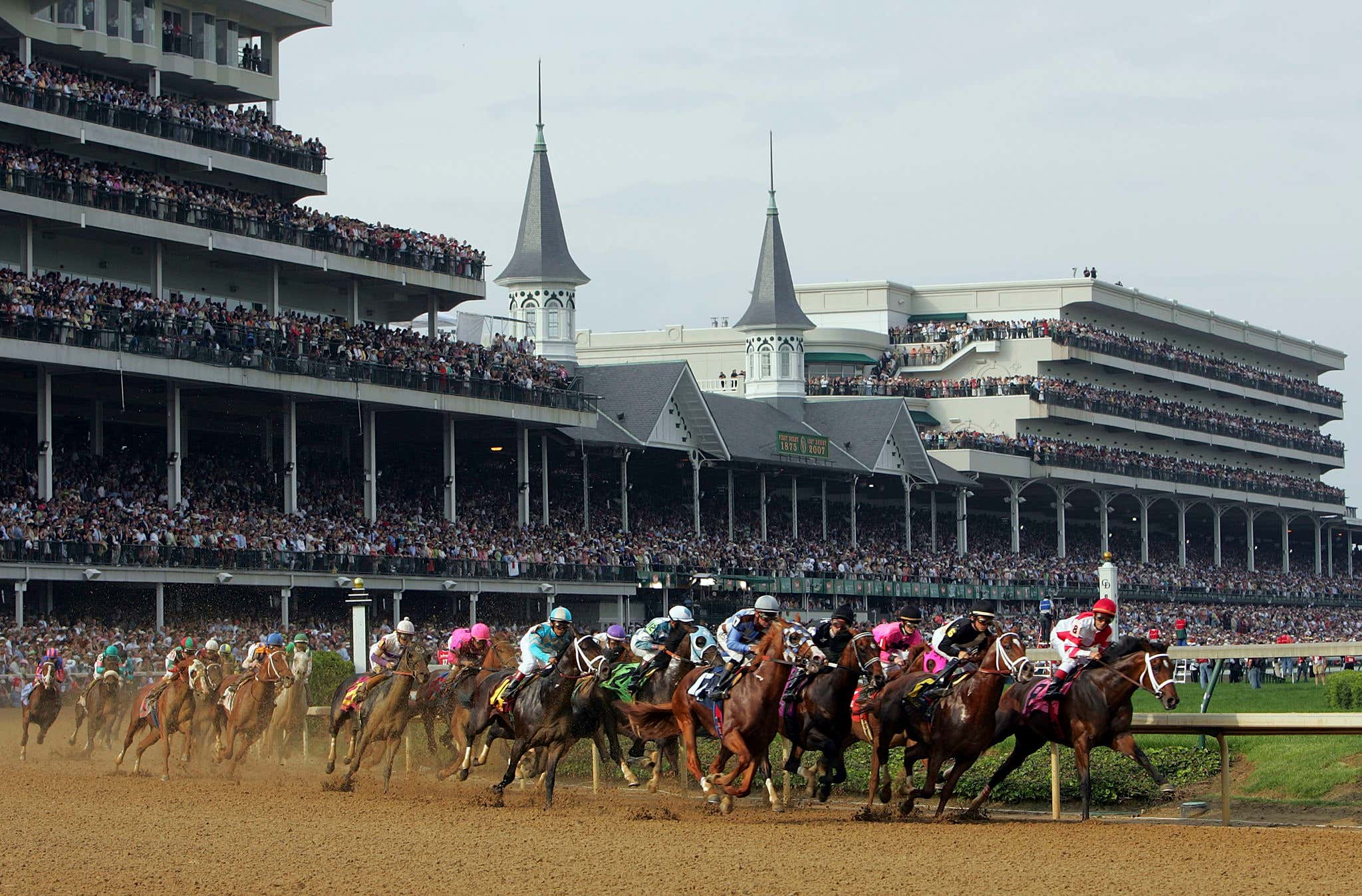 Jamie Squire. Getty Images.
Those gorgeous twinspires. Very few things in horse racing better looking and for sure nothing more iconic than the Derby running past them. There are a million prettier views but nothing as iconic as that. So the race itself? We got a mile and a quarter on the dirt. If it's anything like yesterday it's going to be a fast track. It was fast all day during Oaks day. The race actually started at a mile and a half and then changed in 1896. Yep, that's not a typo. Same race at a mile and a quarter since 1896. Perhaps even crazier is Secretariat still holding the record for the fastest race at 1:59.4 in 1973. 
Hats! 
It's not the Kentucky Derby without a big floppy hat. 
Jamie Squire. Getty Images.
Stephen J. Cohen. Getty Images.
Michael Loccisano. Getty Images.
Getty Images. Getty Images.
Jamie Squire. Getty Images.
Mike Simons. Getty Images.
Rob Carr. Getty Images.
Just felt the need to include hats. 
The Conditions 
Another perfect day in Louisville. It's honestly shocking. I swear it rains every damn first Saturday of May. But here we are and it's supposed to be another beautiful day. Like I said the track was fast yesterday and with the weather staying the same, the races, etc I expect it to be similar. 
The Field
Alright we know that King Fury was a scratch yesterday with a spiked fever. It sucks, I actually wanted to use him somehow during the race. 
Morning Odds
Thanks to Hollywood Races (download it here) this is what we have as of 7:50am 
Longshots
These are the horses I'm throwing out right away. You have to do that when building pick-5s, pick-4s, exactas, tris, whatever you like to play. You gotta draw a line somewhere in the race. Right off the bat, I don't trust any of these horses: 
2. Like the King
3. Brooklyn Strong
4. Keepmeinmind
11. Dynamic One
12. Helium
13. Hidden Stash
19. Soup and Sandwich
20. Bourbonic 
There are different reasons why I don't like each horse. One of them was just throwing out the Wood Memorial because of how slow it was and the competition vs the rest of the qualifiers. For some it's just the speed or the fact that they simply can't really compete with the horses in the race. Either way, you gotta do this for every single horse race and these are the ones I'm throwing out. 
Longshots to hit the board
I'm defining this as anything as a true longshot, 15/1 and over that I think can hit the board but not win. Horses I want to use in my exotics basically: 
5. Sainthood
7. Mandaloun
18. Super Stock
Out of all of these Super Stock is probably the one I like the most. Brad Cox, the trainer for Essential Quality is also with Mandaloun so while I think he has a chance to hit the board, I'm a little more skeptical of him. Super Stock won the Arkansas Derby, beating heavy favorite Concert Tour. It actually quite literally made Concert Tour skip the Kentucky Derby, so Super Stock has the ability to run. He's a big time closer and if we're talking about hitting the board, I could see him making a late run to get to third. 
Longshots that can win
6. O Besos
8. Medina Spirit
10. Midnight Bourbon
I'm all in on Midnight Bourbon and O Besos. It's actually terrifying how much I like both of them. Midnight Bourbon has been in the money all seven starts. Yep, that'll do it for me. I see that and right away my ears perk up. He seems to be getting faster with each race and is coming off a second place at the Louisiana Derby. The recent trend has been strong showing from Louisiana Derby to Kentucky Derby. Also gotta mention the fact that Midnight Bourbon picked up Mike Smith for the ride. Smith is a Hall of Famer, he's known for completely reading the pace of a race and using to his advantage. He's not just going to ride for a dud, that's worth enough for me. 
Then there's O Besos. Coming from the 6 spot it doesn't have the big time jockey like Midnight Bourbon or anything like that but the entire profile of O Besos is intriguing enough. He's the son of Orb - the 2013 Kentucky Derby winner. He's also coming from the Louisiana Derby where he finished 3rd behind Hot Rod Charlie and Midnight Bourbon. However, he was coming on strong and lost by a head to Midnight Bourbon. We could see a VERY similar race with Hot Rod Charlie and Midnight Bourbon out in front early trying to wire the field. 
Short Prices
1. Known Agenda
9. Hot Rod Charlie
15. Rock Your World
17. Highly Motivated
I do think if Essential Quality loses it comes from this group. I was ready to be all in on Known Agenda earlier this week. Love everything about that horse. But it draws the inside post. Terrifying. I know the new gate means more space and all that but still you just don't want the inside draw here. You gotta get the lead and not get bottled up otherwise you're swinging way too far outside. I think Known Agenda still has a shot so I'm going to play him different ways. 
Hot Rod Charlie won the Louisiana Derby. This is a horse that pushed Essential Quality once before, losing by less than a length. He's got Flavian Prat on board, who is one of my favorite jockeys in the game. Obviously we know the name Doug O'Neil as well. Chuck wants to get the lead, something he'll have a chance to do. He has a good post position and the speed in the race is sort of gone. He can get out in front where he's at his best. Remember he went gate to wire at the Louisiana Derby. 
Rock Your World is drawing a ton of attention lately. I wouldn't be surprised to see its odds go down by race time even more. You got the Sadler/Rosario connection here as the horse was bred to run both dirt and turf. One of the things to keep an eye on here is Rock Your World likes to set the pace and will be running next to Essential Quality out of the gate. Will that change anything? I have no idea. He ran wire to wire to smoke the field at the Santa Anita Derby but his whole race will depend on how aggressive Rosario gets early. 
Then there's Highly Motivated. Chad Brown, who is known for his turf pedigree, running on dirt. It's hard not to like this horse after what it did at the Blue Grass Stakes. Led the entire time and got caught at the end by a neck from Essential Quality. That shows he can be beat. It's tough, but Highly Motivated did have some groundwork there. Now it'll be interesting tonight to see if he decides to stalk more or press the pace. We saw him tire out just a little late at Keeneland, so we could see Castellano hold him back to start before pressing around the turn. 
The favorite
14. Essential Quality
Undefeated, grey horse. What's not to love? It's going to be tough to beat him. I try every which way to not bet a favorite, but it's hard in this race. The horse has it all. HIs pedigree matches the length here. He's 5-0. He's come from behind, he's blown horses out. The only thing missing really is Brad Cox being a Derby winning trainer. That can all change today. 
Betting Strategy 
Kentucky Derby - Alright let's get weird. Again, this can all change as we get closer to the Derby and I'll update everything as it comes. But this is what I have as of 9:09 am. 
W/P/S - 1. Known Agenda
Exacta - 
Gonna play this a little different. I'm including Essential Quality in this and playing him up top with Known Agenda and Hot Rod Charlie. Underneath I want some of my longshots I like - O Besos and Midnight Bourbon to go with Highly Motivated and Rock Your World. It's just an $18 bet for a $1, which is higher than I typically pay. But again, this is the Derby. You get a price in there or one of these horses beats Essential Quality and we're good. A $2 exacta has paid over $50 18 times since 2000 and over $100 on a $2 bet 14 different times. The value can be there.
Trifecta - I'm going to end up tinkering with this as we go and I see odds. Consider this an early build. 
Expensive for sure, hoping to get prices. Again the payouts throughout the Derby on a tri have been ridiculous. Since 2000 on a $1 tri, it has paid at least $200 19 times. It has paid at least $1,000 13 times. There's money to be made on the tri, just a matter of finding the right liveshots. 
Early Pick 4 - Starting Race 2. Again my goal is to always keep these as cheap as possible. I like to play $36 or $48 pick 4s.
Mid Pick 4 - Starting Race 9, a bit more expensive but let's try to beat some favorites and money should be there.
Late Pick 4 - Starting Race 11 (again consider these early build and move around when you start seeing the money coming in)
There you have it. 1650 words on today's Kentucky Derby. Gonna be a hell of a day. Get your bourbon, get your bets. I'll update stuff as I can on Twitter and put more bets out there. Let me know your favorite bets @barstoolreags. Have a day folks.