Every Single Damn Thing You Need To Know About Today's Kentucky Oaks
The marquee weekend for horse racing. Starts the Triple Crown, the race that everyone knows is tomorrow. But, today. Today is the day for Louisville. Today is Kentucky Oaks Day and honestly it's a hell of a race card. So for major races like this weekend, the Triple Crown, Breeders Cup, etc. I plan on putting together a little preview and betting card for everyone. It feels good to have this weekend back the first weekend in May after last year. There's just something perfect about those words together and Louisville. Also feels awesome that there's no rain in what feels like the first time in forever. 
There's a lot to dive into and I'm willing to change it up for tomorrow. Let me know how you prefer these blogs. I'll talk about the race set up, go through each horse in different categories and put out my bets. Again, I'm all ears as I try to have a little fun with horse racing on the blog. 
The Track
Jamie Squire. Getty Images.
Come on y'all we know all about Churchill. The historic Twinspires, the name, everything. But the race itself? We're talking a mile and an eighth on the dirt track. The distance was moved in 1982 from a mile and sixteenth. Shedaresthedevil set the record, running the race in 1:48.28 last year. Just a monster run. 
What's with the pink? 
Tom Pennington. Getty Images.
Icon Sports Wire. Getty Images.
Jamie Squire. Getty Images.
If you watch Oaks you're going to see pink everywhere. Why? It's become tradition as a sign to help bring awareness to fight against breast and ovarian cancer since the Oaks is run by female horses. Awesome tradition and gotta admit pink is a fire color. I'll slap on a pink shirt any day of the week. But it's actually a question I get asked a decent amount by people not from the area so there you go. 
The Conditions
No rain in sight today. Should be a perfect day after the last two days of rain in the area. It was a mess on the track late Wednesday and for Thurby yesterday. The track should be clean, beautiful weather and exactly what you want. None of this: 
The Field
Morning Odds 
Thanks to Hollywood Races (download it here) this is what we have as of 9:44am: 
Longshots
These are the horses I'm throwing out right away. You have to do that when building pick-5s, pick-4s, exactas, tris, whatever you like to play. You gotta draw a line somewhere in the race. Right off the bat, I don't trust any of these horses: 
2. Maracuja
4. Crazy Beautiful
9. Coach
13. Competitive Speed
14. Millefeuille
There are various reasons I don't like these horses. For some it's added distance. For others it's lack of winning or experience in graded stakes. But those 5 horses I'm throwing out right away, moving the field to 8 for me to start building from. 
Live longshots
I'm taking anything 15/1 and higher as a longshot. We saw Shedaresthedevil come in last year at 15/1 so despite this field having a ton of short prices, we can see a price come in on the money. These are important to look at when building those tris and exactas. If you can get a 15/1 finishing second that price is going up and more money in your pocket. 
1. Pauline's Pearl
5. Pass the Champagne
8. Moraz
11. Will's Secret
I think Pass the Champagne is VERY live here. Castellano might be the best jockey in the world and he's sitting on a horse that has improved pretty much each time she's on the track. She lost to the favorite Malathatt at Keeneland in early April where she actually had a 2 length lead. That race was a mile and sixteenth, so you do have to worry about the added distance a bit. Then again, there's a reason she's 15/1. 
Moraz I'd put in the same category as Pass the Champagne. She's had five starts and hit the board in all of them. She's never finished worst than third. Love seeing that when trying to find a price here. Now she's never won a graded stakes, but she's in the money for all of them. She also gets a great jockey in Flavian Prat, arguably my favorite jockey in the country. She's coming off a sort of bad effort in the Santa Anita Stakes, but again, it's hard to ignore the 5-for-5 on hitting the board. 
Short Prices
3. Clairiere
6. Travel Column
12. Search Results
These are the 3 horses that aren't the favorite but 5-1 or lower. Travel Column is currently sitting at 3-1 and I wouldn't be surprised if she goes off as the favorite. She's got the Brad Cox/Florent Geroux combo that has won this race 2 of the last 3 races. That's something I like to see. On top of that she has 2 wins at Churchill downs, she's won 2 Graded II Stake races and a 2nd place finish. She likes running at Churchill where it almost feels like a homecourt advantage. 
Search Results was the horse I immediately started looking at as my favorite. 3 starts, 3 wins and gets Irad as her jockey. Yes, please. Give me all of that. She's also won at this distance already and that's a huge sign for me. There are questions in terms of the talent she's raced against, but her pedigree and the fact she has experience at this distance is too hard for me to pass up on. 
The Favorite
10. Malathaat
It makes sense she's the morning line favorite. She's 4 for 4 with Pletcher and Johnny V as her jockey. Again, hard to argue against anything she's done. But her last win at Keeneland she had to rally to beat Pass The Champagne. She's beatable for sure despite being a damn good horse. She tends to need a fast pace and she should get it in this race. That is going to play in her favor. 
Betting Strategy
Kentucky Oaks - Here's how I'm going to play the Oaks. 
Win Bet - 12. Search Results
Exacta Bet - Box 12. Search Results, 8. Moraz, 6. Travel Column, 5. Pass The Champagne
Trifecta Bet - Gonna try to beat the favorite here so price should pay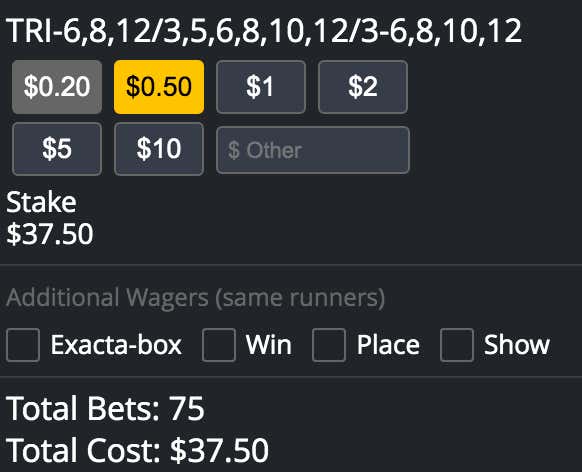 Pick 4s - Starting race 2
Mid pick 4 (race 4) - Playing a cheap ticket here with the single in the last leg
Late pick 4 (race 8) - a little more expensive than I tend to like to play, but need coverage and should pay with some prices.
So there you have it, 1100 words on today's races. A little bit of everything and if there are changes I'll update the blog. But this is what I have built right now. I tend to not punch until right before the races so I can see where the money is going and making sure I don't miss anything. Follow me on Twitter @barstoolreags and let's talk about the races today. Send me your picks, your favorites, what you hate about what I said, whatever. Horse racing is supposed to be fun.