The Five Best College Football Futures Bets To Make On The Barstool Sportsbook
I've decided I like most of you, so I'm going to win you money.
I can say that with confidence because I am far and away the best college football gambler at this company. I suck royally at NFL, NBA, MLB and every other organized sport, but I am unrivaled in college football. Don't believe me?
Bam.
So now that we're in August and Coley said he'd give me $50 every time I blog, I'm about to start laying out some realities for the 2021 college football season. I'm going to break down my five favorite win total bets that are currently available on the Barstool Sportsbook app. If you're in Illinois, Indiana, Michigan or Pennsylvania, you can run and go put these in now. And if you're in several other states, rumors are flying that you'll be able to join the party very, very soon. Like before football season soon.
These are based on the totals currently posted on the Barstool Sportsbook, and it's assuming a 12-game season is played. So think about that before you comment "There's not even going to be a season because of Covid" or "They'll never play 12 games" because you're a miserable prick who hates fun. Ass.
Here we go.
1. Indiana Hoosiers under 8
Giphy Images.
This is juiced a bit at -167 but it's the right bet. Right now Indiana fans are countering by saying that the Hoosiers were a top 10 team in 2020, went 6-2 and return a ton of players from a very god team. That's all a lie.
Indiana was not a legitimate top 10 team in 2020. They went 6-2 after a controversial win over Penn State to open the season, and they somehow lost only twice despite being outgained offensively in four of their eight games. Indiana returns one of the most exciting quarterbacks in the Big 10 in Michael Penix, Jr., but the schedule is brutal. Brutal brutal.
The Hoosiers lost RB Stevie Scott and WR Whop Philyor, and the schedule is coming for that ass. They open on the road at Iowa, and they have to go to Iowa City, Happy Valley and Ann Arbor. That's in addition to home games against Ohio State and Cincinnati. They could be a better overall team this season and still go 6-6.
2. Washington Huskies over 9
Nobody is talking about the Washington Huskies. People should be talking about the Washington Huskies. They have 18 starters back, what should be a nasty defense and a beautiful schedule. The Huskies were 3-1 last season before getting shut down and from 2016-19, they averaged 10 wins a season.
They have one tough nonconference road game at Michigan but after that, it's smooth sailing. They get the benefit of all their conference road games being relatively easy (at Oregon State, Arizona, Stanford and Colorado) and they get Oregon and Arizona State at home. They also avoid playing USC and Utah from the Pac 12 South.  
3. LSU Under 8.5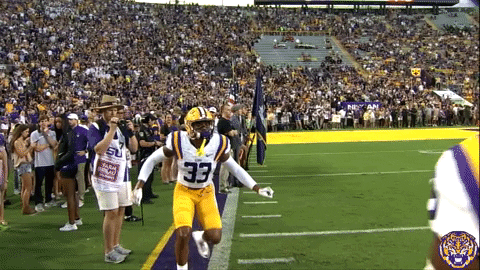 Giphy Images.
Everything that went wrong for LSU in 2020 has to go right in 2021. And people assume that because this is LSU, that'll happen. People assume that whoever wins the QB job will be good. There's no guarantee that will happen.
People assume the worst defense in the SEC will magically be better because they fired Bo Pelini. There's no guarantee that'll happen. 
People assume Ed Orgeron is able to put things back together two years after losing Joe Brady and Dave Aranda. There's no guarantee that will happen.
People assume that new defensive coordinator Daronte Jones will be an upgrade even though he's never been a DC at any level. There's no guarantee that will happen.
And the schedule is rough. They're not beating Alabama, they're not beating Texas A&M. A home game vs. Florida and road games at Ole Miss and UCLA are not easy.
This is a bet you can win on the opening weekend of the season. If LSU loses to UCLA, there's no shot they go over this total. 
This is a team that went 5-5 last season, and even if they're improved and get to 8-4, you cash this bet.
4. Northwestern Under 6
My favorite bet on the board. Northwestern gets 6-win respect because they were a very good team last year that gave Ohio State a scare. BUT in a division loaded with experience, Northwestern returns far and away the fewest starters in the Big 10 West and the Big 10 overall.
The Wildcats are turning to a transfer QB for the third straight season and they return just four starters on each side of the ball. This is also a team that was 3-9 in 2019 before last year's improbable run. 
Road games at Nebraska, Michigan and Wisconsin will be tough, and their home schedule isn't filled with no-doubt wins either. They somehow won three games last season when their offense produced less than 30 yards, but their defense will not be anywhere near as good as 2020.
5. Wisconsin Over 9.5
Giphy Images.
Did you know Wisconsin couldn't even run the ball last year? I missed that. But they were down around 165 yards per game on the ground last year and chances are very good that never happens again. They didn't have many WRs and a freshman QB. Now Graham Mertz is a sophomore, the WRs are better and the defense is nasty as shit.
They return a ton from a defense that gave up just 17 points per game and their schedule is fantastic.
Wisconsin plays a neutral site game  in Chicago against Notre Dame in September but they could be favored in every other game. The Badgers have Penn State, Iowa, Michigan, Northwestern and Nebraska all at home, and they miss Ohio State entirely. Their four road games are at Purdue, Illinois, Rutgers and Minnesota, which should be 4-0.
BONUS
Barstool Sports Arizona Bowl MAC/Mountain West special picks of the year
Kent State over 5.5: Best QB in the Mac plus a favorable home/away schedule in conference.
Fresno State over 6: Fresno has the best QB-RB-WR group in the Mountain West and they'll put up numbies.