Katie Stats: How to bet Oregon/OSU, CyHawk, and the Week 2 Slate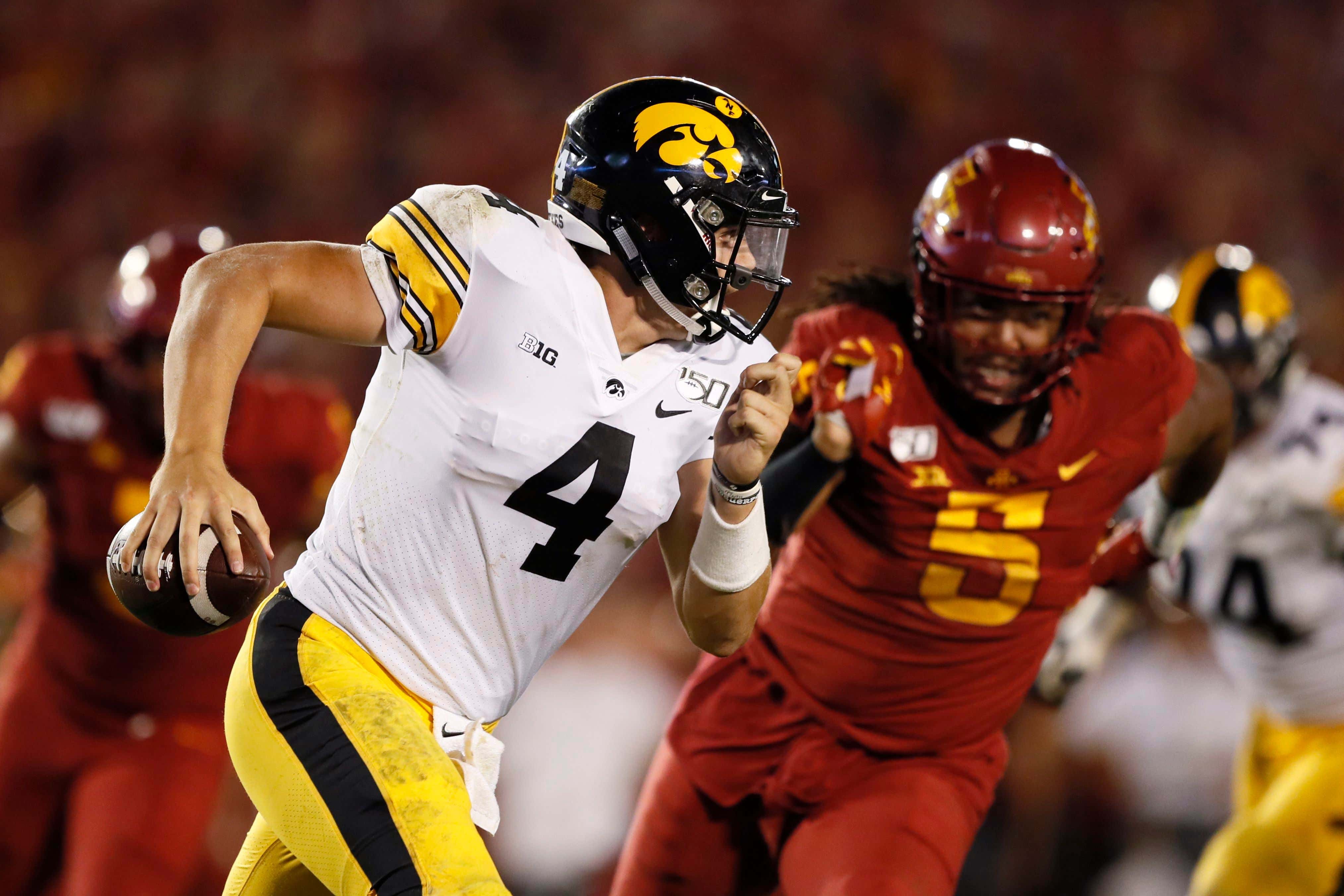 Charlie Neibergall. Shutterstock Images.
Let's all be honest with ourselves. This slate kind of sucks, especially after how spoiled we were last week. But with a dull slate, comes exciting games. It's the usual deal, with game breakdowns up front and my picks at the end. Can we also all agree that "CyHawk" is the laziest and weirdest name for a matchup? They just took the two names and smashed them together. There has to be a cool (or so I'd hope) place that you can do "The Battle for/of _" but that's just my two cents. Here's to all of your bets hitting, and your team winning AND covering this weekend. 
Giphy Images.
#12 Oregon @ #3 Ohio State, 12pm
Matchup: Ohio State has won all/L9 of the matchup with the most recent being in 2015. They were supposed to meet last year, but the game was cancelled. Public likes the over, money LOVES the under. 

Oregon: Coming off of a 31-24 win over Fresno State. Oregon split passing and rushing yards. They lost their best player DE Kayvon Thibodeaux to injury at halftime, still waiting for info on when he will return. Oregon was up 21-6 and allowed Fresno to take a 24-21 lead before coming back to win. DBs Jamal Hill and DJ James are available this week.

As an away underdog, are a 1-5 ATS and the under is 301. 

4-2 ATS against a ranked team.

3-7 ATS against a non-conference team, and the under is 3-7.

Their L4 games have gone under, and are 1-5 ATS in the L6 games.

Ohio State: Coming off of a 45-31 win over Minnesota. They allowed 408 offensive yards (evenly between passing and rushing). CJ Stroud took the first half to get comfortable (only had 58 passing yards), but threw 4 TDs in the 2nd half. 

The over is 6-1 in the L7 games.

Have won 22 straight home games, by an average of 30.4 ppg.

When against a ranked team, the over is 3-1-1
Giphy Images.
#10 Iowa @ #9 Iowa State, 4:30pm
Matchup: Iowa has won the L5. Meet yearly, but missed in 2020. In 2019, 18-17 at Iowa, 13-3 at Iowa State. This is the first time since 2000 that Iowa State is favored. Public is split on total, money likes the under. Matt Campell has proven his team can win, can he prove they can win the state?

The under is 5-1 in the L6, and 13-2 in the L15.

Iowa: Coming off of a 34-6 win over Indiana. They held Indiana to 233 yards, with only 77 rushing yards, and caused 3 interceptions. Iowa was split between passing and rushing yards. CB Riley Moss and RB Tyler Goodson stood out. Michael Penix Jr (IND QB) looked terrible; is he bad or did Iowa make him look bad? QB Spencer Petras looked okay, not many down the field plays.

On a 7 game win streak and are 6-1 ATS in them.

Since 2019, in all games, the under is 7-14-1 and against ranked opponents the under is 5-2. But since 2018, as a road underdog the over is 4-1.

Against ranked opponents, are 5-2 ATS.

Iowa State: Coming off on a 16-10 win over UNI. They held UNI for 45 rushing yards and caused 2 interceptions. QB Brock Purdy was held under 200 passing yards. All-American TE Charlie Kolar didn't play, should be back this week. ISU was slow out of the game last year and look how that season ended up.

In their L6 games the under is 5-0-1. Since 2019, the under is 15-9-2.

Against ranked teams the under is 7-2. 

After a win the under is 10-3-2. (After a loss the over is 5-3)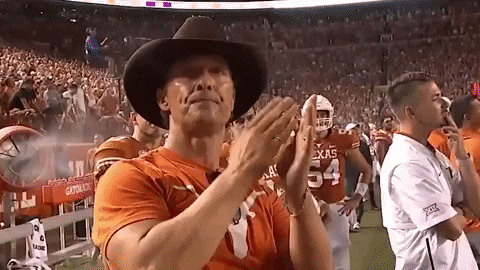 Giphy Images.
#15 Texas @ Arkansas, 7pm
Matchup: Last met in 2014, Arkansas won 31-7 in Houston. It is a sold out crowd. Money and the public LOVE texas. Public likes the over, money LOVES the over.

Texas: Coming off of a 38-18 win over Louisiana. Looked very good, with QB Hudson Card and RB Bijan Robinson being the most impressive. They beat a team that returned nearly all of their players, and went 10-1 last year. Will need to stop the mobile QB KJ Jefferson from running.

As the away team the over is 5-2, as an away favorite the over is 3-0. Since 2020, all games are 7-4 for the over.

Are 6-1 ATS against non-conference teams.

As an away favorite, they are on a 6-1 SU run.

Arkansas: Coming off of a 38-17 win over Rice. They allowed Rice to lead 17-7 in the 3rd, before starting a 31 point comeback. Arkansas had twice as many rushing yards as passing. Arkansas held Rice to 81 rushing yards, and caused 3 interceptions. They had 13 penalties for 117 yards. Is Arkansas good at stopping the run or is Rice that bad? They allowed 192.1 rushing ypg last year.

Since 2020, they are 8-3 ATS in all games, 4-2 ATS against ranked opponents, and 7-3 ATS as an underdog. 

Since 2020, after a win the over is 3-0, but at home the under is 5-1, and as a home underdog the under is 5-0.
Giphy Images.
Washington @ Michigan, 8pm
Matchup: Last met in 20020. The money and the public LOVE the over and like Michigan.

Washington: Coming off a loss to Montana (an FCS school) 13-7. Washington had 65 rushing yards and Dylan Morris was 27/46 for 226 yards, no TDs and 3 interceptions. Is Washington that bad or did they look ahead to Michigan?

Haven't covered their L3 games.

As an away underdog, the L6 have gone under. As an underdog to a top 10 team the under is 5-1. As an underdog they're 1-6 ATS.

After a loss are 4-1 ATS. 

Michigan: Coming off of a 47-14 win over Western Michigan. They had 216 passing yards and 335 rushing yards. Their top receiver Ronnie Bell is out for the year with an injury. Both Cade McNamara and JJ McCarthy got reps.

Are 1-5 ATS in their L6 games; the WMU win broke the streak.

Are 14-1 SU as a home favorite, and are 5-1 ATS. 

The over is 6-1 when at home against a team with a losing record.
Giphy Images.
#21 Utah @ BYU, @ 10:15pm 
Matchup: Utah has won the L9. They didn't meet in 2020, but in 2019 Utah won 30-12 at BYU, and in 2018 Utah won 37-25 at home. Utah is 6-2 ATS in the L8 meetings. The L3 at BYU have gone under. 

Utah: Coming off of a 40-17 win over Weber State. They held Weber State to only 57 rushing yards. Their QB1 is Charlie Brewer, who was at Baylor before this.

Their L4 games have gone over. L4 games as a favorite have gone under.

Are 6-1 ATS as an away team, and 5-1 ATS as an away favorite. The under is 4-2 as an away favorite, and 5-2 as an away team.

BYU: Coming off of a 24-16 win over Arizona. They held Arizona to only 81 rushing yards. WR Gunner Romney is likely out after an injury last week, he was #2 in receiving yards last year. Their leading receiver last week had 176 yards, and the next man up only had 22. So depth at receiver could be an issue. QB Jaren Hall was okay. 

They lost so many of their key players. I don't feel strongly about comparing this team to last year's stats. 

Their L4 games have gone under.
Giphy Images.
Mizzou @ Kentucky, 7:30pm
Matchup: Mizzou won last year 20-10, breaking a 5 year Kentucky win streak.

The under is 6-1 in the L7 meetings. The underdog is 5-0 ATS in the L5. 

Mizzou: Coming off of a 34-24 win over Central Michigan. CMU had more yards, but through 2 interceptions. RB Tyler Badie led the way with 203 yards on 25 carries. They received by committee. 

Haven't covered their L4 games. In 2019, the under was 10-2 for all games, but in 2020 it was 5-5. Are 0-5 ATS against teams with a winning record. 

As an away underdog, the under has hit the L5. As an away team the under is 7-2. 

As an away team they're 1-8 ATS, and as an away underdog they're 0-3 ATS.

Kentucky: Coming off of a 45-10 win over UL-Monroe. Kentucky had 554 yards (419p/135r) and held ULM to 87 total yards. ULM went 0-10 last year. QB Will Levis had 367 yards, 4 TDs and 1 INT. RB Chris Rodriguez had 125 yards, the next man up had 16. WR Wan'Dale Robinson is living up the hype. 

Are 9-2 SU as a home favorite, and are on a 8-3 ATS run. 

At home the over is 9-5, and as a home favorite the over is 8-3. But against SEC teams the under is 12-6. 
I went 15-8-3 last week, so not too bad. That said I'm trying to not take bets on impulse just because the public likes it.
Air Force/navy u43.5 🔒
Service Academy unders are at about 38-9-1 right now. This is a trust the process play.
Coastal -26
Kansas sucks. They rushed the field as a double digit favorite; oh boy.
Rutgers -2 
Syracuse is terrible, Rutgers has the momentum here.
Kentucky -5
I really like this Will Levis offense, and don't have much faith in Mizzou to stop them. I don't have enough faith in the Kentucky defense to take the under. 
NC State -1.5
Sorry Brandon. USF is terrible, but NC State has their shit together. 
Iowa/Iowa State u45
Iowa is a notorious low scoring team, and the best bar about Iowa State is their run game. 
Iowa +4.5 
I just have to stop flip flopping and commit. I know that the hype train is on Iowa State, but Iowa is going under the radar as a very good and consistent team. They have dominated this matchup recently for a reason. I like the under more here.
Ohio State -14.5
If Ohio State can get ahead, they're going to go full steam ahead. They'll want a huge point differential in this game come CFP time. I think Oregon is very good, but there's too many questions, especially with (I'm 70% sure) Kayvon Thibodeaux being out.
Washington +6.5
Yes the FCS loss was terrible, but I'm chalking that up as a look ahead game. Even if it is a loss, it'll still be close
Utah-7
BYU barely got by Arizona last week. I think they'll be outed for being outright BAD during this game. 
Will likely be adding more plays via twitter (@kpondiscio) because this card is sad so far. If you do bet, please do so responsibly.