Pink Whitney's New Headquarters or a Russian "Baza" ???
If you are a fan of Spittin' Chiclets then the Russian stories are the stories that move the needle.  So I am going to dive into one of the more fascinating parts of playing in the KHL…. the " BAZA". This word translates to Base in English and is a word that will make any North American who played in Russia cringe. Bazas have been part of Russian hockey from the early days of the CCCP and the Russian Five. 
When I made the move to the KHL I decided to go really off the grid to Khabarovsk, which is east of Siberia, and a 4.5-hour flight to our closest opponent.  When it came time to understand the itinerary for the work week the Baza was mentioned.  A veteran in the KHL explained the best he could that back in the day there was an army base very close to the National Team rink and that this was a dorm of sorts for those players. The players on the Red Army team were pretty much soldiers so they stayed here but rumor has it the workouts were so intense and so time-consuming the coach would not give the players time to go home to their families. Fast forward to today and these are basically used as a babysitting apparatus to keep the players from going out the night before games. The Russians are known for their drinking and players were coming to games hungover too often so teams decided that after the last practice before a game the players would stay at the Baza and focus on the game and basically stay off the sauce. 
Baza for Amur Khabarovsk (KHL)
Every team in the KHL has players not from Russia; these players are imports. For the imports the idea of a Baza is ludicrous and it was a constant complaint all year long whenever we had to go there.  While playing for Amur, the players only had to do Baza the day of a game but this process was so counterproductive. We basically turned all our home games into road trips. This might have been an easy excuse why our team was so bad but every team did Baza, we were brutal for 100 other reasons.
Amur's Baza, was nicknamed the Pink House, maybe Biz can send them some Pink Whitney? It was like a mini-hotel you would find in Saratoga by the track, 2 floors of long poorly lit hallways with about 15 bedrooms, a modest kitchen, a few TV lounges with bad couches, and the oldest TVs I had ever seen. There was also just your run-of-the-mill fully armed security guard out front, we dig into this hero later on…..
The day would start with a morning skate which would be 45 minutes of 1on 1 battle drills and limited shooting. After that, the boys would head next door for the pregame meal which was another adventure.  The meal was pretty standard compared to North America with your chicken and pasta but like most things in Russia could not get it completely right .. there was no sauce at all… I have good reason to believe this is probably the reason Ovie has such a good time at NHL pregame meals crossing the sauces because they are not served in Russia.  To improvise we would throw ketchup and mayonnaise on top that would hopefully help get it down. Sometimes when on the road we could get to a good grocery store and find a jar of sauce for the table.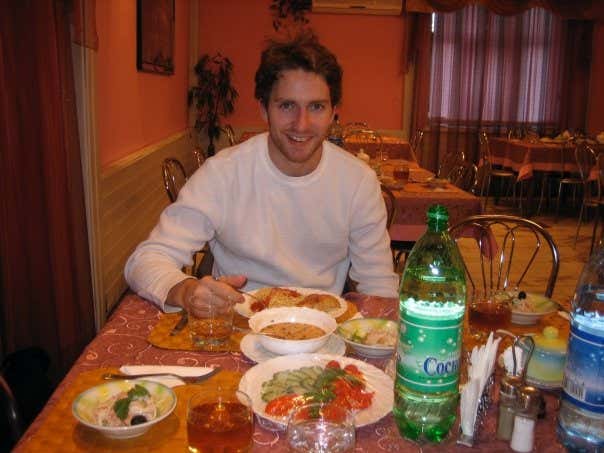 After the meal, the entire team would load up on the team bus and travel 40 minutes to the Baza. A quick reminder, this is before my iPhone days so a 40-minute bus ride staring out the window with that meal bouncing around had me questioning a few life decisions. To say I was shocked during my first ride to the Baza would be an understatement but that preview was nothing to the featured surprise that awaited me during my pregame nap.
Has everyone been to IKEA and walked through the kid's bedroom section and jumped on a bed to find out that it is a wood plank and is rockhard. Well, that would be what I walked into… two single kid-sized beds and I had a roommate in a room that was the size of a cabin in a ship. So instead of being in my own apartment in a king-size bed 30 minutes into my nap… I am in a shared room trying to prepare for a hockey game on a toddler's bed. 
After wrestling alligators for an hour, it is time to wake up and get back on the bus to travel 40 minutes back to our home arena for the game.  The best part of the Baza was 20 minutes prior to leaving for the game, 4 little old ladies who spoke zero English would make coffee and snacks as a pick me up before the game. These happy women were exactly what you think of when someone says a little old lady in Far East Russia who works at a Baza. In Russia, it's always the 4-5 imports at the same table and the Russians at the other tables. The tablecloths that really spiced up the room still haunt my dreams. 
So after the game was over, we were allowed to return to our apartments and have some free time.  On the team, there were always about 3-4 guys that lived at the Baza full-time.  These were the real young guys or the super cheap players that wanted to save on living expenses to drape themselves in the newest Abercrombie outfits. So for the guys that lived there they had a curfew each night where the armed guard makes sure nobody leaves or no one enters the Baza who does not live there.  
The imports still understand this is professional hockey and a night out after games for a few sodas and local flavor is an important part of being a pro.  On a particular night while having a few cocktails some of the young players walked into the bar. This was shocking because we knew you could not leave the Baza at this hour. So in half-drunk hand signals and a few words of broken English the players tell us that they bribed the guard with cash and more importantly beers to let them out for the night and not to tell management.  No Russian is going to turn down bribes of beer and money.  The next day the boys told us the guard had finished all the beers and passed out, so they had to jump the fence to get back in!. 
This system is still a huge part of Russia and I don't ever see it leaving. We can only hope for our younger generations that it never makes its way over to North America.  I guess we got pretty close when the pandemic hit and players were kept in the "Bubble", but that was still better than the KHL version. Looking back now, it probably should have been no surprise that Kucherov excelled in that environment!!
Khabarovsk is a great place to play and I enjoyed my season there, but there is a certain style they always play and that is to play safe low scoring games. This style has not changed in 13 years since I played there and it will not change tonight/tomorrow when they play again. Amur's last 12 games have gone under 4.5 and we'll look to make it lucky #13. If you're working the night shift this is the game for you to be able to watch at your desk or check on your phone, puck drops at 4 am EST.
Murls' Best Bet:  Amur Khabarovsk /Nizhnekhamsk Under 4.5 +120 
@Barstoolsportsbook
Twitter: mattmurley19
Instagram: murls_ebr