The PGA Tour Kicks It Into High Gear With The Farmers Insurance At Torrey Pines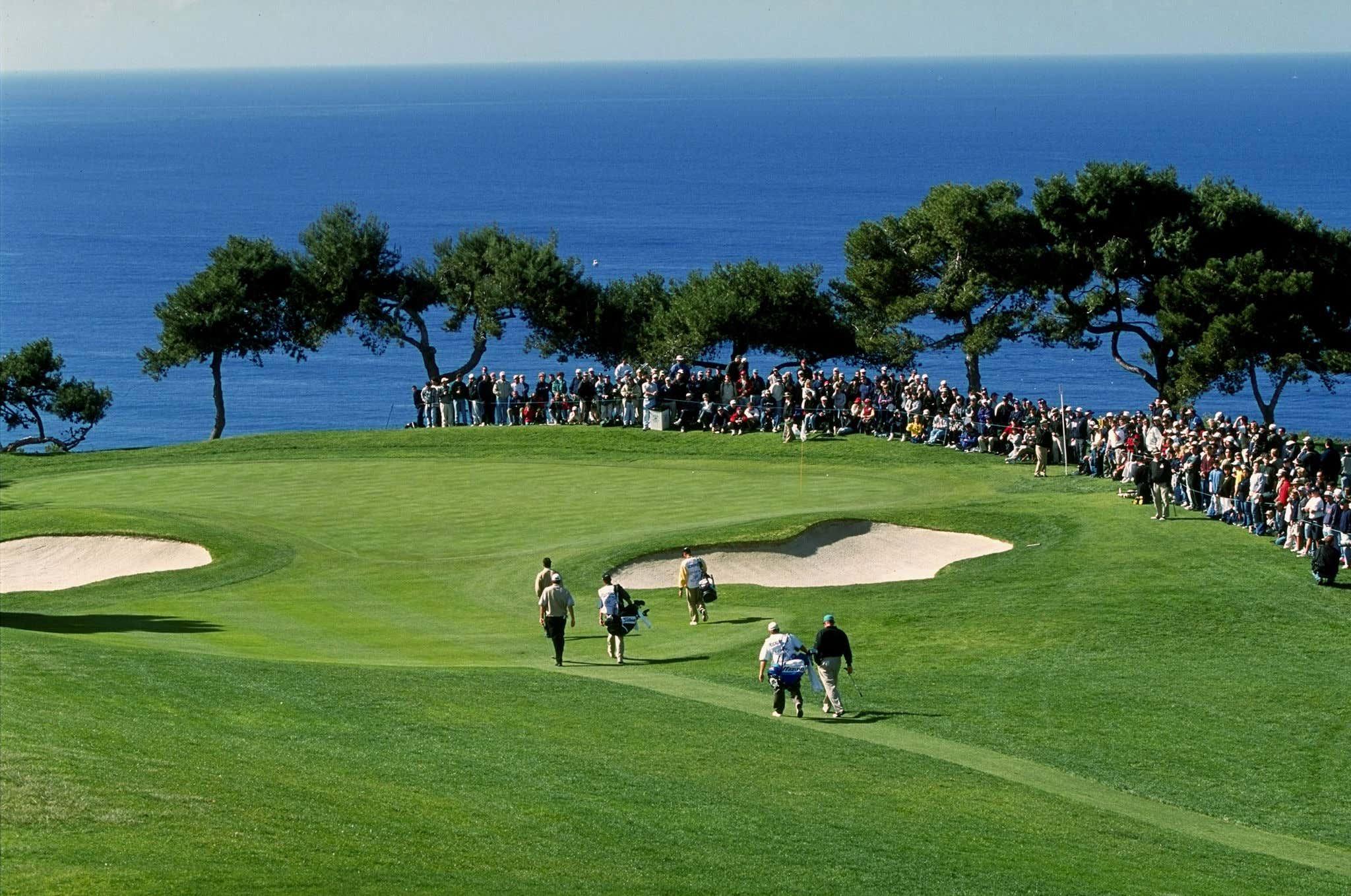 Chris Condon. Getty Images.
Here we go. PGA Tour is kicking it into high gear here on the Cali Swing. PGA West was an appetizer (and a birdiefest at that), but this is the real thing. Torrey Pines is one of the best stops at Tour, and the longest one at that. Iconic course, iconic views, and plenty of iconic moments over the years.
This year the PGA Tour made the brilliant decision to move the tournament to Wednesday to Saturday. Year after year this great tournament went up against the NFL playoffs and suffered ratings. It's a premier tournament, why not put the finish in a spot where everyone can watch it? And for us cube monkeys it gives us an extra day of golf in the trenches. Cannot underestimate the way PGA Tour Live has gotten me through some slow weekdays in the cubes.
Last year brought us peak Patrick Reed. His generous drop on Saturday of last year's tournament set the sports world on fire. Outside of that, he short-gamed the shit out of a place that usually isn't susceptible to such a thing. He ranked 63rd of 79 in greens in regulation for the week, the worst performance of a winner in Tour history. But he saved par an incredible 71% of the time by putting lights out. The result was a 5-shot win over a strong pack at the top. The leaderboard and recent winners…
2021 Leaderboard
Recent Winners
The Course
This tournament will be played on two courses on Wednesday and Thursday - Torrey Pines North and Torrey Pines South. The final 36 holes are on South after the 65 player (plus ties) cut. I won't get into the North course too much because it's only 25% of the tournament and will rarely be on TV anyway.
The South is course is all about distance. In fact, at about 7,700 yards it is the longest stop on the entire PGA Tour. There are a few exceptions over the years (like Brandt Snedeker winning this tournament twice) but by all intents and purposes this course is a bomber's paradise. Hell, the 2004 edition is where John Daly earned his 5th and final PGA Tour win. If you're into the gambles or building a DFS team, you might want to start by targeting guys near the top of the driving distance and Strokes Gained: Driving leaderboards. You've got four par 5's to attack, and six par 4's measuring over 450 yards. You're going to be facing an uphill battle here if you're not knocking it well past 300 yards off the tee. 
Another thing to keep an eye on is the poa annua greens, which is typical of courses on the West Coast swing. These greens are notorious for getting bumpier as the day gets longer and more and more footprints and pitchmarks eat up the green, so that can turn things sideways down the stretch on Saturday. Putting on poa has sometimes been described as a game of plinko. Sometimes putting is just up to the golf gods (or at least that's what I tell myself).
Best Hole - 3rd hole Par 3, 201 yards
Stan Badz. Getty Images.
The 3rd hole at the South Course is the signature par 3 at Torrey Pines. If it weren't for the 7th at Pebble Beach, it'd probably be the most iconic par 3 on the entire West Coast. It's a downhill tee shot with a mid-iron with a deep bunker protecting the front of the green and nothing but trouble long. Distance control is absolutely crucial with this one. View of the Pacific ain't bad either. The 18th is a great par 5 with water protecting the green that makes for great drama, but this simply must be the pick.

The Weather & TV Coverage
This tournament is annually the first tournament that CBS broadcasts every year. That means we get our first look at some of the new wrinkles we'll see on broadcasts for the rest of the year. Last year brought a new producer into the fold, which gave us some awesome improvements. Better translucent leaderboard in the bottom right of the screen, more shot tracers, and more drone shots. Excited to see what they have in store for us this year.
Tiger 2008 US Open Highlights
Tiger is Mr. Torrey. He's Mr. A Lot Of Places, but you can't see Torrey and not think about Tiger. 8 wins at one course will do that.
If you've got 45 minutes, enjoy.
The Trophy
Stan Badz. Getty Images.
Tiger's got a goddamn forest up on his mantle with these things
Torrey Pines and Cypress trees are an iconic duo, and a beautiful one at that. That's what they're going for with this trophy and they nailed it. I've always said that a good trophy is one that captures the taste of the week, and this trophy does that superfluously. Big points for that. With that said it is also, quite simply, a tree. And not a very big one at that. Still gonna give it a 7/10. 
The Board
World number #1 Jon Rahm is the strong favorite this week at the Barstool Sportsbook at +700. He earned his both his first PGA Tour win here at the 2017 Farmers and his first major victory here at last year's US Open. He's had other strong performances here as well. His results at Torrey starting with that win in 2017: W, T-29, T-5, solo 2nd, T-7, and then the major W. Pretty fucking good and I cannot fault anyone who takes him this week. If you're in a one and done pool, this may be your week to use him.
For my pick, I really like Dustin Johnson as a value at +1800. His game plays a lot like Rahm's. Big distance, leans almost exclusively on the fade, and is dangerous from 150 yards and in. He's passed over this event in recent years and his results don't blow anybody away in his 11 starts at Torrey (3 MC's vs only one top 10) but DJ is too good a player to pass up at +1800 anywhere. He's only played one event since dominating at the Ryder Cup and this is his first start in 2022, a year where I think he'll be hungry to bounce back from an otherwise underwhelming 2021. DJ is the guy.
Other plays
Xander Schauffele To Win +1600/Top 5 +400 - Torrey Pines maestro grew up in the San Diego area
Tony Finau To Win +2500/Top 10 +275 - So many of Tony's close calls came on the West Coast swing. He was one of the guys to finish runner up last year. Guy hits bombs without even going pedal to the metal. Let's go Tony.
Scottie Scheffler To Win +2500 - This is a FOMO pick but also a real pick. Scottie's got length. Scottie's got game. Scottie might win.
Jason Day To Win +9000 - Former World #1 has won here twice, in 2015 and 2018. T-46 last week but worth a flier at this price.
Cameron Champ +15000/Top 10 +1200 - If it's not obvious enough, I'm going heavy on bombers. 2 MC's in 3 tries here but he's Cali born and has a W to his name in the state.
Winner to Birdie 72nd Hole +110 - It's a par 5. It's reachable with a drive in the fairway with places to bail out and get a good look even if you don't. Typically a front left pin position where you can funnel the ball in with a wedge if you're playing it as a 3 shot hole. Gimme a red number.
Can't wait. Enjoy Torrey Pines.