The PGA Tour Moves Across The Pond For The Scottish Open At The Renaissance Club
Andrew Redington. Getty Images.
LINKS STYLE GOLF LADSSSSSSS
The PGA Tour is off to Scotland for… you guessed it, the Scottish Open. This tournament has been played for years as a European Tour event that served for many as a tune-up for the next week's Open Championship. Tons of American players would make the jump across the pond to acclimate themselves to the jet lag and the links style conditions that they'd face soon in a major championship setting. So much so that the field at the Scottish Open was miles better (as evidenced by the leaderboard below) than whatever tournament it was going up against stateside (usually the John Deere).
This, along with the threat of a competitive golf league, inspired the PGA Tour and European Tour to put their heads together and decide to run this tournament as partners. So, now the PGA Tour has a piece of the pie and the Scottish Open has a new, more lucrative sponsor. Which is just brilliant. I think the PGA Tour should spend more time over in Europe before the Open, much like tennis has a "clay court" season leading up to the French Open. Add the Irish Open to the PGA Tour and then you've really got a stew goin.
Last year Min Woo Lee shot a final round 64 to get himself into a 3-way playoff with Thomas Detry and Matt Fitzpatrick, and won on the first playoff hole with birdie. It marked the 2nd career European Tour win for the then-22 year old, pushing him well into the world top 100 for the first time.
Oh, and one more thing. The two tours did ban the LIV fellas from their tours, but some judge over there issued a "stay" which I guess is legal jargon for "we haven't made up our minds on this one so in the meantime we're gonna say those guys can play… for now". So there's a handful of LIV guys including Ian Poulter and Branden Grace have been added to this field, making it a larger field than the traditional 156 players.
Last year's leaderboard and recent winners…
2021 Leaderboard
Recent Winners
The Course
This is the 4th consecutive year that the Scottish Open has been played at the Renaissance Club. Despite being founded in 2008 and designed by Americans (who hatched the idea two decades ago at Pinehurst), this course screams links golf. It's located next door to Muirfield and is a mere 20 miles from next week's Open at St. Andrews.
When we talk about links golf, we're talking about wide open spaces, high fescue, and TONS of slopes. We're playing this course as a par 70 this week with a little bit of a different routing than the members play it, and the course is not particularly long at 7,293 yards (I've been getting some contradictory info between the DP World website and the PGA Tour website, but it seems this is the case). 
Like with any links style course, the way this course plays is going to be heavily dictated by the weather. Given this course's proximity to the water (the Firth of Forth), there's often tons of wind that comes off the shore and across the property. But the weather hasn't exactly shown its teeth in the 3 years the Club hosted, as rain softened the course early in the week and scores were low. But there's potential for things to go sideways (literally) and that's what I hope to see out there this week. I want to see these guys have to get creative and shape some shots against the wind out there and deal with some harsh conditions.
Also this place is fuckin gorgeous. I mean these views are insane. This video highlighting every hole is basically 14 minutes of golf links porn.
Best Hole - Hole 13, 418 Yard Par 4
Dogleg left along the Firth of Forth. I love saying that. Firth of Forth.
Nothing too complicated about this hole. Don't miss left or you're fucked. Deep in the dunes. Or the Firth of Forth. Either or.
Other than that it's pretty simple and not terribly long. Beautiful green has its slopes but nothing too crazy about it. Should see some buckets here.
The Weather
Just a weee bit chilly and windy… just how we like it
The Coverage
Morning golf babayyyyyy
Love the time zone shift come Open szn. Golf is on whether you're up and at em early or if you sleep in. CBS will be weird on the weekend though. I don't think I want American voices calling the Scottish Open, even if it is Nantz. Gimme the full European Tour experience plz.
The Trophy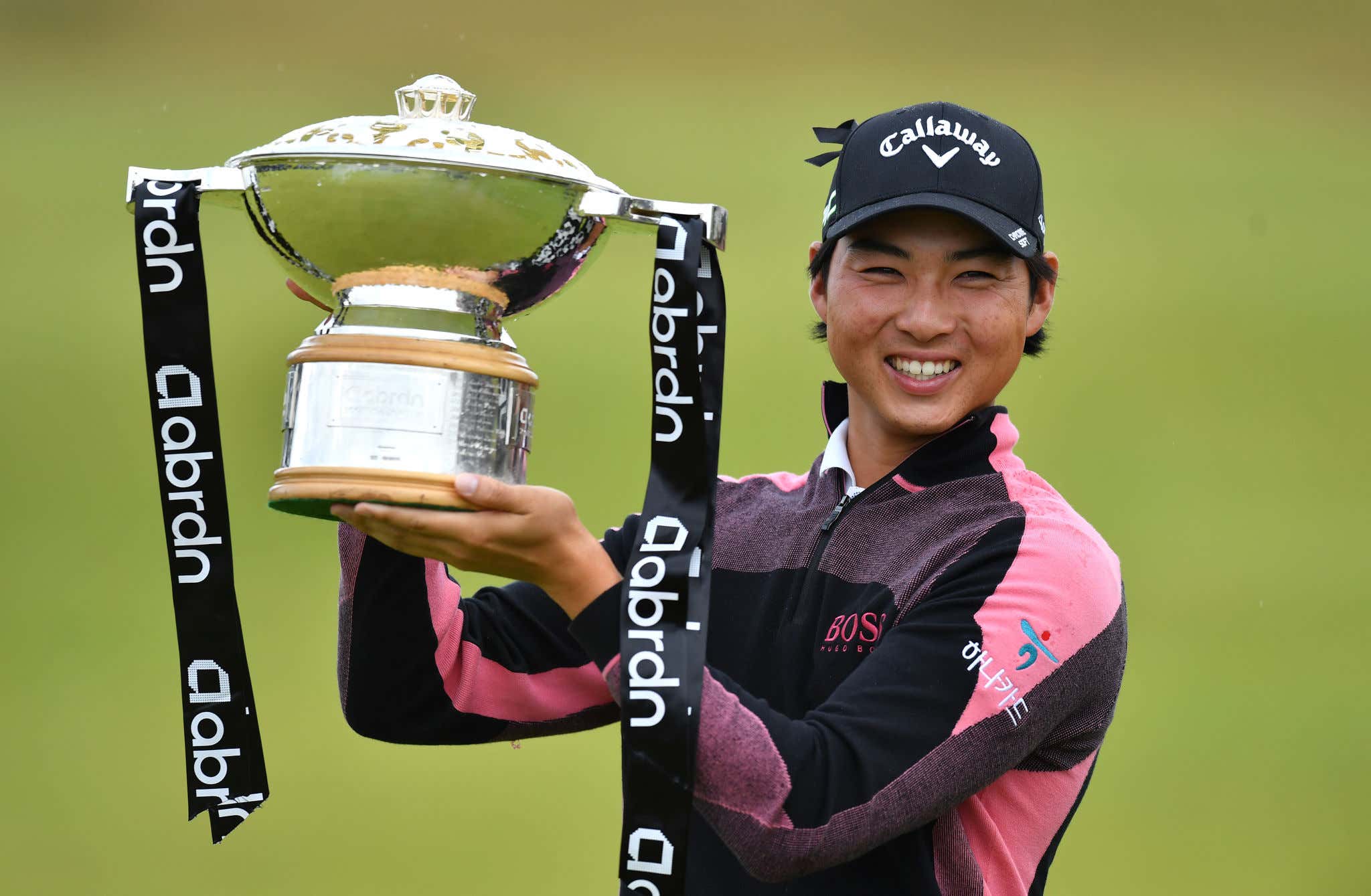 Mark Runnacles. Getty Images.
Eh, it's fine. The ribbon thing strikes me as very European. Feel as though that's something you see on a podium at a soccer game or F1 race. That part I like. But the pic here also features the old sponsor of this tournament. Will Genesis run it back? Will the trophy even be the same? Who knows. The trophy itself is a middle of the road 5/10.
The Board
Jon Rahm is your betting favorite at the Barstool Sportsbook at +900. Despite not having won the Claret Jug (yet), he's shown strong ability on links style tracks. God knows he put on a clinic Thursday and Friday at Whistling Straits last year and has won a couple Irish Opens too. He should be the favorite.
I love a hot hand here though, and that's Xander Schauffele at +1600. He's coming off a win in his last event at the Travelers to earn his first PGA Tour win in 3 years, and followed that up with a W in then JP McManus Pro-am earlier this week. That was just a 2-day charity event, but it also had an absurdly good field. Guy is dialed in right now and I love his chances at the Open next week too.
Other Plays
X Top 10 +175 - Stay hot.
Matt Fitzpatrick Top 10 +200 - Great links player, lost in that playoff last year, and is obviously in great form.
Robert MacIntyre To Win +8000 - Home game for Bob Mac. Do it Bob.
Ryan Fox Top 10 +450 - Guy's been playing sneaky great golf over in Europe. 4th in the European Tour points race and has 7 top 10's in his last 10 (including 5 Top 3's)
Aaron Rai Top 10 +650 - Former winner here a couple years ago and finished T-9 last week at the Irish Open.
Rickie Fowler Top 10 +1100 - Rick sneaky went low on Monday at the JP McManus, won this event a few years back, and played great in the wind when he was at his peak. Could this be the start of the road back?
Ryan Palmer Top 20 +500 - Finished T-4 here last year. Not in great form but is another great player in the wind.
That's what I got. See ya bright and early for the Scottish Open.