Fuck Apple Picking ... Watch Football + This Week's CFB Q&A
FAROOQ KHAN. Shutterstock Images.
It's officially that time where the world tries to tell us to give up a day of watching football to go apple picking because the Saturday late is subpar … to which I say fuck that. 
A-  I will never go apple picking 
2- Even a bad slate can bring entertaining, awesome games that will always be more fun than standing in a field with no escape in site. 
D- If there is any debate … see A. 
Now … this week's schedule is underwhelming for sure, however like I said it's time Saturday I will watch college football til the day i die. 
Let's dive into this weeks College Football Q&A. 
I think we already tackled this one … but once again : 
- Is It Apple Picking Weekend ?
It's never apple picking weekend . Watch football. 
- Best Bet to Pull An Outright ML Upset ? 
This is right up Kelly In Vegas's alley, the queen of the + sign who has hit an array of ML Dog 3 team Parlays over the last 2 years. Check out Money Shots this Thursday where I'm sure Kelly with sort through the outright dogs on her list. 
If I had to make a short list … here's where I would start looking and then make a pick from there. 
Nebraska +330  , Western Kentucky +195 , Miami +166 , Old Dominion +265 , and SMU +140  
Nebraska on the interim coach is a trendy look. Also,  tune into Pick Em for a little backstory that Nebraska interim coach Mickey Joseph HATES Oklahoma for a late hit in his playing career.  I think Oklahoma isn't as explosive as years past, and Nebraska at home has to show some fight and pride. I took Nebraska + the points on Pick Em, but I am passing on this as my outright dog. 
Western Kentucky is super frisky vs a bad Indiana team. The Tops can score and that will always keep you in a game. This one is tempting but pass. 
Old Dominion +265 is VERY live vs Virginia. I worry a little they already pulled off their upset vs VA Tech and lightning striking twice. 
SMU +140  would be my runner up. I think Maryland has a really good offense but every time it seems like Maryland is cruising they hit a bump in the road. I grabbed them a few years back vs Temple and they laid an egg. SMU has Tanner Mordecai under center who's got a great arm mixed with TJ McDaniel , and Velton Gardner in the backfield averaging 7.2 and 9.1 yds per carry respectively. Rashee Rice is an EXPLOSIVE WR and even without Sonny Dykes, SMU's offense still clicks. Screw it … I'm playing SMU +140
I'm also playing Miami +166  
Texas A&M is in shambles. They are hiding yell videos, kids want to transfer , Jimbo could be in trouble. It's a mess. 
Miami is PRIME to go pull this upset in College Station. Tyler Van Dyke has a live arm, Mario Cristobal will have the defense ready, and Miami knows this is a win that keeps them in the playoff discussion - granted they are a long shot . I'll back the hungry team instead of the team in disarray every time. I like Miami a lot in this one. 
- Biggest Letdown Spot ?
Easy to decipher who's on here after MONSTER wins last week. For reference you need to be favored to be in a let down spot in my opinion. 
So Ga Southern is out because their a dog to UAB. 
You could make a case for Texas in a letdown spot even though they lost to Alabama. They lay 12.5 to UTSA. 
But the true short list here is : 
App St -12.5 vs Troy (with gameday in town), Marshall -16.5 vs Bowling Green , USC -13 vs Fresno, and Iowa St -19 vs Ohio. 
App St is the obvious choice but they have OWNED Troy in the last 4-5 years. Even with Gameday in town and all the makings of a let down, I think the Mountaineers find the way to win and cover. 
The one I would play here is Ohio +19 vs Iowa St.
Iowa St is off a marquee win in that rivalry vs Iowa. Points are at a premium in Iowa St's offense. I'll take Ohio to keep it within the number even if they looked like shit vs State Penn. 
- Friday Night Best Bet
Did I write this knowing I loved a play on Friday night ?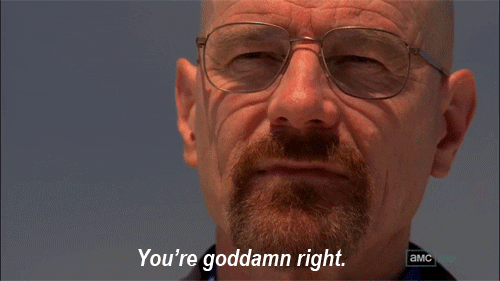 Giphy Images.
AIR FORCE TEAM TOTAL OVER 30.5 
Wyoming gave up 260 on the ground to Illinois , now on a week's preparation faces Air Force with the most prolific rush attack in the country and an option attack that will be cut blocking them all day ? Tough spot for The Cowboys. 
Air Force just rushed for 435 on the ground vs Colorado. I think this is a big day for the Falcons and will be posting up a big number Friday night in a road affair. 
- Team Other Than Bama ,Georgia and Ohio St you would pick to win CFP ?
Let's take a gander at the current Barstool Sportsbook odds 

Clemson +1000 is I'm sure everyone's first name that jumps off given their history. I would worry about the depth of the ACC. Miami, NC State, and Wake Forest all look like formidable opponents vs the Tigers. I worry they get through the ACC unscathed. 
NC St at 150-1 is worth a look if you think they can be the team out of the ACC. 
Tennessee does have Alabama, and very well could lose to Florida or Kentucky butt 80-1 to me looks spicy given their offense. 
BYU at 150-1 could be a fun ticket to hold if they run through their challenging schedule, now that Cincinnati has opened the door for non Power 5 teams to make the playoff. 
But if we're playing the most logical pick . I could talk myself into USC at 15-1 or Utah at 66-1. 
Utah has absolute zero wiggle room now with the loss to Florida, but they do get USC at home. Speaking of USC, and. Lincoln Riley. The CFP is an exclusive club, yet Lincoln Riley has been there multiple times. It wouldn't shock me to see USC at 12-0 or 11-1 sitting right there in December as a team with a shot to make it. 
I love a Ton of overs this week… tune into Barstool Pick EM for my full card, as well as Picks Central everyday on the Barstool Sportsbook Youtube. 
Back next week …