¡Viva La Mexico! The PGA Tour Is South Of The Border This Week For The World Wide Technology Championship At Mayakoba
Cliff Hawkins. Getty Images.
Meh Hee Co baby!!! We're south of the border this week for the tournament formerly known as the Mayakoba Golf Classic. I don't know what World Wide Technology is but it sounds fancy. 
This is a traditional fall event that brings out a handful of big names, but won't really give you a deep field. 
Viktor Hovland successfully defended his title here last year in convincing fashion, making him the 2-time defending champ. It's pretty wild, the Hov has yet to win a PGA Tour event in the continental United States. He's got two wins here, a win in Puerto Rico, a Hero World Challenge title, and a couple other worldwide wins but nothing in the US. The highlights of his career as it relates to the PGA Tour itself have been here in Mexico.
2021 Leaderboard
Recent Winners
The Course
El Camaleon Golf Club is a Par 71 design measuring about 7,000 yards. One thing that's clear is that this course favors accuracy off the tee over distance. None of those names on the recent winners list nor last year's leaderboard are notorious for bombing and gouging courses. Statistics show that this is a top-5 course with regards to rewarding driving accuracy. Most of the holes are tree-lined, especially on the back 9 as evidenced by the course map: 
As you can see, the course is not overly narrow, but it's just tight enough to test your nerve if you're shaky off the tee. All 3 of the par 5's should be reachable with an accurate tee shot, and three of the four par 3's are surprisingly short and should only require a short iron or wedge to hit. Some quick research shows that that 4th hole is the 2nd shortest hole on Tour, behind the legendary 106 yard 7th at Pebble. One thing that stinks about this course is that it's one of the few courses where the PGA Tour does not provide shotlink data, so you won't be able to track hole-by-hole on their website. Anyway, here's your scorecard. 
Best Hole - 7th Hole, 554 yard Par 5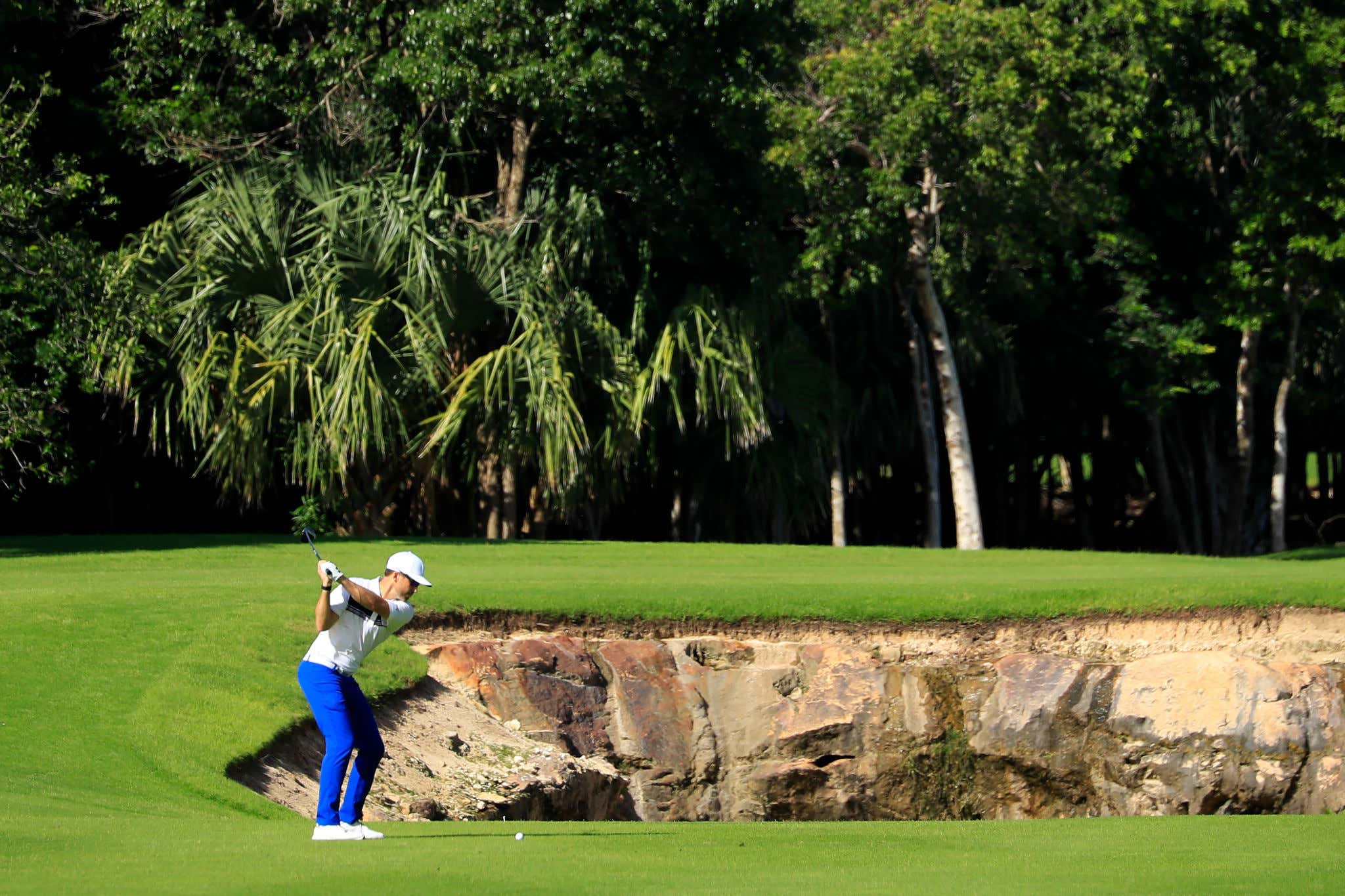 Cliff Hawkins. Getty Images.
This course is well known for having a wide variety of different terrains. Cavernous sink holes, oceanside holes, tropical features… you name it, this course has it. For best hole I gotta take the 7th simply because of how preposterous this fairway bunker is. 
That's just a ridiculous trap and it could not be more directly in the center of that fairway. Will be fun to see how some of these guys navigate it throughout the week. 
The Weather
Course is gonna be wet and soft out there. Might see some preferred lies out there early in the week. Find some under scoring props and have at it.
TV Coverage 
Golf Channel and Peacock, afternoons only. Kinda stinks. No, definitely stinks.
The Trophy
Mike Ehrmann. Getty Images.
That's what I'm talking about right there! If you're not a prestigious Tour event, you can miss me with that generic garbage we see at most Tour stops. You want something that captures the local flavor and this does that in spades. What better prize at a golf club called El Camaleon than a big fucking chameleon? This one actually has some color after it had just been a plain sand colored one before. Forget the $1.2M, gimme this big hunk of stone on my mantle all day every day. 
Firm 8.2/10.
The Board 
Scottie Scheffler, who fell from his perch atop the OWGR last week, is the tournament favorite at +800 at the Barstool Sportsbook. He finished 4th here last year and 18th a couple years prior when he wasn't even a PGA Tour member yet. He has yet to win since becoming a Masters winner. 
Naturally, he's followed by the double champ, Viktor Hovland at +1100. His win here last year kicked off a hot stretch where he won 3 out of 5 events, but he's yet to win since that run. His form coming in his been good, not great, with no missed cuts since the Scottish Open and a couple top 5's in that stretch, but nothing better than 5th.
Now, if you look at that board, you're gonna see Collin Morikawa and Aaron Wise both at +1600 and think that's a bit of a head-scratcher. One guy is a multiple time major winner and the other is… well, I don't want to disrespect anybody but he's Aaron Wise. With that said, Wise is my pick this week. He's a great example where course success meets recent success. He's finished T-15 and runner-up here, and has gone T-15, T-6, T-64, and most recently 6th in his last 4 starts. The first two of those were against elite fields in the BMW and Tour Championships. Beyond this stretch, he's only missed one cut since April. He's been sneaky solid in 2022, and even notched a runner-up at Jack's tourney in the summer. Aaron Wise at +1600 is the sharp pick.
Other Plays
Seamus Power To Win +4000/Top 10 +400 - Another guy who has played solid golf under the radar for a while and broke thru for a win last week in Bermuda
KH Lee to Win +4000/Top 10 +400 - Aaron Wise's only career win? The 2018 Byron Nelson. Guess who's won the last two Byron Nelsons (albeit at different DFW area courses)
Thomas Detry To Win +4000/Top 10 +400 - Are we just slamming these 40-1 guys? Yes we are. Detry finished runner up to Power at Bermuda and has a good handful of top 12 finishes in recent tournaments.
Harris English To Win +6600/Top 20 +250 - Really good golfer who has lost the last year or so to injury. Can you believe this guy was on the Ryder Cup team that smoked the Europeans just 13 months ago? He'll bounce back at some point soon, better to get it when the value is good.
Viktor Hovland +120 over Scottie Scheffler Tournament Play (tie no bet) - Need some action on the big dogs. The Hov is the king at Mayakoba until he says otherwise.
3 Stroke Victory by the Winner +600 - Honestly, no real reason. I look at the scoring margin bet every week and this seemed like a better value than it usually is.
Enjoy the Mayakoba.