Get Your Post-Masters Fix With Another "Elevated Event" At The Heritage At Harbour Town Golf Links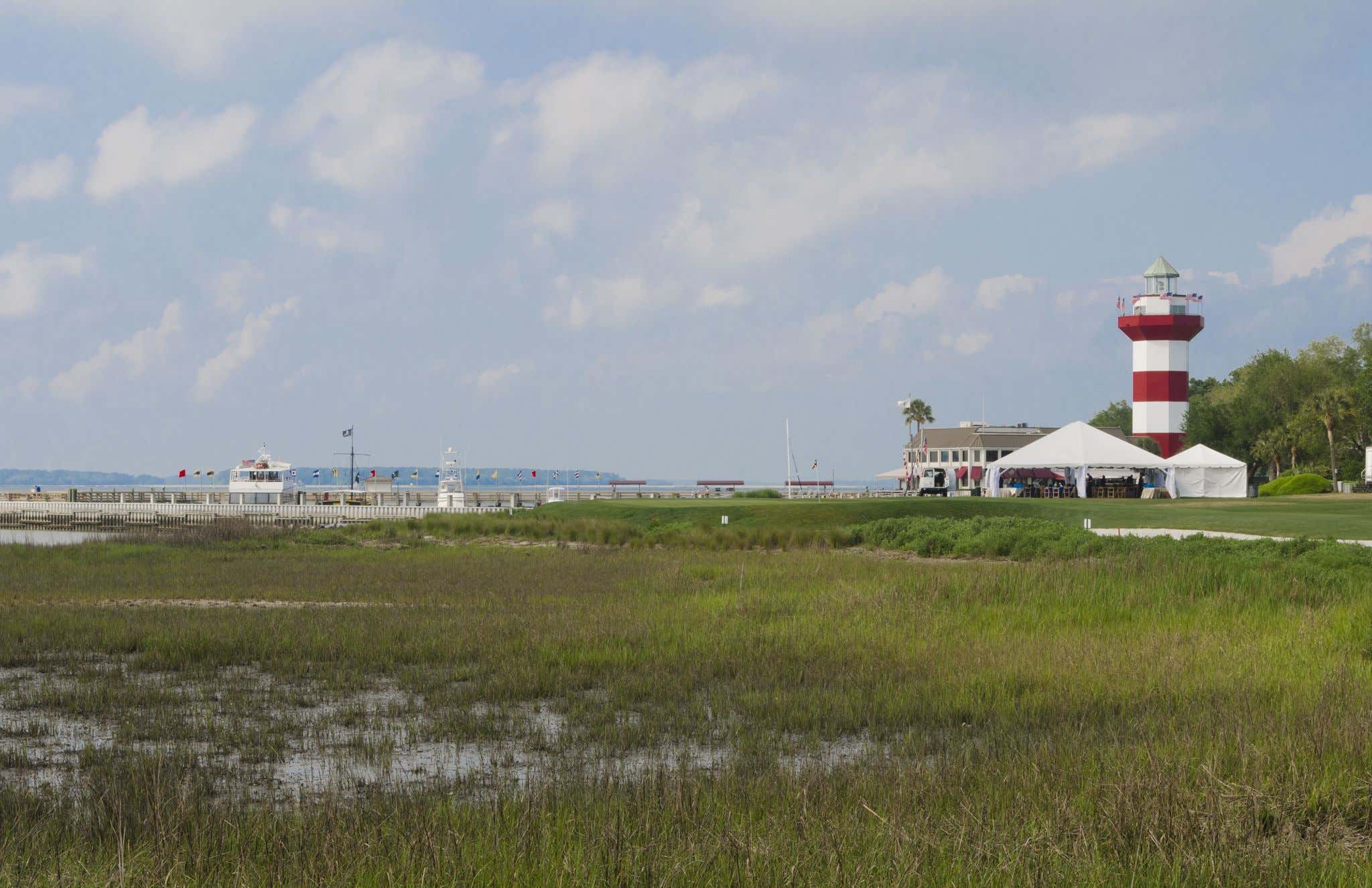 UniversalImagesGroup. Getty Images.
We're back baby! PGA Tour can't stop won't stop. After another exciting Masters we move on to the Heritage at Harbour Town Golf Links in Hilton Head, SC. As a preface to the blog that follows, I will be refraining from naming the sponsor of this event due to spite. Some brokerage firms produce better formatted 1099's than others, and one brokerage firm is the worst of the worst. This disgruntled CPA isn't naming names.
But I digress. The Heritage is generally rated as one of the players' favorite stops on Tour, and now it's an elevated event. Can't believe they'd stack it right after The Masters, but I certainly don't hate it. Harbour Towne is a great course with an iconic finishing hole, and most of the world's very best will be teeing it up.
Last year Jordan Spieth shook off his first missed cut at Augusta by winning a damn tournament the very next week. He edged out Patrick Cantlay in a playoff after both left their approaches into the front bunker protecting the 18th green. Both had tough lies, but it was Spieth who delivered a gorgeous splash-out for a tap-in par at the 18th, as he is known to do.
The two of them beat out a HUGE pack of guys a stroke behind in what was an awesome Sunday finish.
Last year's leaderboard and recent winners at the Heritage.
2022 Playoff And Leaderboard
Recent Winners
The Course
Harbour Town Golf Links is a par 71 measuring 7,213 yards designed by….. none other than Pete Dye. I feel like I'm blogging a Pete Dye course every damn week. What a legend that guy was. Predictably, it's a track that encourages target golf. There are a lot of holes here where players will be hitting less than driver simply because the fairway runs out - they have no other choice. You can't just spray and pray here. There are other holes where positioning in the fairway is crucial in terms of getting clear angles at the greens. These greens are some of the smallest on the PGA Tour and carry a GIR rate of 58%, so you're going to want a ball-striker and a guy who can scramble around the greens. You'll also see one of Pete Dye's trademarks - bulkheads. That's how you end up with creative shots like these. 
Lastly, given that it is a links course by the water, this course is best protected by the elements. At this time of year the wind is usually a factor. When this tournament was played in June a couple years ago due to COVID, the wind was down and the scores went low. The course bounced back a touch the past two years, and I think we can expect something similar this year. I'd guess the winner comes in around -15. 
Best Hole - 18th hole, Par 4 472 yards 
This is probably the easiest pick of any of the previews I do every year. When you think of Harbour Town, you think of that lighthouse behind the green that serves as a target line off the tee. As picturesque as it is, it's got some teeth too. You've gotta hit the peninsula that juts out there with your tee shot, and then you've got to carry move of the junk on your approach. All of it is susceptible to the wind coming off the water to the left. And all of it is awesome. One of the best golf holes in America that I'm dying to play some day. 
The Weather
Could be another wet one in the early going, but shouldn't be too difficult to get it all in by Sunday.
TV Coverage
Good mix of GC and CBS this weekend. Enjoy.
Tiger's Ridiculous Shot of the Week 
So stupid. 
The Trophy 
Kevin C. Cox. Getty Images.
Alright so this is an interesting one. I've seen this trophy a bunch of times over the years and didn't think too much of it. It's just some fancy lookin fella wearing some type of top hat. Figured it was Sir Walter Raleigh or one of those other pre-Revolutionary War settler names that seem to be synonymous with that corner of the country or something. Seeing as I've made trophy-evaluation my duty, I decided to do some research. From hiltonhead.com: 
Sir William Innes was a wealthy Scottish golfer. In 1790, the first golf print was published of Sir William Innes, the Captain of the Society of Goffers at Blackheath in Scotland. It was based off an original oil painting by Lemuel Francis Abbott in 1778.

Some say that Innes moved to Blackheath to be close to the golfing society there and that he loved golf so much, he had the iron railings and gates at his house shaped like golf clubs.
Oooook. So it would seem that years and years ago, the Heritage just adopted some rich Scottish dude from a couple hundred years ago that really loved golf as the mascot of this Tournament. It's a bit odd, but I love that the way that they've gone all in on it. They've got a guy running around in his plaid giddy-up getting people excited about golf. They've got the cannon to kick off the event. 
And the best part of all, the winner gets the plaid jacket to go with his trophy. So all in all, a lot of bonus points earned back for a trophy that, on it's face, is pretty bizarre. I'll give this a 7.2/10. 
The Board
Shocker! Masters winner and reclaimed world #1 Jon Rahm is the betting favorite at +700 at the Barstool Sportsbook. He's actually only played this course once back in 2020 when it was one of the first tournaments coming out of COVID and the field was packed. He placed 33rd, which is damn near as bad as it gets for him. Rahm is capable of winning on any course he plays, but this course is far down the list of places that suit him best. I'd stay away from him and Scheffler.
With that said I'm rolling with Collin Morikawa at +1800. Ball-striking king should thrive in this target golf environment. He hasn't won in a while but posted another Top 10 at Augusta last week and I think he's close.
Other Plays
Justin Thomas To Win +2500/Top 5 +500 - JT was actually the betting favorite here last year at +1100 ahead of the likes of Collin, Cam Smith, Cantlay, and DJ. Obviously he's going through a little rough patch but I'm adamant there's value in betting him for the inevitable rebound.
Tom Kim To Win +3300/Top 10 +300 - It's clear that Tom is in his element at shorter courses that emphasize accuracy. He just doesn't have the length that most of the big boys have. Doesn't mean he can't make an absolute killing at tracks like this one. Probably gonna bet him at courses like here, Sedgefield, Sea Island, Waialae, Pebble etc for the next two decades whenever he plays those (which he should)
Corey Conners +5000/Top 10 +400 - This is my favorite value of the week. This guy won 2 weeks ago! And was +2200 here last year and finished T-12! Not like he trunkslammed… granted those were both against much weaker fields, but this is as much a course fit as TPC San Antonio for him.
JT Poston Top 10 +550 - JT is in a nice stretch of form with a T-10, a group stage win at the Match Play, and a made cut at Augusta last week. Better yet, he's Top 10'd in 3 out of his 4 appearances at the Heritage.
Cam Young FOMO Pick To Win +2000 - Much like Rahm, I don't feel that the advantages Cam Young holds over his peers at most tournaments benefit him as much here. But he also was in that pack of guys who finished a stroke behind Spieth and Cantlay last year. So I'm betting it blindly as one does with the FOMO pick…. but maybe this really is the week?
Alright gang, that's all I got. If you're down on HHI, enjoy the hell outta the Triangle and enjoy the Heritage.