Rico Bosco's "Bosco's Bets"
Another weekend….another 3 days loaded with big games. For all the big games, THE go-to spot for trends and odds is OddsShark.com.
NHL Playoffs
– Tonight's four pack of games includes, Red Wings-Lightning, Islanders-Panthers, Blackhawks-Blues, and Predators-Ducks. For the full odds click here.
Here's the full trends for one of tonight's match-ups – Blackhawks vs Blues  :
Similar trends can be found on OddsShark.com  for all the other playoff games.
NBA Playoffs
-Opening odds for tomorrow's games can be found here.
-Our guy Stephen Campbell of OddsShark.com , lists three long shot sleepers for those of you into that sort of thing.
 MLB
– The Rico Brushbacks contest had a setback this week, but will get back underway Monday. For all your baseball odds and trends look here, via OddsShark.com
– The biggest pitching matchup of note is Kershaw vs Bumgarner , Justin Hartling of OddsShark.com does a great job breaking down who has the edge in the match-up. Get the full read here.
Below are the trends :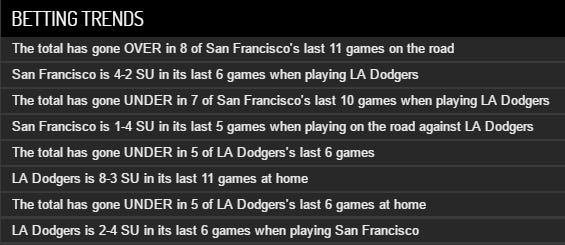 – Best of luck to Hank's Celtics this weekend. As the hardest worker in our company he deserves another ring. #GOHANKGO.
Enjoy the games, Happy Friday.
Total Record of featured "Bosco Bets" picks : 31-25-3 YTD
CFB YTD: +31.15 units College Football 2015-2016 Season, 183-152-7 (+15.8 units) Regular season College Basketball via Twitter, +7.7 units in the NCAA Tournament. For all stats and trends check out OddsShark.com & follow @Rico_Bosco on twitter for picks,  birthday wishes to Mike Francesa, questions, all things floral hats, admiration of D'Jais, and overall entertainment.