BARSTOOL COLLEGE FOOTBALL ROUNDUP - WEEK ONE
It was a phenomenal 5 days of college football. Waking up on a Saturday knowing there is CFB on for the next three months has the college football world walking around like we are Trayveon Williams.
Texas A&M started off Sunday night HOT.
The first three-quarters in LA had everyone hopping on the Aggies bandwagon.
I can't blame Tex or anybody else being shouting the Aggies name for all to hear. I've been duped by a Kevin Sumlin Texas A&M team before too. Usually, they wait for October to come around to collapse, but this Texas A&M team decided to get the collapsing out of the way last night!
FAKE SPIKE!!!!!
Not sure why, but it seems that Taylor Swift is targeting the CFB market. She debuted yet another song with ESPN before the Alabama-FSU game. I'm not sure if this is saying a lot, but this one is better than the last.
After we heard Taylor ask us if we are #readyforit, Alabama and the gawd Nick Saban reminded to the entire world that Alabama still sits on the iron throne of college football.
Alabama had a dominating 21-7 win, even with Cam Newton sneaking on the field for FSU.
Tough news for Cam Newton Deondre Francois, who suffered a season ending injury during the Seminoles matchup with the Tide. That news, of course, was broken by Barstool's own Florida State account.
This made capital J's across the country a little mad. That anger turned into jealousy, which resulted in those jealous journalists not respecting the biz and crediting the wrong account.
USC was losing to Western Michigan, which was….surprising?
USC figured the damn thing out and gave us the moment of the weekend.
Got to love that even the blind snapper on USC has the perfect SoCal look and could most likely steal your girl without even knowing what she looks like.
Jim Harbaugh and his blue collar Michigan Wolverines came back in a BIG WAY!
If Florida fans are looking for somebody to blame, look this mans way.
I hate to make big time proclamations, especially after only a week of play, but man does it look like the U is BACK!
Saturday gave us a chance to take a look at Tom Herman and the Texas Longhorns. That look gave us the confirmation of what we believed all along: Texas is indeed NOT back!
EXCESSIVE JUICE, YA'LL!!! EXCESSIVE JUICE!!!
The Coach O era in Louisiana got off to a start that included a complete ass whooping of a bunch of 26-year-old Mormon's.
The first game of the Head Coach O era also included an incredibly weird impression of Orgeron's voice from ESPN sideline announcer Allison Williams.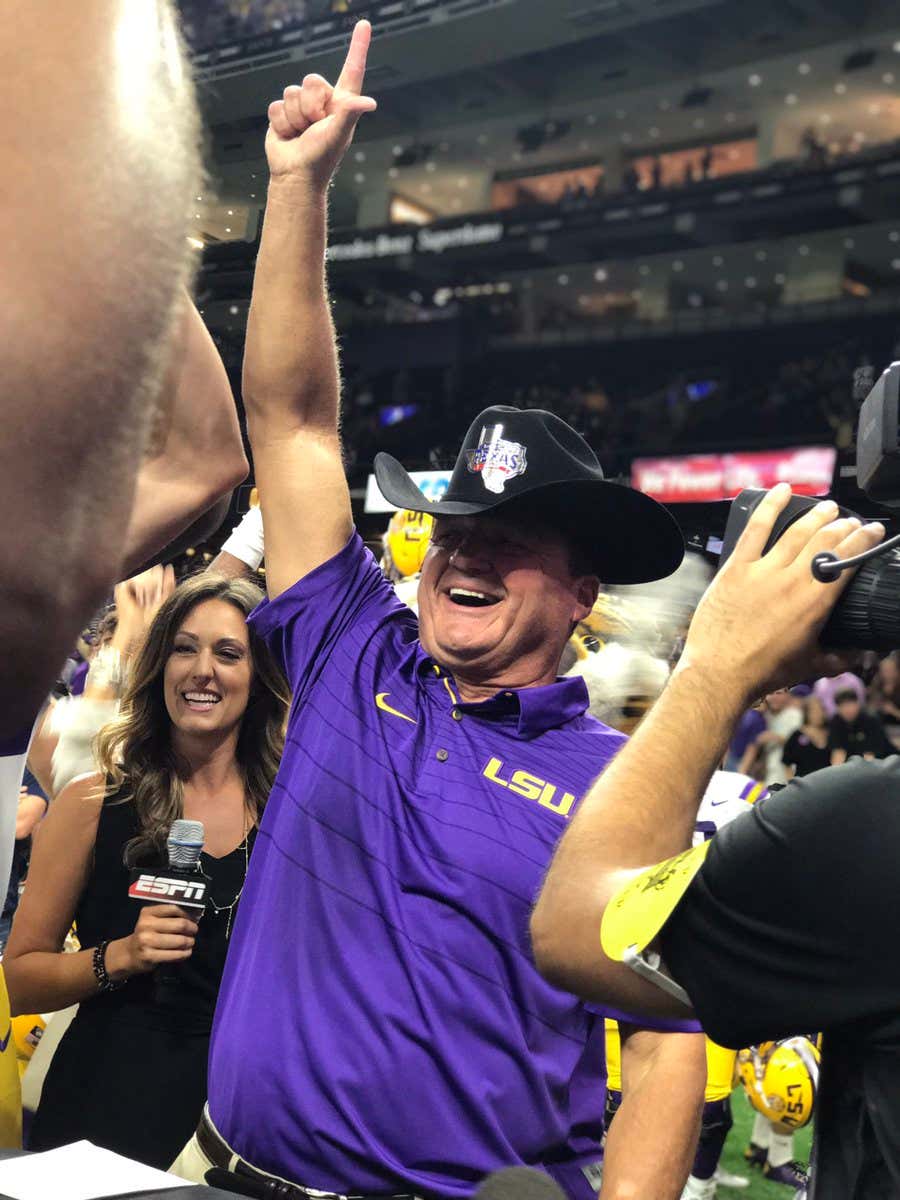 Will Grier's wife stole the show on Sunday night. It was a shame that Musburger retired before we could hear him call a game with Mrs. Grier in attendance.
To nobody's surprise, Dana Holgorsen was the first coach to be penalized on the season.
The Champions of Life started their 2017 season off with a win thanks to a trash can, which I think may be magical.
Army football equals good…..Fordham football equals bad.
Look at this box score….Army didn't even complete a pass!
Rutgers whole hot tub thing happened….they even had a lifeguard!
Lane Kiffin's return to being a head coach was about as eventful as one could've asked for. It included not one, not two, but three lightning delays and Lane wasn't going to let Navy leave Boca Raton until they played the entire damn game.
It turns out that Clemson, just like Alabama, is still actually good!
Would also like to use this time to give a shout out to the Clemson marching band for an 11/10 troll during halftime.
On an opposite note, this is an actually bad celebration from Bowling Green (the leader of STD's in the MAC).
What's up, Saquon Barkley? It's good to see ya!
No…no…that's not how you punt, Wyoming….that's not how you punt at all!
Ummmm…..Josh Allen? What are you doing?
ILLINOIS FOOTBALL!
Speaking of defensive touchdowns by large men, the ghost of Bear Bryant couldn't stop this fat guy touchdown in Birmingham.
Somebody is changing the culture over in Berkley!
There was a fox on the loose in Waco. Baylor fans were hoping that the fox was going to be the story of the day from McLane Stadium. Those fans left disappointed because Baylor lost to….Liberty?
Darren Rovell was the greatest honorary captain I've ever seen. Look at his passion, it's second to none. I thought he was going to sneak into a jersey and play a few snaps for the Wildcats!
A D3 team with a nun kicking coach (no, I didn't make a typo) lost a game 98-0. I guess the man upstairs wasn't on their side for this one.
Congrats to the GameCOCKS and #FootballGuy Will Muschamp on the big win!
Wrestling + College Football=LIFE
Howard?!? HOWARD!!!!!