Week 2 College Football Mega Breakdown Preview
Watchability Chart: 
Each week, I'll sort the Saturday games into three categories to help you decide which games you will spend time watching. Here are the three categories.
Ain't Come To Play School Game: This is a game you cannot miss. The players on the field aren't at their respected universities to play school. This category, of course, is a tip of the cap to Cardale #12Gauge Jones.
Sneaky Good Bill Snyder Game: This is a game that you wouldn't typically tune into, but if you are in front of the TV you should highly consider putting this game on. These games will be high scoring and/or competitive. This category is a tip of the cap to Bill Snyder, who has provided the college football world with more sneaky good teams than I can count on my fingers.
Butt Diaco Game: This game is going to SUCK. Don't watch this. Unless you have money on the game, there are 10 bajillion better things you could do with your time. This category is a tip of the cap to Bob Diaco, the buttiest of butt coaches of all butt coaches.
Ain't Come To Play School Games: 
Pittsburgh @ Penn State (-24, O/U 67.5), 3:30 PM, ABC: 
(Pittsburgh needs new material. The Sandusky stuff is getting real old, real quick)
Penn State lost to three teams last year: USC, Oklahoma State, and…..Pittsburgh. To compare the team that lost to Pittsburgh to the one that ended up winning the Big Ten and taking USC to OT in the Rose Bowl would be short sighted. The Air Moorehead offense hadn't gelled yet in Happy Valley. Hell, after the Pittsburgh loss, if you asked a PSU fan if John Franklin was going to be the head coach of the Nittany Lions in 2017 half of them would've said no.
Now we are here. Penn State returned 15 2016 starters this year and all of them remember the game that ultimately kept them out of the CFP. This is their chance to get revenge on their rival and take another step towards the CFP.
Pittsburgh is coming in off a disgusting OT victory against Bo Pelini's Youngstown State. Penn State, on the other hand, put on an absolute show against Akron. They outscored the Zips 52-0 and held a yard per play difference of 6.2 yards. Sure it was Akron, but handling a team to the point of having a 26% higher success rate (using Bill Connelly's statistics) is impressive.
Pittsburgh is without a lot of the team that helped them beat PSU last year (James Conner, Nathan Peterman, etc.). Thinking they could pull off the same upset on Saturday, in Happy Valley, is ridiculous. Sure, Quadree Henderson and Max Browne could connect for a few scores, but I don't see a situation where they keep up with the electric Penn State attack. Pittsburgh defense gave up an average QB rating of 145.6 last year. Yes, they played Trubisky, Watson, and Kaaya, but turning every QB into Luke Faulk is not optimal. Now they have to stop Trace McSorley and Saquon Barkley.
Can Penn State cover? Of course, but I don't think it's a good number to bet. This is a rivalry game at the end of the day (if you think OSU is PSU's #1 rival you should go get your brain checked) and laying 24 points is less than ideal when you could easily see Pittsburgh keeping this game within two scores for awhile.  But hey, anything is possible when this guy is on your team:
Lean: Over 67.5
Auburn @ Clemson (-5.5, O/U 53.5), 7:00 PM, ESPN:
This is the most interesting game on the board for me this weekend. The game in fake Death Valley has story lines galore. How will Clemson's new QB Kelly Bryant look against Auburn's defense? Does he have any weapons? Is Jarret Stidham the QB Auburn has been looking for since Cam Newton left? If so, is this the best Auburn team since Cam Newton left? Can Clemson's defense keep them in games when Bryant and the new offense has growing pains? Will this be the 'Run Down The Hill' that ends in a walk-on falling and causing a domino effect that forces a star player to sit out a few games?
I could keep going and going, but this is one of three games on Saturday that the winner will walk out of the stadium thinking "alright, it's CFP or bust at this point."
I don't know what to do with this game in terms of gambling. Last year the final was 19-13. This game is going to feature two phenomenal defenses and two potentially phenomenal offenses. Both defenses will take away the QB's first reads and attack said QB with their absurd defensive lines. With all that being said, I lean under. There are just too many unknowns for me to make it an official play.
Lean: Under 53.5
Georgia @ Notre Dame (-5, O/U 57), 7:30 PM, NBC: 
The worst of the 5 "Ain't Come To Play School Games," but still a game you should be checking in on throughout the night. How will Jacob Eason's replacement freshman Jake Fromm play? He looked good against Appalachian State last week, but playing against a #FunBelt team at home is much different than a road game against a top 25 team.
I'm very bullish on Notre Dame this year. Their run game looks phenomenal with Josh Adams and company. Brandon Wimbush looks like a stud and he has a great receiver in Equanimeous St. Brown (also a member of the All-Name Team). I could see this team being the true surprise of the 2017 season, but something about this game is making me feel a bitttttt queazy. Do I expect Notre Dame to win? Yes, but I could easily see a 31-28 game.
There is one aspect of this game that I haven't yet talked about. Disregarding Georgia's 2010 game in Colorado, this is their first game north of the Mason-Dixon line since 1945 and the Dawgs fans are going to be well represented:
How are those southerners going to act up in South Bend? We'll see I think we have a pretty good idea:
Lean: Notre Dame -5
Oklahoma @ Ohio State (-7.5, O/U 64.5), 8:00 PM, ABC: 
#TBT:
Another rematch from last year between two CFP contenders. Similar to Clemson-Auburn, a lot is going to be answered after the clock strikes triple zeroes in Columbus.
I really like Ohio State in this one. Lincoln Riley's first test is going to be in an absolute raucous environment on the road against a team that stomped his team in Oklahoma last year. Along with that, Riley's team still has a lot of unknowns. Can Jeff Badet be Baker Mayfield's new DeDe Westbrook? If not, is TE Mark Andrews enough? What about the defense that ranks 48th currently in S&P?
Let's compare that situation to Ohio State. They are playing their first home game against a team they beat by 21 on the road last year. Yes, overvaluing one game is what gets gamblers into big holes, but I think what we saw in Norman last year is going to pop up again in Columbus. JK Dobbins, Mike Webber, Parris Campbell and the 15 other 5-star athletes OSU has is going to run circles on the Oklahoma defense that there is little reason to believe in.
I'm also going to come out of the closet right now as a JT Barrett supporter. The man is the most over-criticized college QB in the country. Last Thursday, my Twitter timeline looked like everybody decided to come together and have a JT Barrett roast. The only person missing was Jeff Ross. The roast didn't seem to mention how Barrett ended that game, so I'll take the honor: 304 yards, 3 TD's, and zero interceptions (not to mention the dropped TD he threw to Campbell).
Mayfield and the Sooners will put up points. You'll hear plenty of Boomer Boomer (they play that song so much when I go to sleep on Saturday nights in the fall I am humming it to myself) from the Oklahoma band, but in the end it won't matter.
Play: Ohio State -7.5
Stanford @ USC (-5.5, O/U 55): 
Talk about bad timing for these four games. They all start within an hour and a half of each other. Get your monitors ready, folks.
This line was around 7/7.5 earlier in the week and seemed too good to be true. I grabbed Stanford at +7.5 on Saturday, but still like Stanford plus the points here.
Last week USC struggled with Western Michigan at home. The final score of 49-31 doesn't tell the full story of how close that game was. Western Michigan was up in the second half and needed a pick six to push the margin to 18 points. What caught my eye the most from that game was the 262 yards rushed for by WMU on 5.5 yards per carrying. That is not good news for USC, considering a top running attack is coming to the Collesium on Saturday night. Everybody is a bit down on Stanford because they graduated two top-15 NFL picks, but one of those picks, Christian McCaffrey has a hell of a replacement in Bryce Love. Keller Chryst can control the game well enough on offense for Stanford to pick up 21+ points for the Cardinal.
Of course, on the other side of the ball, USC has Ronald Jones and Sam Darnold. Both of those fine players will get their own, but Stanford's defense, more specifically their secondary, will slow them down enough to keep this game within striking distance for Stanford.
Stanford, in my opinion, is the best team in the Pac-12. They also haven't had a game since August 26th. Yes, they had to fly back from Australia, but they've had uber time to prepare for this game. Also, do you think Stanford spent most of their training camp focused on playing Rice? Absolutely not. They've had this game circled on their schedule since it's release. Give me the Cardinal.
Play: Stanford +5.5
Wild Card Games: 
Northwestern (-3, O/U 55) @ Duke, 12:00 PM, ESPNU: 
I'm a big fan of Northwestern this year. Returning an underrated backfield of Clayton Thorson and Justin Jackson with three of four last year's top receivers (plus an Oregon transfer) and a solid line equals an attack that can put points up on the board, which you typically don't see from a Northwestern Wildcat team.
Last week they looked dicey against Nevada in the first half. I blame Darren Rovell for this as he gave them a "motivational" talk the night before and obviously fucked up their mind with brand and Periscope talk. At halftime, Pat Fitzgerald rallied the troops and the Wildcats came out swinging in the second half, looking like the team I expected.
I think that second half performance carries over to this game, which should be played every year as the "Nerds Are Athletes Too" rivalry game. In my fake rivalry game world, the winner of this one would be rewarded 15 Goldman Sachs investment banking jobs to all the seniors on the respective team.
Duke QB Daniel Jones is talented and has a few decent receivers to toss the pigskin around to. What concerns me about Duke is their lack of quality linebackers, which Justin Jackson and Northwestern can take advantage of. Northwestern is a bit banged up on defense, but I see them leaving North Carolina with a 7-10 point win.
Play: Northwestern -3
Houston (-1, 69.5) @ Arizona, 10:30 PM, ESPNU: 
Stat of the week: Arizona allowed 562 yards on Saturday to Northern Arizona. FIVE. HUNDRED. SIXTY. TWO. If you haven't heard of Northern Arizona it's because no one has. That's an embarrassing stat line even for a Rich Rod defense.
People forget about Houston. A team that rose up to #5 in the rankings last year, returns 15 starters this year and former 5-star Texas A&M QB Kyle Allen is arguably better than Greg Ward. Wait, I almost forgot this guy is back too: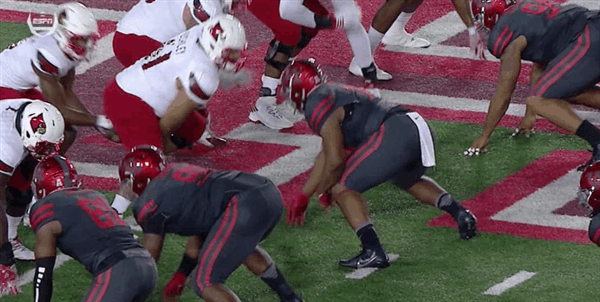 Ed Oliver alone is worthy of taking Houston on Saturday.
Arizona is going to put up points and will run the ball for around 250 yards. For them to win they'll have to surpass that number in the third quarter, but they are going up against a Houston front seven that is capable of taking away the run on every play. Will Arizona be able to pass the ball well enough to keep up with a Houston team that will drop 35+?
There is the Hurricane Harvey element here. For obvious reasons, a lot of these Houston players minds have been elsewhere since the devastating hurricane hit. That could be a negative for the Cougars come game time, but I believe these players will be excited to put aside everything that is on their plates for a few hours and play football. Yes, they don't have Tom Herman anymore, but Major Applewhite, a potential coaching star, will have this team ready to embark on their first step towards an AAC title.
Play: Houston -1
Fresno State @ Alabama (-44, O/U 53), 3:30 PM, ESPN2: 
Alabama played in an all out war against Florida State on Saturday night. On every play, it seemed like bodies were flying everywhere. Alabama came out with the win, but also incredibly beat up. They lost a starter at LB for the season and a key backup LB.
Nick Saban isn't going to have his starters out there for long on Saturday in Tuscaloosa. Sure, Alabama's walk-ons could compete against Fresno State, but the second and third stringers will be playing incredibly vanilla football in the third and fourth quarters.
Fresno State's new head coach, Jeff Tedford, has a big fan in Nick Saban. He commented this week on Tedford improving the Bulldogs this year and talked up his talent as a coach. I don't see Saban wanting to hang more than 42-49 points on Saturday.
Fresno State has a bunch of talent at receiver and QB Chanson Virgil is an athlete who will be put in a few decent situations later in the game because of Tedford's play calling ability. I see Fresno putting up 10 poins. 45-10 final.
Play: Fresno State +44
6-Pt Teaser: Western Kentucky (-1) @ Illinois, South Carolina/Missouri (Over 65): 
Let's start with Western Kentucky, a team tasked with a lot to replace coming into this season. They lost their head coach to Purdue, 5 of 7 of their top receiving targets, and three all-conference linemen. Add all that up and they are still the better team than Illinois.
Illinois somehow beat a bad MAC team in Ball State last week even though they were outgained 375 to 216 in yards. Western Kentucky is coming in with QB Mike White and an offense that will throw all over a below average Illinois secondary, even with WKU still trying to find reliable targets. I'm not quite sure what Illinois is thinking long term in regards to Lovie Smith, but this will be another bad loss to a G5 school on his resume. Look for Mike White to connect with Lucky Jackson and De'Andre Ferby to rush for well over 100 yards.
Moving on down south to Missouri. Similar to Illinois, South Carolina somehow pulled out a win against NC State on Saturday even though they were outgained 504 to 246 in yards. Missouri, on the other hand, gave up 492 yards to Missouri State while putting up 815 yards. This game is going to be a shoot out. I'll take an extra 6 points for good luck.
Play: Western Kentucky -1/South Carolina/Mizzou Over 65 (6-Point Teaser)
Official #JackieGambling Picks:
Stanford +5.5
Ohio State -7.5
Houston -1
Fresno State +44
Northwestern -3
Western Kentucky -1/South Carolina/Mizzou Over 65 (6-Point Teaser)