BARSTOOL COLLEGE FOOTBALL ROUND UP - WEEK 2
Most people don't know this beefy ref's job during the week is being a Jedi.
It was a tough Saturday night for the Buckeyes
Bob Stoops, wearing an untucked pink shirt with the top 3 buttons unbuttoned, seems to be doing retirement the right way.
The biggest moments of the night in Columbus may not have happened on the field, though.
Now onto Clemson-Auburn Wait….did I forget this? How could I forget this? The biggest moment DEFINITELY happened on the field.
Baker. Mayfield. Forever.
Get this girl a set of pads and have her play QB for Auburn, because she may be better than what they've got.
Clemson just keeps reloading and it's so unfair.
Tinky Winky?
Is Dabo Swiney the greatest human ever? MY COLUMN:
The DAWGS took over South Bend.
Darren Rovell decided that he was going to inject his #NoFun agenda into Georgia's phenomenal turnover apparel.
Yes, we do need to give the kid who made an amazing play a costume. You know why? Because he isn't getting any money for the million's he makes the school AND, you know what Darren, it's COOL.
Kirby Smart decided to add a little more fuel to the fire during his post game press conference.
I can't describe how much I love that quote from Kirby. I've never heard a "football is done better in the south and that's a fact" statement put better.
On Brian Kelly's grave it should say, "Brian Kelly: Worst Human Ever To Live."
"Losing by one possession? No, it was one point." What a damn quote.
USC and Sam Darnold made things look very easy against Stanford.
In my preview article this week, I proclaimed Stanford the best team in the Pac-12. It turns out I was wrong VERY wrong.
Targeting still remains the most bizarre call in college football. For the past few years, we see targeting calls that seem to warrant ejections, but never result in them and then we see ones that are obviously unintentional but result in ejections. It's maddening.
Lamar Jackson came into the season without very much hype. The Heisman Trophy winner has flipped that narrative on its head.
It was another tough loss for North Carolina. Some may point to the lack of defense, but I'm going to put it out there and say it may have been the Avatar (2009) dabbing fan.
College football is great when Army is competitive. Fake punts in college football are also great. When you put those two together you get something glorious.
Can Mike Leach never leave college football? Because I think all of us would be okay with Mike Leach never leaving college football.
I love my stacked college football Saturdays, there are only 12 a year, but sometimes those late night #Pac12AfterDark games go on for way too long.
Whoever runs Kentucky's scoreboard didn't help their school's educational reputation on Saturday.
Every Saturday bizarre things happen, that's what makes college football so great. This week's theme of "Only In College Football" involved water bottles, towels, and a 3rd & 93.
¡EL ASSICO! was, may I say, lit?
Nic Cage Jacob Park decided to get over his tough rivalry loss by tossing a fat dip in before his press conference (at the 0:08 second mark he starts to play around with it with his tongue).
At this point in the roundup I would like to congratulate Joey Galloway on picking Baylor to win the Big 12 in 2017 back in August. That's why the pay you the big bucks, Joey!
CBS seemed to play a football game in the middle of a montage of sad Arkansas fans at 3:30, truly bizarre stuff.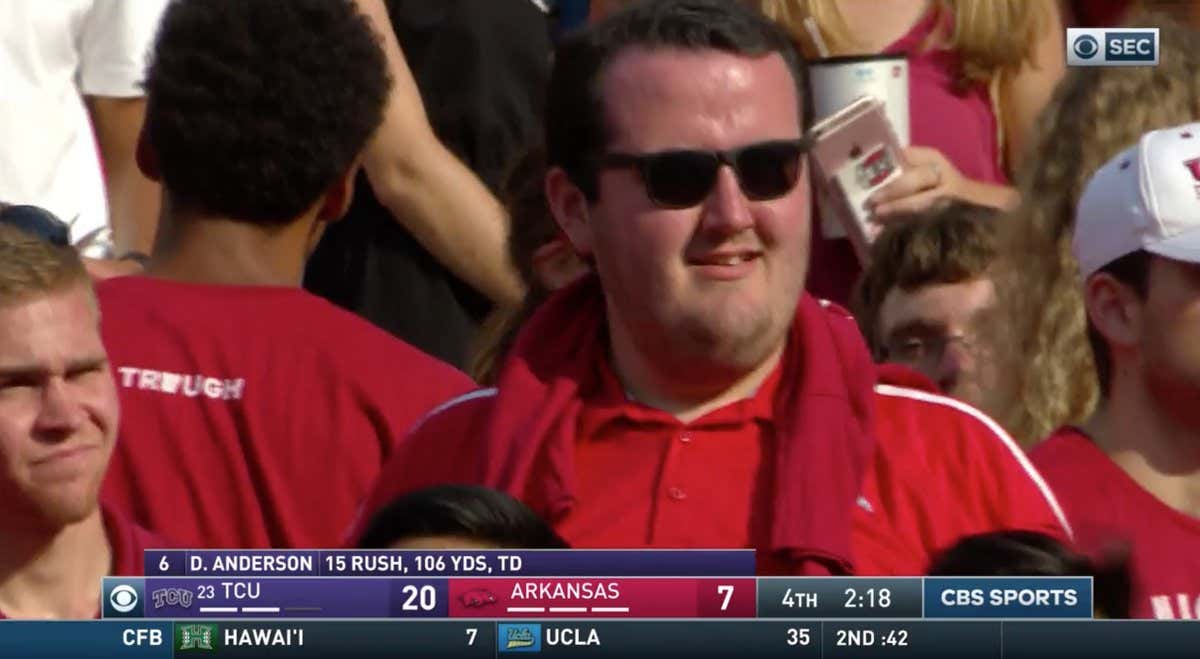 A bunch of people missed out on the #NerdsAreAthletesToo Bowl. No big deal, it's their loss. They could've potentially learned a thing or two or maybe got a JOB.
Hotty Toddy, ya'll! HOTTY TODDY!
Saquon Barkley is a human cannon ball and you can't tell me otherwise.
Pittsburgh's uni's were beautiful on Saturday. It's a shame they played so poorly in them. Time to burn them.
Those white jersey's got dirty during the game and, surprisingly, after it too thanks to James Franklin taking a massive shit all over Pittsburgh in his post game press conference.
Boston College, who seems to stink at college football again, may have lost, but at least they have the official greatest fan of 2017.
I wish I could redact my senior quote and make it "Just drink a lot of water because it's going to be THIRSTY."
The Michigan-Cincinnati game was so boring that they decided to bring out dancing dinosaurs to entertain/wake up the fans.
I guess the dancing dinosaurs weren't the only fun thing about Michigan-Cincinnati, there was the part where the Cincinnati Bearcat was wearing a milk carton.
I shouldn't have said that the Michigan game was boring. That was unfair and short sighted of me. No game can be categorized as "boring" when a text book brutal white guy handshake happens.
I'm sure Chris Winovich will forgive Rashan Gary for embarrassing him like that. Well, at least he should, because that Rashan Gary guy is SCARY good at the whole football thing.
Speaking of Michigan, let's check in on their B1G counterpart who looked great last Friday night against Washingt…oh no, Rutger, NO!
The Oregon Duck stomped on cancer's weak ass and then his squad rolled through Nebraska.
The #BobDiacoExperiment is going about as well as you'd think in Nebraska. By that I mean it's not going well at all.
Texas State has a lot of footballing to work on, because **Mike Francessa voice** STINK.
#ScepterBack BABY!
Maybe Texas A&M should've retired the scepter?
There are a few small school guys every year that impress and raise up NFL draft boards seemingly unnoticed by college football fans. I don't know if Indiana counts as a small school when it comes to football, but I do know Simmie Cobbs must be climbing up NFL draft boards.
Names that end in the letter O are phenomenal because we can all yell the O in harmony for an extended period of time. A perfect example of this is DeeeeeeeeeeeBOOOOOOOOOOOOOOOO Samuel.
PJ Fleck and the Minnesota Gophers kept #RowingTheBoat in the Rodent Bowl.
The Holy War resulted, as most wars do, in one side surrendering #SurrenderCobra.