Week 8 College Football Mega Breakdown Preview
Watchability Chart: 
Each week, I'll sort the Saturday games into three categories to help you decide which games you will spend time watching.
Ain't Come To Play School Game: A game you cannot miss. The players on the field aren't at their respected universities to play school. This category, of course, is a tip of the cap to Cardale #12Gauge Jones.
Sneaky Good Bill Snyder Game: A game that you wouldn't typically tune into, but if you are in front of the TV you should highly consider putting on. These games will be high scoring and/or competitive. This category is a tip of the cap to Bill Snyder, who has provided the college football world with more sneaky good teams than I
Butt Diaco Game: A game that is going to SUCK. Don't watch this. Unless you have money on the game, there are 10 bajillion better things you could do with your time. This category is a tip of the cap to Bob Diaco, the buttiest of all butt coaches in college football history.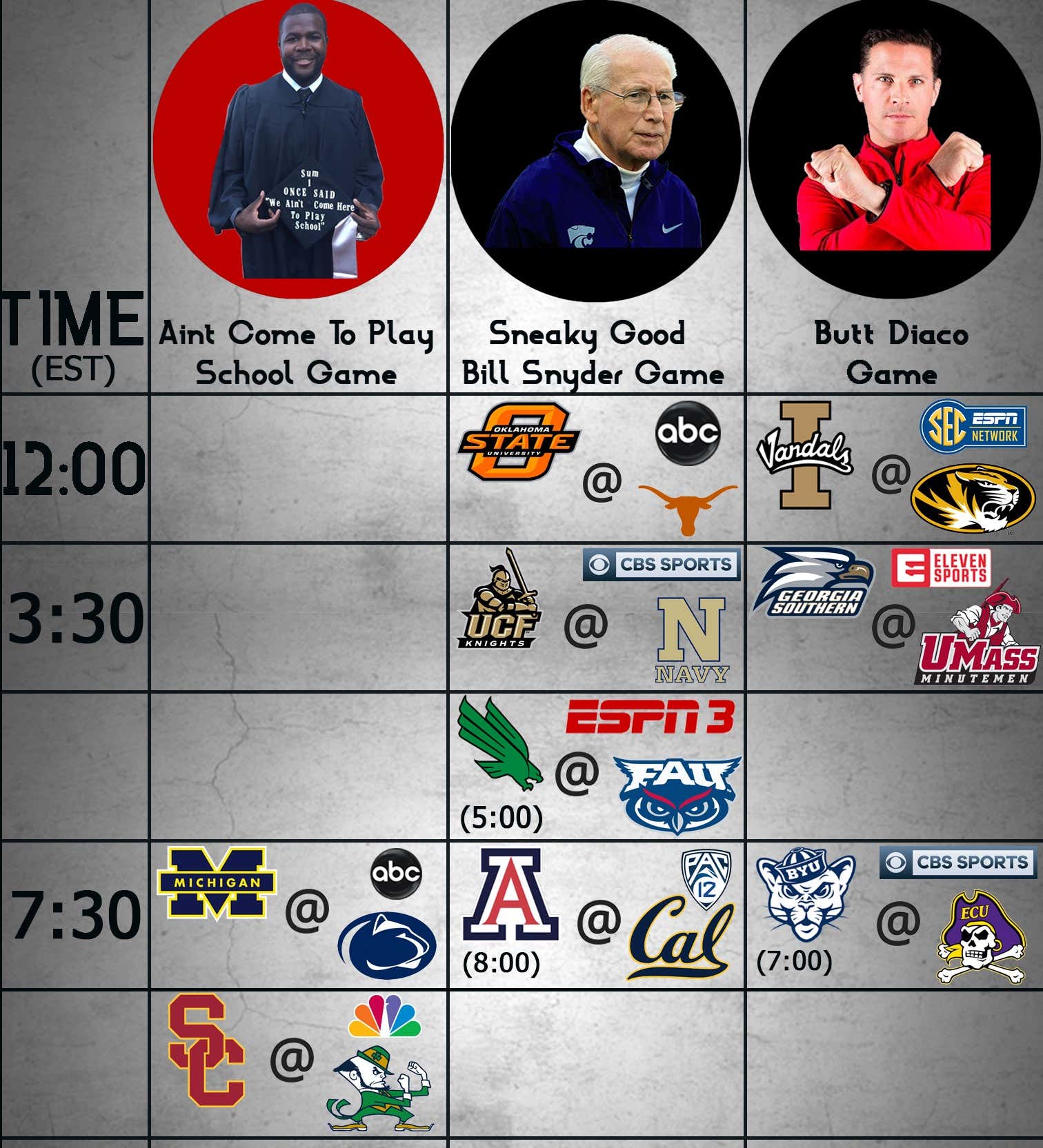 Before we start, I wanted to define a few of the advanced stats I've been using in these previews. The best stats I have found when analyzing this beautiful sport have come by Bill Connelly, who writes for SB Nation. You can find the glossary/Q&A for all of his stats he uses here and here, but here is a spark notes of the main stats I predominantly use.
Success Rate: How successful/efficient are you as a team in staying on track to move the chains. A successful play is defined as getting at least 50% of the necessary yards of first down, 70% on second down, and 100% on third or fourth down.
IsoPPP: Isolating points per play on only successful plays. This statistic aims to look at how consistently successful you are and when you are successful how explosive are you?
Standard Downs: 1st down, 2nd-and-8 or less, 3rd-and-5 or less, 4th-and-5 or less
Passing Downs: 2nd-and-8 or more, 3rd-and-5 or more, 4th-and-5 or more.
Adjusted Line Yards: A statistic that separates the strength of the offensive line and the ability of the RB. Just because you have a great RB doesn't mean you have a great line.
Adjusted Sack Rate: An opponent-adjusted rate of a sack rate, which is sacks divided by (sacks plus passes).
If you have any questions on these stats, shoot me a DM/Tweet @JackMacCFB.
Ain't Come To Play School Games
Michigan @ Penn State (-9.5, O/U 44.5), 7:30 PM ABC: 
It's finally getting cold. Weird non-conference games are finally over. Good teams are emerging and a college football playoff picture is taking shape. College football is officially here for the masses. We've had a few rivalry/old school games up to this point (e.g. Oklahoma-Texas & FSU-Miami), but this week it starts and doesn't end. Next week we have Georgia-Florida, PSU-OSU, the week after is LSU-Alabama, Okie State-Oklahoma. I could go on, but we'll get to those games when those weeks come around. All that matters is this weeks slate and the Wrestlemania Main Event features Michigan & Penn State.
Penn State is coming in as nine and a half point favorite and that may seem surprising to the average fan, but considering the incompetence of Michigan's offense and success of the Nittany Lions this season the line is very fair. The line is almost too fair. I don't know what to do with it. I want to have action on the biggest game of the week, but all the times I've heard "don't force action" has me in a pickle.
I like what Penn State has done this year, but their struggles will be exposed by Michigan's strengths. For example, Penn State's offensive line ranks 112th in adjusted sack rate and 87th in adjusted line yards while Michigan ranks 9th and 4th in those stats on defense. Will Penn State be able to get Saquon Barkley going?! Obviously, the 19th S&P+ rushing offense in the country will make an impact on the game, but will it be enough to cover the 9.5 point spread in a game where the total is just 44 points? 9.5 point spreads seem to be easily covered in college football, but that's because of the nature of the high points totals. 10 point leads can come and go with a blink of an eye in a game between West Virginia and Texas Tech, but when two teams with top-10 defenses are playing 10 point leads feel more like 21-28 point leads.
With all that being said it would make sense to take the points with Michigan, right? Well, not quiet. If you bet a team that has thrown a combined 4 touchdowns all season and ranks 90th in S&P+ passing I wish you nothing but the best.
Most of the press this season surrounding Penn State has been around their explosive offense. That media attention is for good reason, but don't forget about Penn State's 8th ranked defense. The ferocious Nittany Lion defense will be ready to send a message against Michigan's 76th (!!!) ranked offense on Saturday night in Happy Valley.
The importance of this game being played at Penn State, under the lights, on national TV in front of a whiteout crowd cannot be understated. In high school football movies/shows, there is always a scene of the high school's empty town minutes before the game starts. That's what Happy Valley is going to be like on Saturday. Nothing else will matter in State College when 7:30 comes around. Trump could declare nuclear war and Happy Valley wouldn't acknowledge the world ending until the scoreboard had triple zeros.
It would also be foul for me to touch on this game without mentioning the revenge factor Penn State has after last years 49-10 blowout. That dismantling of Penn State has given James Franklin nightmares since September of 2016. I don't know if you heard, but James Franklin is a psychopath and never forgets stuff like losing 49-10 on national TV. Franklin will put up every possible point he can. Saquon Barkley will be in the game up 45-10 if the situation presents itself.
This game is going to be a lot of fun. Enjoy it. I don't have a play here, but I do lean Penn State and the under.
Lean: Penn State -9.5 & Under 44.5
USC @ Notre Dame (-3.5, O/U 65), 7:30 PM NBC:
Well, this game has a lot of memories. I don't know which moment I should pick to sum it up, maybe something in my memory could push me over the edge:
See what I did there?
Although both of these university's fan bases love talking about the past more than they like to even think about the present, we have a hell of a matchup in South Bend this weekend. This game is almost a must watch every year just based on its history, but there is a little extra juice involved knowing both of these teams are coming into this game with 1 loss. The loser will find themselves eliminated from CFP talk and thinking about next year.
If you only gave me two words for this section of the preview I'd pick "Josh Adams."
The man is electric, leads the #1 ranked S&P+ rushing attack and has been given zero love in Heisman talk. Saturday is the day Josh Adams starts becoming a known commodity. USC ranks 34th in stopping the run, but their glaring weakness comes in defensive rushing IsoPPP where they rank 71st. Notre Dame ranks 2nd in rushing IsoPPP. There are going to be a lot of open holes for Josh Adams on Saturday and he'll have the opportunity to take those rushes a long, long way.
USC has been through a lot this season. Injury luck has hit them hard and their bye week being the final week of the season isn't helping anybody heal. Going Stanford, Texas, Cal, Washington State, Oregon State (kind of a bye), Utah is outrageous. I don't think USC understood how much energy it was going to take this season to be the juggernaut they wanted/expected to be. Compare that to Notre Dame, who is coming into this game off a game against North Carolina and a bye week, feeling as healthy as ever. This advantage is huge for the Irish.
One place the Trojans continue to excel is through the air, ranking 27th in S&P+ and 12th in success rate. Bad news is Notre Dame ranks 6th and 4th in those stats respectively on defense. Sam Darnold is still one of the best QBs in the nation, but his turnovers should be concerning for anyone on USC. Notre Dame ranks 21st in expected turnovers on the season and if Darnold goes Brett Favre gunslinger mentality the Irish will make him pay.
Overall, Notre Dame ranks 13th in defense, 19th in offense, and 12th overall. Just like Josh Adams is the player often forgotten in Heisman talk, Notre Dame is the team often forgotten when talking about the playoff. Saturday is the biggest game for Notre Dame in 2 years and the Irish will deliver.
Pick: Notre Dame -3.5
Wild Card Plays: 
Central Florida (-7, O/U 65) @ Navy, 3:30 PM CBSSN: 
What Ken Niumatalolo does every year is nothing short of phenomenal. He produces a top team every year at a damn military academy with a recruiting class that ranks in the bottom half of the AAC year after year. Niumatalolo gets the most out of his players and every time a coaching slot is opened and Niumatalolo is passed over I scratch my head.
Navy is great, but they do have their ceiling. When they go up against a team that is more athletic and as disciplined, they struggle. That's who they have this week in UCF.
Scott Frost's team is a train that has not been stopped all season. Every Saturday this team gets better and better. They currently rank 9th in S&P+ (that is with opponent adjustments) and 18th in ESPN's FPI. UCF's QB McKenzie Milton ranks 4th in QBR on the season, ahead of stars like Will Grier, Jalen Hurts, Jake Fromm, and Jake Browning. Milton is just 5'11, but the manchild is leading the 4th ranked offense in America.
That train is going to continue moving forward this weekend. UCF is 2nd in explosiveness in the country where Navy ranks 115th. Navy's defense allows the 25th most points inside the 40 and UCF scores the 3rd most. Navy's 94th ranked pass defense won't do them any favors against Milton & Co. The game is just a total mismatch for Navy's defense.
Some have concern for UCF and their handling of Navy's triple option. To those haters & doubters, I show you this:
Well, yes, that is Scott Frost, UCF head coach and ex-national champion for Nebraska in 1997 where he ran the triple-option. He is going to have his team ready to face this attack from the Midshipmen and keep their success to a minimum.
I'm fully onboard for UCF. This train isn't stopping anytime soon unless Nebraska shows up to Frost's front door with a dumpster truck full of cash.
Pick: UCF -7
Louisville @ Florida State (-7, O/U 59), 12:00 PM ESPN: 
Doesn't this feel like a damn decade ago?!?!
A lot has happened with both of these programs since the first month of last season. Louisville's QB won a Heisman and its program is now on the brink of falling apart after losing to Boston College (lol, they actually lost to Boston College) while FSU's entire season was ended by Alabama in 4 quarters and almost started 0-4 with losses against Miami, NC State, and Duke!
I'd argue Louisville is in the worst spot between the two teams. Bobby Petrino is looking to leave town and the defense doesn't seem to be able to stop your high schools JV team let alone an offense littered with 4 and 5 stars. I touched on this last week with Cincinnati, but this is the part of the season where taking positions on team you believe to have quit on this season is incredibly important. Louisville has quit. There is no way you allow 45 points to BOSTON COLLEGE at home unless you've quit. I mean if that was at the raucous Alumni Field in Chesnut Hill then maybe they would've had an excuse, but at home? Come on.
Now, Louisville has to go down to Florida against a team out for revenge. The Clemson game will be the big one for FSU but with the playoff out of the picture, this game could be seen as Florida State's SuperBowl. They were completely embarrassed last year by a school that had only been in the Power 5 for a few years. Jimbo remembers walking off that field and so does every single player that is still on the Seminoles.
I love the situation for Florida State. I love that Louisville ranks 90th in defending the run where Florida State ranks 11th running it. RB Cam Akers is phenomenal and will take advantage of that disparity. I love that Louisville's 122nd ranked passing defense is just what the doctor ordered for Justin Blackman.
Lamar Jackson will be on his A-game because he knows that every snap matters for his NFL draft status, but the rest of his team will continue to give him little to no support. FSU's 16th ranked defense will keep Jackson in check and finally slay the 2016 63-20 dragon that's been on their back since last year.
Pick: FSU -7
Tulsa (-6, O/U 75.5) @ UConn, 12:00 PM ESPNU: 
UCONNNNNNNNNNNN
They came in huge for us last week and it's time to hop back on the Huskies bandwagon this week for them to cover again as an underdog.
Tulsa finally put everything together on Saturday and beat Houston in impressive fashion, 45-17. In a season that most thought was dead, Tulsa showed a bit of hope against the Cougars. To follow up their biggest win, they now have to travel from Oklahoma to East Hartford, Connecticut and take on UConn in a noon game in front of 25,000 fans. LET DOWN CITY for the Golden Hurricanes. Some would counter argue that by pointing out that UConn is also coming off their biggest win of the season, but playing at home at a weird time in front of a half-full stadium is nothing new for them. They also know that a win in this game is imperative for their postseason hopes.
UConn's defense is still piss poor. They had a bunch of turnover luck last week and still allowed Temple to put up 24, but the defense is starting to gel. Tulsa will be able to put up points on the Huskies, but their lack of passing attack will be the difference. Tulsa currently ranks 80th in passing S&P+ and 113th in passing success rate. If those numbers were top-50's, I would be off this game, but the Tulsa passing attack is not nearly good enough to take advantage of the 119th ranked pass defense they will be going up against.
On the other side of the ball, UConn's QB Bryant #TheresANewSheriffInTown Sheriff's is going to have himself a DAY. Tulsa's defense ranks 113th in defensive explosiveness, while UConn's offense ranks 20th. Tulsa's defensive passing numbers: 119th overall, 126th success rate, 120 in IsoPPP. Compare that UConn's offensive passing numbers: 56th overall, 36th in success rate, and 29th in IsoPPP.
Sound the alarm. UConn takes another step towards being #REstorred and takes down Tulsa.
Pick: UConn +6
North Texas @ Florida Atlantic (-3.5, O/U 66), 5:00 PM ESPN3: 
What's that? There's going to be a Tennessee opening soon?
You hear it all the time in golf, "Tiger Wood being good is GOOD for golf" "That Masters coming down to the final shot was GOOD for golf." Typically "that was GOOD for ______" are reserved for crappy sports nobody cares about, but I am still going to say this: Lane Kiffin being a head coach is GOOD for college football.
Speaking of GOOD, these FAU Owls are slowly becoming one of the best teams in C-USA. After the brutal start against Navy, Wisconsin, and Hurricane Irma, FAU has gone 3-1, outscoring opponents by a combined 93 points. This week they are coming off a bye to host North Texas. The Mean Green have been one of the best stories in the 2017 season, but their lackluster front seven on defense is going to have their hands full stopping FAU's 7th ranked rushing attack that features RB's Devin Singletary, Gregory Howell, and Kerrith Whyte. All things considered, it's quite funny that Lane Kiffin is running a team that runs the ball the 46th most in the country on standard downs and 14th most on passing downs. It seems that Lane finally figured out how to "RUN THE DAMN BALL!"
North Texas is coming off its programs biggest win in a very long time against UTSA. In an incredibly physical game, North Texas QB Mason Fine was thrown around like a rag doll and barely made it out of the game alive. No, really, look at the final play of the game:
He almost died.
I see the Owls ROLLING this weekend and continue their dominance towards a C-USA title in Lane Kiffin's first year. ROLL OWLS ROLL.
Pick: FAU -3.5
SMU (-7.5, O/U 66) @ Cincinnati, 4:00 PM ESPNU: 
I said it last week and earlier in the preview but I will say it again: Cincinnati is done with this year. The teams mind isn't on SMU this week, it's on the future of this program and I can't blame them, but I will take a side against them.
Bill Connelly at Football Study Hall put Cincinnati's last two games as 10% and 12% percentile performances. Their combined win expectancy was a whopping zero. SMU comes into Cincinnati off of a bye and hopes of reaching a bowl game for the first time since 2012. The Mustangs 49th ranked passing attack out ranks Cincinnati's defense by 52 spots. SMU ranks in the top 30 of overall success rate and explosiveness on offense, while Cincinnati ranks 86th and 92nd on defense in those categories. SMU is going to have the chance to score all over these fools in Ohio. It won't take much to cover considering Cincinnati ranks as the 17th worst offense in the country. Their QB Hayden Moore is banged up coming into this game too after the teams 3-point performance against USF last week.
Lay the points with the Pony Express. PONY UP YA'LL.
Pick: SMU -7.5
Colorado State (-7.5, O/U 58.5) @ New Mexico, FRIDAY 10:15 PM ESPN2: 
If you want to beat Colorado State you are going to want to throw the ball through the air. The Rams currently rank 106th in Passing S&P+ and allowed Nevada to put up a 42 spot last weekend on 53% passing success rate.
New Mexico can't throw the ball. They rank 92nd in passing S&P+ along with 109th in passing success rate. Their bread and butter has been running, but the success has come to a halt over this year, running for over a 100-yards less a game. Their OL is struggling, ranking 75th in adjusted line yards. CSU's strength on defense is their 36th ranked run defense and Bob Davies pistol option offense won't be anything new to the Rams defenders.
Colorado State put up 49 on the Lobos last year and will be looking to do so again this year. Their 43rd ranked passing offense, which is 6th in success rate, is led by Nick Stevens and Michael Gallup. Over their past three games, they've ranked in the 84% percentile on offense. I don't see them putting up less than 35, which will be more than enough to cover.
Pick: Colorado State -7.5
Official #JackieGambling Picks Of The WEEK:
Overall: 36-22, 62.06%
Last Week: 8-1
Notre Dame -3
UConn +6
Colorado State -7.5
SMU -7.5
FAU -3.5
FSU -7.5
UCF -7