BARSTOOL COLLEGE FOOTBALL ROUNDUP - WEEK 11
Going to change it up a bit this week in terms of format. For the past 10 weeks, I have tried to put every significant moment in every roundup, but my definition of significant may be different from yours. I may think Western Kentucky's mascot Big Red is a must see moment where most people don't care about moments from the weekend outside of their personal team and a few other marquee games. I'm going to make an audible to a new look. We'll start with the marquee games of the weekend (aka Ain't Come To Play School Games) then go to awards, power 5 conferences, and then G5 games. You can now command/control-F any school/game you are looking for. Hopefully, this will add a little organization and take away the cluster.
Ain't Come To Play School Games:
Ohio State 48 – Michigan State 3:
This is how you leave a game, folks:
Not bad, OSU student section. Not bad at all:
Tough day for Sparty:
Auburn 40 – Georgia 17: 
Miami 41 – Notre Dame 8:
Talk about an intro:
Life comes at you FAST!
Alabama 27 – Mississippi State 24:
Take a bow, Jalen Hurts:
Oklahoma 38 – TCU 20: 
Awards
#FootballGuy Of The Week:
GIVE. ME. TEN.
Hardo Of The Week: 
Quinn Nordin, who Jim Harbaugh had a sleepover with to convince him to commit to Michigan, decided to have a shouting match mid-game with his coach after missing two field goals:
Fan Of The Week:
I imagine that is what hell sounds like.
Honorable mention:
Mascot Of The Week:
Big Red FOREVER. I want that crappy costume to be around in 2050. Preserve it. I don't care what it takes!
Honorable mention to the Coast Guard Academy's shredded mascot #FitFAM:
Stat Of The Week:
Tweet Of The Week:
Jabroni Of The Week:
Who remembers when the Civil ConFLiCT was the opposite of civil? Now there are gifts being exchanged before the game? Millenials are ruining this sport.
Photo Of The Week: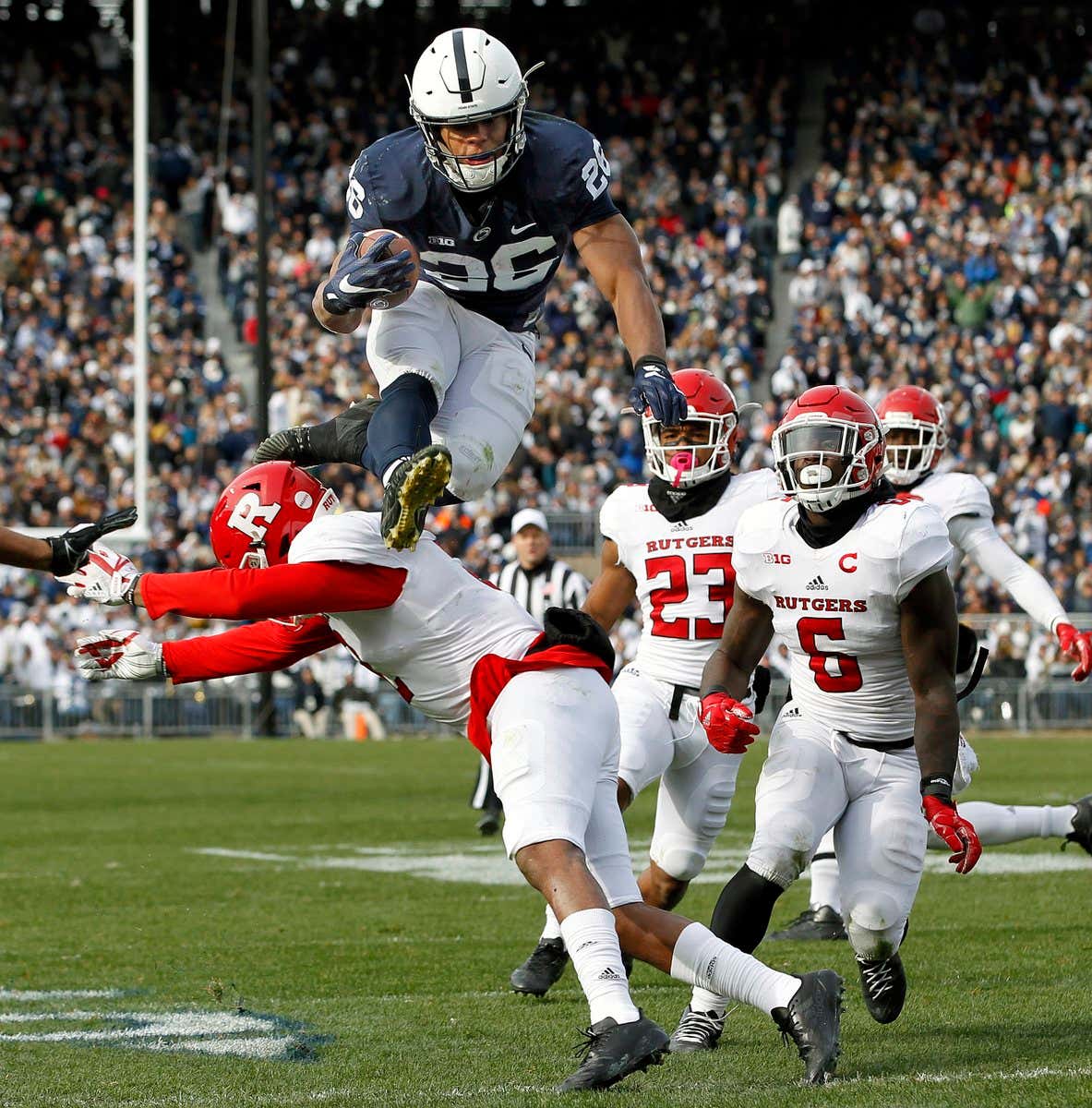 The "Act Like You've Been There Before" Award:
You know better than to talk about the turnover chain like that!
Shoot Your Shot Of The Week:
Quote Of The Week:
SEC:
South Carolina 28 – Florida 20: 
I'm almost positive Florida is cursed.
Ole Miss 50 – Louisiana-Lafayette 22:
Missouri 50 – Tennessee 17:
RIP BUTCH!
LSU 33 – Arkansas 10: 
Bret Bielema is going through a point in his life that most men never get close to:
ACC:
Clemson 31 – Florida State 14:
James Blackman may die by the end of this season:
NC State 17 – Boston College 14:
Give me MORE BRADLEY CHUBB!
Army 21 – Duke 16: 
Did you bet against Army on Veterans Day? Oh good, you aren't on an idiot. I guess I'm the only idiot.
Louisville 38 – Virginia 21:
Oh my:
Big 12:
Oklahoma State 49 – Iowa State 42:
THIS IS AMES!
BIG 12 REFS STRIKE AGAIN!
Texas Tech 38 – Baylor 24:
If no one shows up for a game in Jerry World, did the game actually happen?
West Virginia 28 – Kansas State 23: 
Take Kansas State and put them in the Big Ten, because that's where they belong:
Will Grier…GUN SLINGER:
Texas 42 – Kansas 27:
Big 10:
Wisconsin 38 – Iowa 14:
Penn State 35 – Rutgers 6: 
It was happening. It really was. Until it wasn't.
Michigan 35 – Maryland 10:
Minnesota 54 – Nebraska 21:
Bob Diaco? Actually BUTT!
Indiana 24 – Illinois 14:
Northwestern 23 – Purdue 13: 
Pac-12:
Stanford 30 – Washington 22:
Washington State 33 – Utah 25:
Talk about supporting the troops:
Arizona 49 – Oregon State 28: 
G5:
UCF 49 – UConn 24: 
Mac Loudermilk STOLE the Civil ConFLiCT game:
Florida Atlantic 48 – Louisiana Tech 23:
UAB 24 – UTSA 19: 
Prayers are appreciated in this time of need!
Boise State 59 – Colorado State 52: