Top 10 Worst Bad Beats From Week 11 Of College Football
I've always had a hard time defining what a "bad beat" is. The term, which has been popularized by the GOAT Scott Van Pelt, gets thrown around left and right on social media. The common use of the term has left a lot of non-gamblers confused by what a true bad beat is. For me, a bad beat is a sudden change of fortune in a sporting event that affects the common gambling outcome (over/under, team total, 1st/2nd half bet, spread, total, straight) which leaves one side feeling awful and the other feeling luckier than Frane Selak. A bad beat can also be referred to as a "moose."
In visual form, this is the best way I've seen to describe a bad beat:
Here are the top 10 bad beats from this weekend of college football.
(The odds listed below may be different from the odds you saw at your personal sportsbook. All bad beats did exist at one point at a major sportsbook in Vegas and/or online throughout the last week. I typically find line movement history at Sportsbook Review.)
10. Fresno State/Hawaii Over 52.5:
In a game that was delayed by lightning, the score stood 31-21 after an interception returned for a touchdown by Hawaii with 13 minutes left in the fourth quarter. The next thirteen minutes included a missed FG, an interception by Fresno State inside Hawaii's territory, and an interception by Hawaii on Fresno State's 5-yard line! Moooooosssseee!
9. West Virginia/Kansas State Over 58.5: 
After seeing 48 points in the first half, the second half drive chart looked like this:
If that wasn't bad enough, the over was this close:
With the two following plays in this formation:
The worst formation in football when you are looking for the over to hit.
8. Ohio State/Michigan State Over 56.5:
There was just under 25 minutes to play in the game when the scoreboard read Ohio State 45 – Michigan State 3. Over bettors needed just 9 points. Instead, those bettors unwrapped their present to find: punt, field goal, interception, interception, punt, punt, downs, end of game. Talk about getting a moose for Christmas!
7. TCU/Oklahoma Over 63.5
If you had the over in this game, I completely understand if you don't want Baker Mayfield to win the Heisman. Oklahoma scored a grand total of zero points in the second half after putting up 38 in the first. Look at this gross second half drive chart: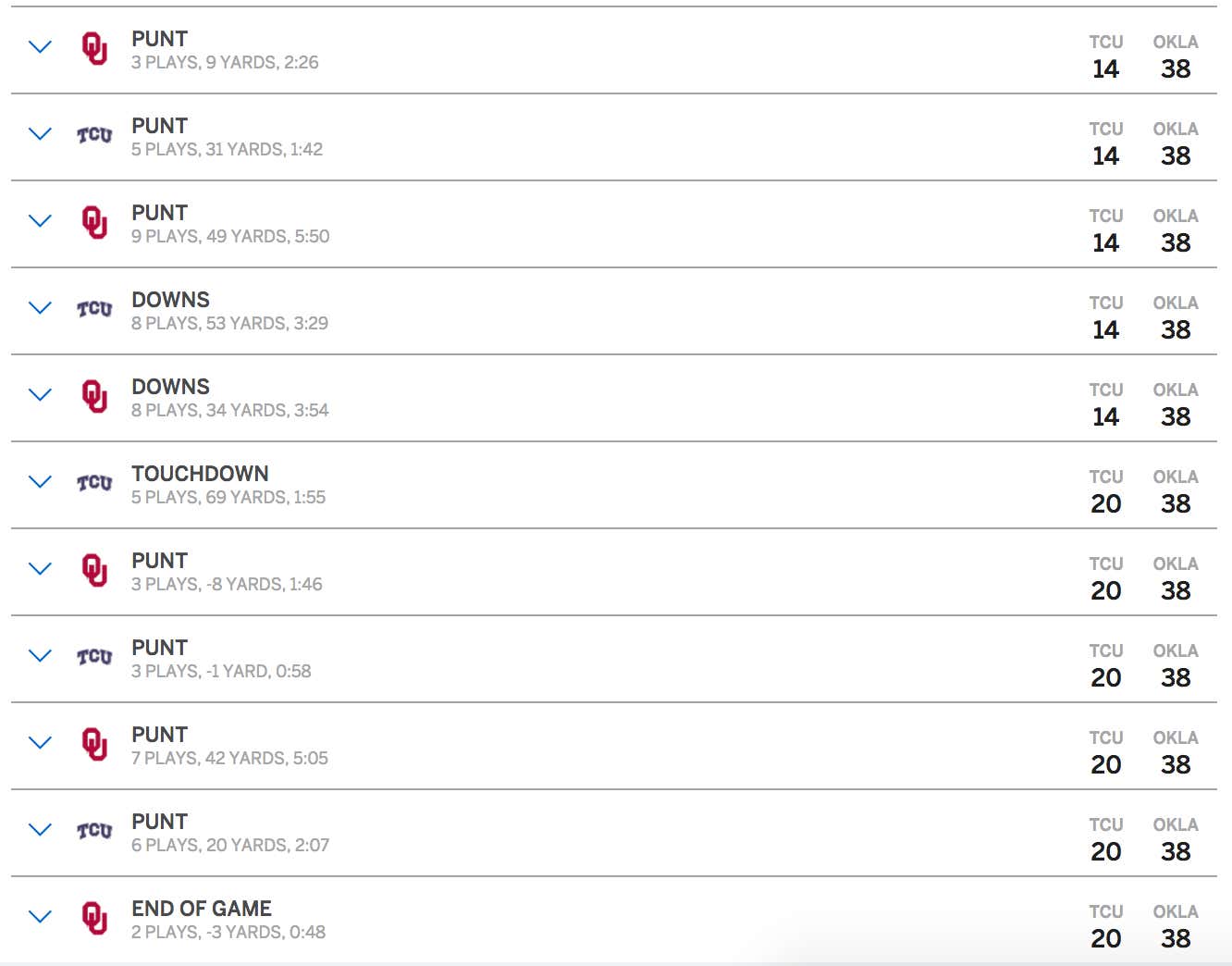 Ew.
6. USC/Colorado Over 63: 
There were 6 minutes left in the fourth when Steven Montez threw an interception at his own 26. All that was needed to put the game over was 2 points, but USC went on to turn the ball over on downs.
Colorado responded with a 12-play, 61-yard drive to put them on USC's 12 on 2nd-and-10:
The next play was a nine-yard gain only to see a fourth-and-one play fail. Under hit.
5. Missouri/Tennessee Over 31.5 2nd Half:
After a touchdown with 13:21 left in the fourth, Missouri & Tennessee scored a total of 26 points in the second half. Only 6 points needed to be scored to hit the second half over. After two punts, Tennessee drove down the field to disappoint their fans one last time in the Butch Jones era by fumbling it on 1st-and-10. Next thing Vol Nation knew, Mizzou's backup QB was running all over their defense:
Wait, he was out? Where? When? TO THE REPLAY WE GO!
HE WASN'T OUT!!! REVIEW THAT PLAY!!!
The next two plays were knees for Missouri. Leaving second-half bettors with a rough, rough loss.
4. Navy -4.5:
2nd-and-goal from SMU's 6 with under a minute to go. A touchdown wins it:
NOOOO! Don't do that! NO!! Damn Midshipmen always listening to orders! SCORE THE TOUCHDOWN!
3. Colorado State +6.5: 
28-3, 35-10, 52-38. These were all leads that Colorado State had at some point on Saturday. Thanks to an onside kick:
And a lucky overtime:
Boise State pulled off the unbelievable cover.
2. FAU/Louisiana Tech Under 68.5:
On 4th-and-3 from Louisiana Tech's 3-yard line, Lane Kiffin had the opportunity to keep the total under by trotting out his field goal unit like a rational coach. Lane Kiffin isn't a rational coach, though. He trotted his offense out there and ran Gregory Howell Jr. up the middle for a touchdown, hitting the over.
Lane Kiffin STRIKES AGAIN!
1. Florida State +16.5/Under 44.5:
When Kelly Bryant fumbled the ball with 6 minutes left in the fourth, FSU was suddenly in Clemson's territory down just three points. This was the next play for Florida State:
Then this happened:
No big deal, right? Still covering by 6.5 points!
Florida State gained just one yard in the next four plays before turning the ball over on downs. Whatever! Clemson was just going to run the clock out n…oh no:
Amazing. No way to even know if he crossed the goal line. Refs just put their hands up because they wanted to hear the roar of the stadium one more time.
Absolutely BRUTAL combination of the total and spread being decided on the same play. Very rare.
Until next week degen nation, continue to keep fighting off every MOOSE in sight!
Tweet any bad beats you have this upcoming weekend to @JackMacCFB