Texas A&M Chancellor Presents Jimbo Fisher With A Dateless National Championship Plaque
The endless world of college football memes has been given a new gift: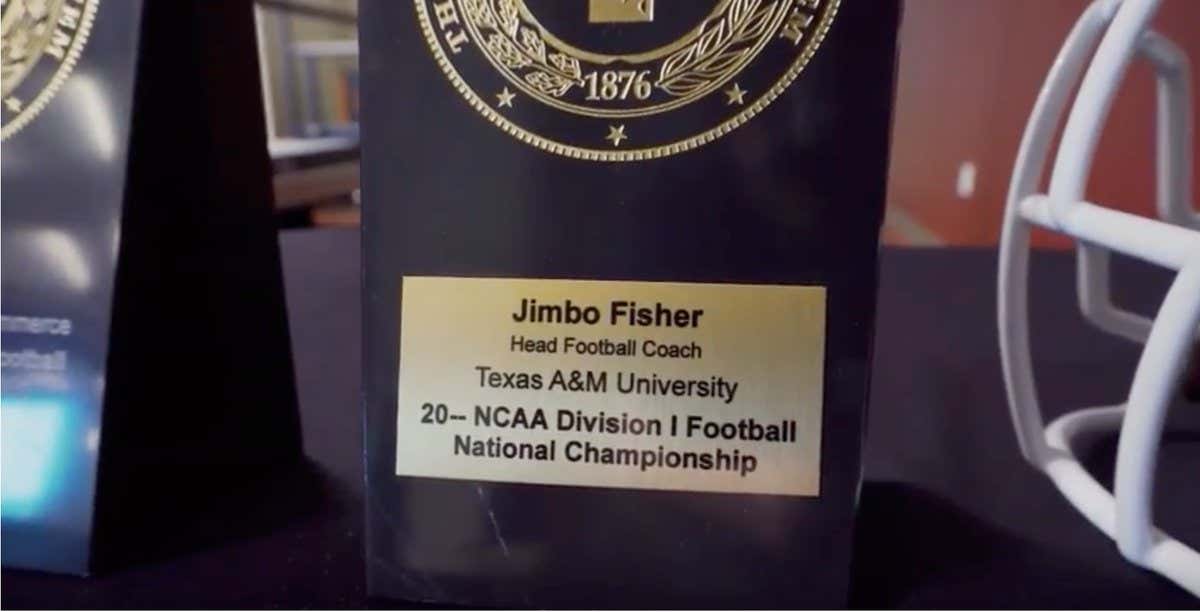 My Aggie Nation-Even before Jimbo Fisher was named the new head football coach at Texas A&M, A&M System Chancellor John Sharp held high expectations for the position.

In late November, when asked what he is looking for in a new head coach after a special meeting of the Texas A&M University System Board of Regents, Sharp did not mince words.

"Nothing serious. Just want to win a national championship," he said.
"Nothing serious" is the quote of quotes. This is peak Texas A&M. Color television wasn't invented the last time Texas A&M won a national championship, but don't worry, their fans SWEAR they are a sleeping giant.
Embarrassing. They do this to themselves. Texas fans don't even have to dig for ways to make fun of the Aggies.
If you were to rank the current cults left in America in 2018:
1. Scientology
2. Raelism
3. Texas A&M
Look at this video from a few months ago:
If I woke up from a coma, didn't know what college football was and saw that video I'd most likely guess this was a dictator of a small country returning home.
If that isn't enough for you, we can discuss the yell leaders:
Did you even notice that the second picture was photoshopped? No, you didn't, because every guy at Texas A&M looks the same.
Tell me this kid wouldn't start a cult:
Need me to zoom in more?
Charles Manson 2.0.
The memes are going to be better than ever this year. I can see it now. After a win against Northwestern State in week 1, there will be a new photoshopped plaque. The same goes for their inevitable victory over Louisiana Monroe.