Everybody Please Pay Some Respect To This Lynn University Student Who Submitted A Paper With "Error" Written 100+ Times And Was Caught By His Professor
The move every college student has considered, but never pulled the trigger on has been attempted: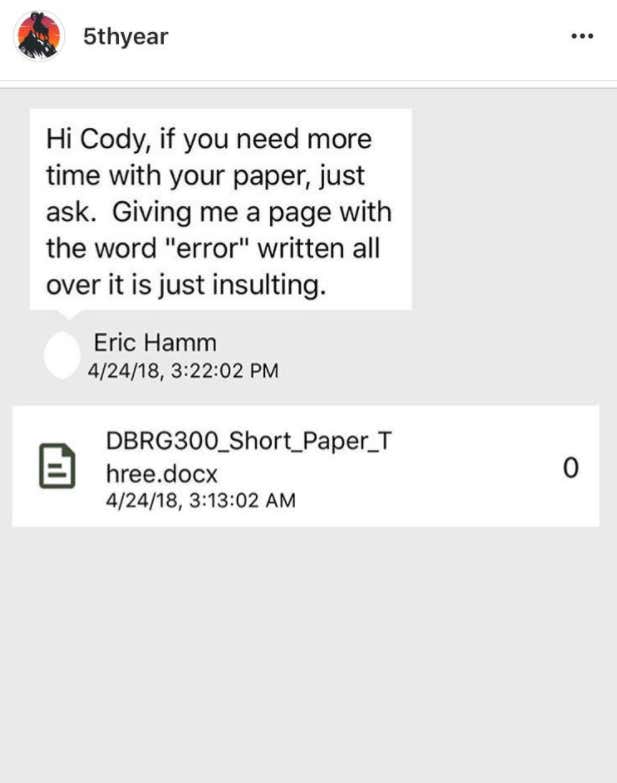 Cody, I don't know who you are, but I just wanted to let you know that I respect you. You did the unthinkable, a move that every college student has considered at 2 AM as they stare at a blank Word document with the paper due in 6 hours. Was the execution done as well as it could have been? No, definitely not. Having error written over and over and over again is lack of planning, but it's the effort that counts. As Teddy Roosevelt would say, I'm not the man in the arena, but a corrupted file that cannot be opened or one that is full of random numbers and letters would've been a better move. That's how I've always imagined doing this, but I never had the balls.
It appears that Cody attends Lynn University based on Eric (Richard) Hamm's location:
I don't know if this adds or takes away from the legend because Lynn University is a country club in Boca Raton, Florida that also functions as a university. I have a friend who is graduating cum laude from Lynn this year and he estimated that he has done about "20-30 hours of homework a semester" during his time at Lynn. I have never seen a school like Lynn in my entire life. It's a land of Louis Vuitton bags and 19-year-old princes from some random country you've never heard of that drive up to class in Bentley's. The dorms have housekeepers for their students. Boca Raton is truly one of the most bizarre places in the entire world. It's a melting pot of grandparents, college kids, and 35-year-old guys who can't let their college years go (cough, cough Lane Kiffin). You can go to a restaurant in Boca that closes at 7 because their clientele eats dinner at 4:30 and right next door there is a bar that will be attended by underaged college students. Polar opposites.
I'm not kidding about Lynn being a country club: