Anthony Joshua Will Have His Hands Full This Weekend
The biggest fight to be made in the heavyweight division (and arguably all of boxing) is still, by far, the unification matchup between Tyson Fury and Anthony Joshua to decide an Undisputed Heavyweight Champion of the World. I mention it briefly in my interview with AJ above, but I will say it again here: They could build a new stadium in England just for that fight and they would easily sell a quarter-million tickets for the event. 
And it will happen (the fight, not the new stadium).  And when it does, it'll be bigger than the royal wedding... So we can put that potential bout to the side on a pedestal where it belongs. 
I believe the next most intriguing fight that boxing fans can ask for in that same division is the matchup DAZN is giving us on Saturday… Anthony Joshua versus Oleksandr Usyk for Joshua's WBO, IBF, and WBA heavyweight titles. 
What makes it so intriguing?
Well, first off you have the gent with most of the heavyweight straps fighting for the first time in 287 days since scoring a Ninth Round knockout against a cagey Bulgarian veteran in Kubrat Pulev, AND you have him fighting before an expected hometown crowd of over 60,000 drunken Englishmen for the first boxing event ever at Tottenham Hotspur Stadium in London… That UK location also means the undercard starts here at 1 in the afternoon with the Main Event going off sometime after 5 PM EST.
Secondly, you have a meeting of two former Olympic gold medalists… Oleksandr Usyk won the heavyweight gold medal for Ukraine in the 2012 London Olympics while Joshua took super-heavyweight gold in those same games.
Thirdly, we are getting to see a fighter in Oleksandr Usyk try to do something that has only been done one time before: Step up as a unified champion in the cruiserweight division and convincingly win belts as a heavy.  The only man to successfully do it before he was Evander Holyfield. 
And this fight can go either way… Usyk at +220 on the Barstool Sportsbook is a live underdog that should be taken very seriously.  Especially since he looked like a fucking psychopath dressed up as a Ukrainian Joker at the presser on Thursday…
Simon Dael. Shutterstock Images.
Then there are multiple smaller storylines that make it intriguing…
Southpaw vs Orthodox. 
Giphy Images.
Black vs white. 
Giphy Images.
David vs Goliath. 
also..
Giphy Images.
It's got a little bit of everything, and I'm so fucking excited about it, I am throwing a watch party in NYC…
(DAY DRINKING FOR WORK!)
The undercard is solid, but there isn't much to talk about by way of predictions because all of the fighters I know are rightfully the heavy favorites, so my picks are all chalk. 
The most interesting on the card for me is to see how Callum Smith fares stepping up to light-heavyweight from super-middle.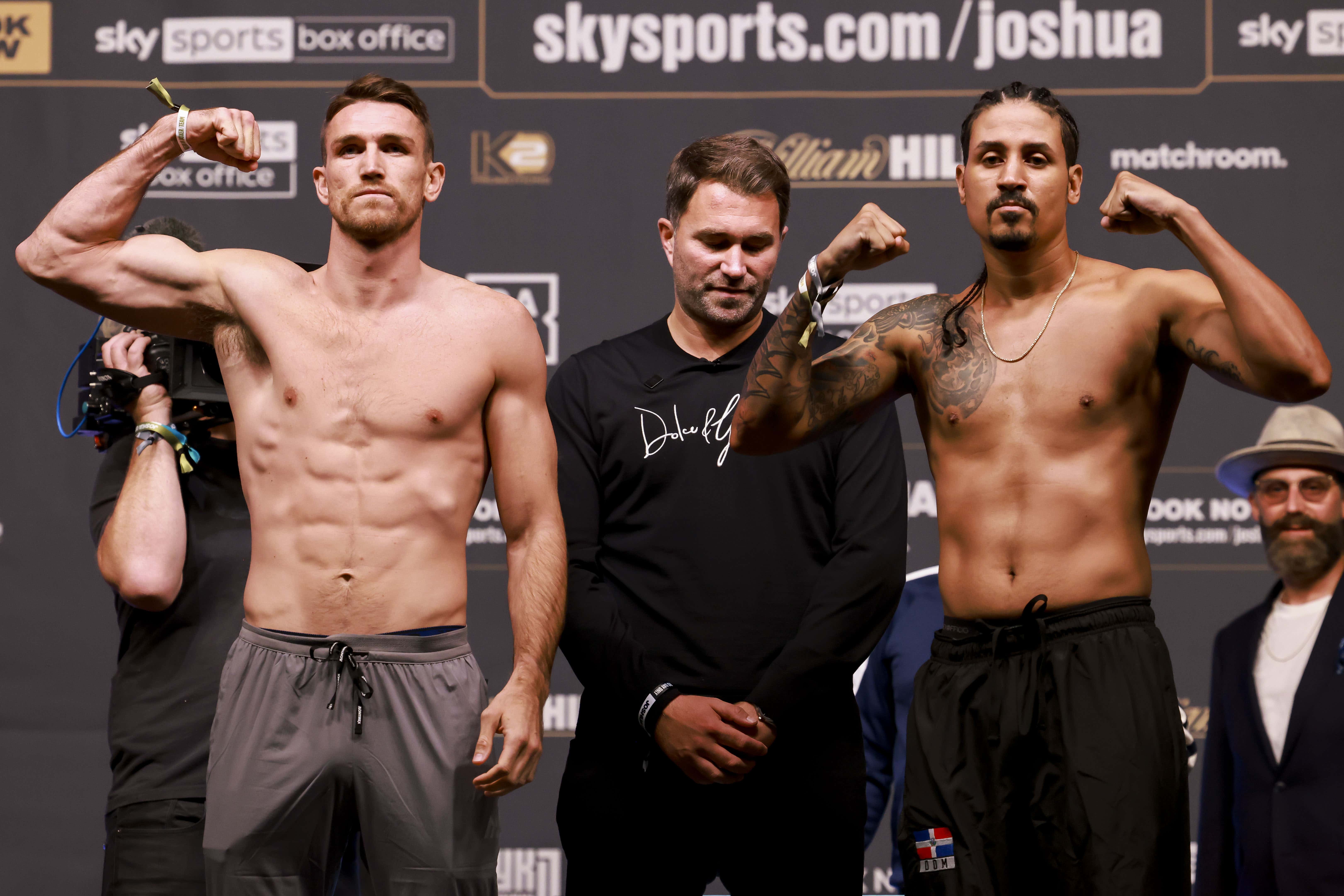 Simon Dael. Shutterstock Images.
Callum was always a tall fighter for his weight, so the jump looks like it suits him so far physically.
Apparently, I am contractually obligated to mention my dear friend Canelo Alvarez in every blog I write, so I will say that you may remember Callum as the tall Brit whose left bicep Alvarez systematically DESTROYED on his way to a unanimous decision over Smith in December of 2020. 
Not a ton to reminisce about in that fight because it was incredibly one-sided, but at one point Canelo landed a clean jab on Callum then threw a "Hey look over here!" right hand into the air as a distraction before splitting Smith's defense with a left uppercut.
Take a look at that here…
Canelo also beat up on Smith's older brother Liam in 2016, and the third of the four boxing Smith brothers, Stephen "Swifty" Smith, recently retired from boxing… Presumably to avoid letting Alvarez "hit for the cycle" within the Smith family. 
But back to this weekend's card, and I will get right to it with my predictions for Saturday's Main Event.
Oleksandr Usyk has all the tools to do well as a heavyweight IF the top of the division wasn't the land of giants we have right now. 
Usyk is arguably a better boxer than Joshua, but AJ learned a valuable lesson from his loss against a smaller Ruiz and I think he's become a smarter fighter since then. 
I don't know how Anthony will do against either Deontay or Tyson, but I do think he's got the smaller guys in the division figured out… And no matter what the Tale Of The Tape may say, Usyk is considerably smaller than Joshua…
Simon Dael. Shutterstock Images.
Joshua does not have the footwork or fluidity of Usyk, but if he controls the range and keeps Usyk at bay with that long jab, then we will get into a situation where AJ can apply pressure whenever he sees fit, while Oleksandr will need to take chances. 
So often I watch fights where one corner is clearly behind on all cards late in the bout, but the potential loser still doesn't have either the smarts, the courage, or enough gas left in the tank to come out swinging. 
Usyk is not like that… If this fight goes the way I think, then 7 or 8 rounds in Oleksandr will realize he would never win a close decision in England and therefore will have to try and get inside to land some combinations, which could prove costly for him if AJ simply lands that straight right hand.
Therefore, I am going to place 2 bets on Saturday… Joshua in a decision at +250 and Joshua to win in Rounds 7-9 at +400.
Enjoy the fights, everyone… Tune into DAZN starting at 1 PM EST, or stop on into Legend's if you're in town.
Take a report.
-Large