Fists vs Fury Part 3 w/ Tyson Interview
BIG night Saturday for boxing fans... And by "BIG," I mean physically.
Fury vs Wilder III boasts an all-heavyweight undercard with some of the largest bodies in professional boxing today.
The preliminary bout features a super middleweight showdown with heavy-hitting Edgar Berlanga (17-0 and started his career with 16 consecutive first-round knockouts) facing Marcelo Esteban Coceres (30-20-1), but all four main card bouts take place in the heavyweight division.  And most of those fights include some very live dogs.
(Because that hot dog seems live.)
As opposed to this one…
The only glaring mismatch of the evening involves the guy who Tyson Fury told me was "the future of heavyweight boxing" and possibly his heir apparent- Jared "Big Baby" Anderson (9-0, 9 KO).
Jared is a 21-year-old kid with all the tools to climb the ranks quickly, and tomorrow's opponent should not provide much of a hurdle… Vladimir Tereshkin (22-0-1, 12 KO) is a 14-year veteran who has fought NOBODY and is coming off a 2-year layoff.
We don't see heavies go to the body as much as they should… Jared is an exception.  Watch him set up the jab and destroy this poor bastard's mid-section…
I don't even feel Tereshkin has the power for a "puncher's chance" so I see Anderson putting this one to bed early… Maybe Vladimir has enough in the tank to take the over 3.5 Rounds at +105, but that's as much credit as I am willing to give him.
Next up, we can talk about a compelling rematch… Robert "The Nordic Nightmare" Helenius (30-3, 19 KO) vs Adam "Babyface" Kownacki (20-1, 15 KO) Part II.
(This was from Part 1, but shows the height difference better than any Tale of the Tape.)
I was at the first fight in March of 2020 at the Barclays Center in Brooklyn and neither fighter has fought since (although 6'7" Helenius has recently logged some considerable time as a sparring partner for Deontay in front of tonight's Main).
The first fight STUNNED that Brooklyn crowd which consisted of 17,000 drunk Polish people plus me.  Kownacki was born in Poland but his family emigrated to Greenpoint, Brooklyn when he was 7-years-old, and Adam had turned into a hometown hero on 2 levels for Brooklyn's huge Polish community.
Helenius, on the other hand, is a gigantic Swede who primarily fought in Germany and Finland before making the trek to Brooklyn last year.  And this weekend in Vegas, The Nordic Nightmare is one of those live dogs I referred to earlier because I see this fight going almost exactly the way the first matchup went.
Kownacki only knows one thing, and that is to constantly move forward.  And I think Helenius will be more poised than he was when he weathered Adam's early storm and then made quick work out of Babyface in that first 4th round KO.  So I will roll with Robert Helenius at +190.
The next matchup is between two prospects that haven't impressed me thus far… Frank Sanchez (18-0, 13 KO) vs. Efe Ajagba (15-0, 12 KO).
Sanchez has a small advantage because he is a technical Cuban fighter who has fought on big stages before, whereas Ajagba has been knocked down by inferior competition in the past.  So I will take the favorite here, which is Sanchez at -182.  A win helps either fighter enter the conversation as a potential contender for a belt, but I could see this one being somewhat of a stinker.
And now the Main Event…
It's been 595 days since these 2 combatants last met in the ring.
For those who need a refresher, they first squared off in late December 2018 and fought to a DRAW in a fight Fury out-landed Wilder 9 of the 12 rounds BUT was Tyson was also dropped twice, including that Undertaker-Esque rise off the canvas after the second knockdown and in the final round. 
Giphy Images.
In February 2020, the two squared off again and Fury beat Wilder in a seventh-round stoppage after Wilder's corner threw in the towel.
This brings us to Saturday night in Vegas, and the story remains the same: Forget Fury… Deontay Wilder is widely considered one of the hardest punchers in heavyweight history.  I have him firmly in the Top 10 behind names like Joe Louis, Sonny Liston, Ernie Shavers, Foreman, Tyson, Marciano, and Lennox Lewis.
And with that one skill-set in his bag, Deontay has only one path to victory.  If he can land a clean right hand, he can knock any man out.
(That's versus Dominic Breazeale.)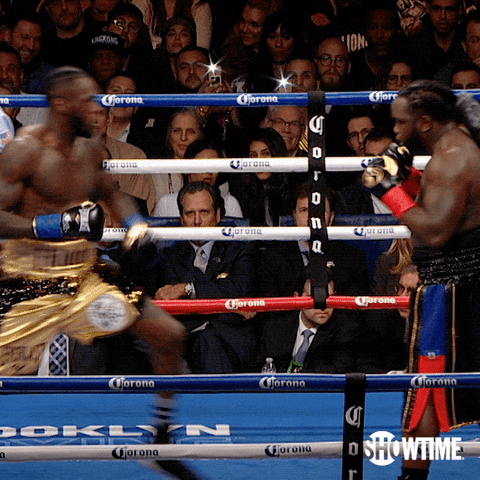 Giphy Images.
(And here he is knocking out what looks to be my former radio co-host, Willie Colon.)
But he can also miss big…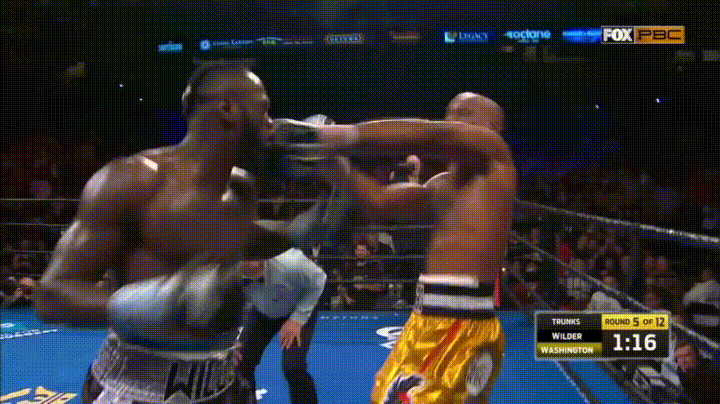 And Fury will punish him if he's sloppy.
Fury was herky-jerky in the first fight, leaving himself open to Deontay's occasional bomb.  In the second fight, Tyson came right at Wilder, and Deontay couldn't do anything against him in the clinch or at close range.
With Tyson coming in even heavier than he was for part 2, I can't see him changing that gameplay this weekend, so unless Wilder's new trainer has something up his sleeve, I like Fury in a romp.
Fury under 7.5 rounds at -106 on the Barstool Sportsbook.
Enjoy the fights and take a report.
-Large
---
One last thing.
If you are out and about in Dallas tomorrow, a handful of Barstool people will be watching the early games at the Hooters of West End…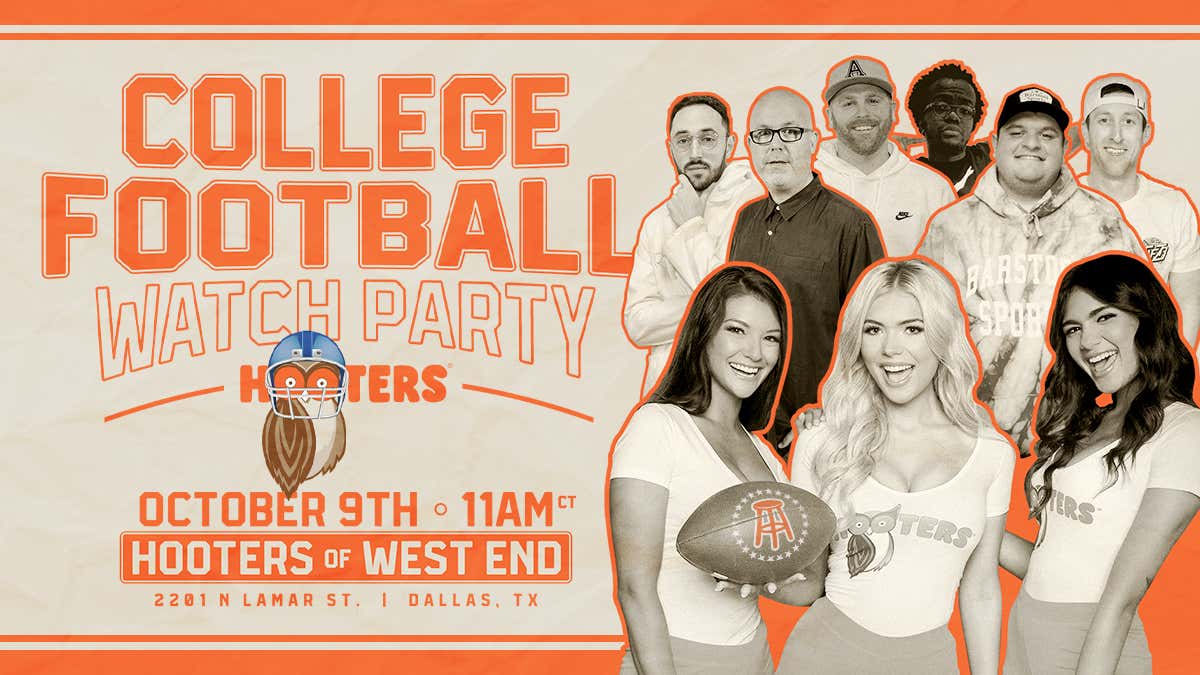 I will be joined by a rag-tag group of animals including Zah, Cons, Balls, Mush, and Pat, and since none of those guys will go to the hip, the first round is on me.
Let's fucking go…
TAR
-L