Canelo Alvarez Has Heavy Hands and A Filthy Mouth
Hey, fight fans...
I've met a ton of celebs thanks to this job, but I only consider a few my friends… And I am fairly certain Canelo is one of them.  
Barstool is not officially "covering" the fight… This means I am not getting paid to be there… But his camp invited me out, so I am on a plane to Vegas as we speak because, on Saturday night, Canelo Alvarez is fighting for all the belts in the super-middleweight division against defending IBF champ, Caleb Plant… It will be the first time in the history of the division that we will see an undisputed super-middleweight champion.
It's a fairly simple fight to break down… Canelo is a 31-year-old four-division world champion.  His record is 56-1-2 (38 KOs) and he is 5'9" (maybe).
Caleb Plant is a 29-year-old who has held the IBF super-middleweight title since 2019.  He has a record of 21-0 (12 KOs) and he is a solid 6'1".
Both fighters are Orthodox, meaning they do not eat pork and fight right-handed…
There will be a purse of $50 million split between the two, with Alvarez receiving $40 million and Plant earning $10 million, and since Plant is the lesser know to the casual boxing fan, I will tell you he is a quick fighter who has a very good left hand.
Giphy Images.
His right hand is not terrible, but this isn't a Deontay Wilder-esque situation where the fight could stop with one straight power hand down Main Street.
Giphy Images.
So Caleb is younger, arguably quicker, definitely taller, and has a great left jab and left hook.
He'll set you up with the right…
(made you flinch)
But make you pay with his left…
However, Canelo has everything else, so he is the overwhelming favorite on the Barstool Sportsbook at -1100.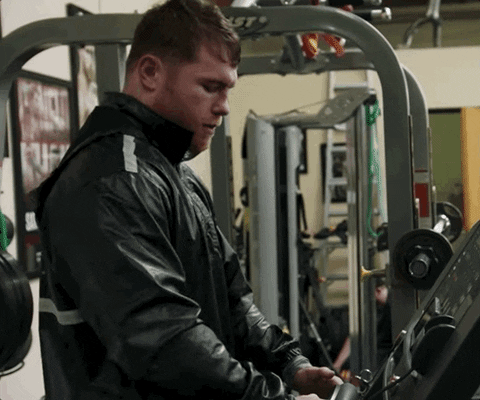 Giphy Images.
I think Plant has the footwork and hand speed to drag this fight the distance while winning a couple of rounds early.
But Caleb fights best when he is in control, and he doesn't have the experience or skill-set to control Alvarez whose expert-level defense and tree-trunk neck will allow him to move forward on Plant all night while punishing the lower half of his body.
(wild GIF)
I found some value in the decision, so I will take Canelo on points and then hit the DRAW, just in case.
This is all going down Saturday night at the MGM Grand Garden Arena in Las Vegas starting at 9 PM EST on Showtime PPV… But since there is a STACKED card at the Garden that night for UFC, I assume Showtime will know enough to push the main until after Usman vs Covington Part 2.
Or else they will be spanked in the ratings…
On one other note, I am doing a segment on the DAZN Boxing Show Saturday, LIVE from Las Vegas… It Will air at @ 7 EST.
Enjoy the fights, and take a report.
-Large
---