JoJo Diaz Thinks Ryan Garcia Is A Pussy
The lightweight division in boxing has quickly become the most intriguing weight class the sport has to offer.
You have Vasiliy Lomachenko (15-2, 11 KOs) stalking around... Chalking up wins and re-establishing himself as a force to be reckoned with since losing to Teofimo Lopez in a HUGE upset last year.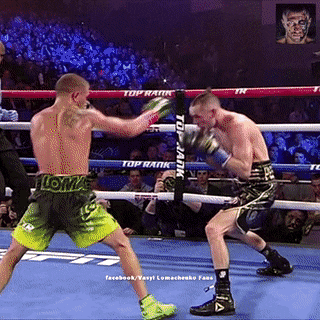 (this is an old GIF, but I love watching Lomachenko simply pivot and punch)
Loma is fighting Richard Commey (30-3, 27 KOs) next week in MSG with no belts on the line for only the second time in his career.
Then we have Teofimo (16-1, 12 KOs) who is licking fresh wounds after being on the receiving end of another upset last week, losing all his belts to perennial underdog George Kambosos Jr (20-0, 10 KOs)… 
Al Bello. Getty Images.
Teo will be back, but every lightweight strap (EXCEPT for that elusive WBC belt) now rests comfortably around George's waist right, and it couldn't have happened to a nicer guy…
Al Bello. Getty Images.
Meanwhile, Tank Davis (25-0, 24 KOs) is doing his best Canelo impression by fighting in three weight classes in under a year's time… And he is a considerable favorite defending his WBA (Regular) lightweight title this Sunday night vs Isaac Cruz (22-1-1, 15 KOs).
Giphy Images.
Ryan Garcia (21-0, 18 KOs) is still dancing the line between soap-star and pro-boxer as he is promoting a men's beauty care line while working on his chickens and his mentals.
Giphy Images.
("Ladies!… Ladies!… Let's settle this in the ring.")
And Devin Haney (26-0, 15 KOs) will try to stay elusive while defending that aforementioned elusive WBC strap on Saturday night in Las Vegas.
(I used the word "elusive" now 3 times in this blog… Meaning that word is not very elusive… And that's 4.)
And then there's JoJo Diaz (32-1-1, 15 KOs).
Sye Williams/Golden Boy. Getty Images.
Joseph "JoJo" Pedroza Diaz Jr is looking to play spoiler in the division versus Devin Haney this weekend, and I sat down with him last week (before the Kambosos win) to talk about his chances.
Devin is arguably a better technical boxer and has a size advantage, BUT JoJo still looks like a live dog on the Barstool Sportsbook at (+475)…
Diaz was extremely forthcoming about his feelings concerning his new division… This will be only his second fight since stepping up from Super-Featherweight, where he was the IBF champ… And in the interview I attached above, JoJo is brutally honest about his opinions on Ryan Garcia, in particular…
Not a ton of gray area there.
Giphy Images.
("Ladies!… Ladies!… JoJo Diaz just called me a pussy.")
Give it a watch and then tune into DAZN this Saturday night to watch Haney vs Diaz with a stacked undercard starting at 8 PM EST.
Enjoy the fights and take a report.
-Large