Andy Ruiz is Looking To Shake Up The Heavyweight Division Again
Afternoon, fight fans...
(Shameless)
With Joshua out of the way (for now) and Deontay making his way back to the ring, the heavyweight division of boxing has the potential of being a LOT more interesting in 2023… And Andy Ruiz is ECSTATIC to still be in the mix.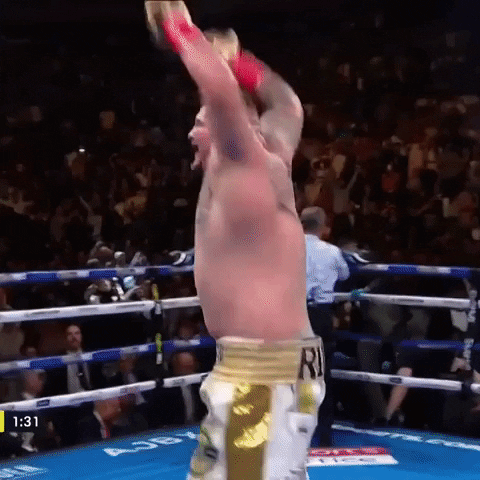 Giphy Images.
At the top of the division, if Fury comes out of his so-called "retirement" to fight Usyk for all the belts, we are faced with 2 possible conclusions:
1) Usyk wins and then takes on all comers because that is what crazy Ukranian guys do.
Giphy Images.
2) Fury wins (and he should) and then cherry-picks opponents until he decides to walk away again.
Giphy Images.
Conversely, if Fury does walk away, he'll have to relinquish his final belt, and you'll still have a game Usyk fighting a couple of times a year AND a strap that's up for grabs.
(aggressive grab)
Either way, Ruiz will probably be on the shortlist of contenders IF he can beat a Cuban MONSTER named King Kong Ortiz this Sunday… Ortiz has been around for a while (he's 43), but only has 2 losses on his record.  Both of those versus Deontay Wilder.
Giphy Images.
We sat down with Andy 2 weeks ago (right BEFORE Joshua lost and had a mental breakdown in the ring) and it seems like he's on the right track for another title shot.
HOWEVER… Ortiz throws BOMBS, so I am tempted to pay $205 on the BarstoolSportsbook for a stoppage without picking a side.
Either King Kong lands one clean on Andy, or Ruiz takes him into deep water where the 43-year-old becomes too tired to swim.
The Main Card on FOX PPV (which also features Pitbull Cruz who recently lost to Tank Davis in a decision) starts at 9 PM EST, and again, on SUNDAY because of the holiday weekend.
Enjoy the fights and take a report.
-Large