Former Bama Star Ronnie Harrison Believes Nick Saban Is "Butt Hurt"
No family is without its issues, even one manufactured to perfection like Alabama football.
Over the weekend, Nick Saban was asked about players leaving college early to be drafted late in the NFL draft:
SOURCE-"If you're a third-round draft pick, and we had one here last year — I'm not going to say any names — goes and starts for his team, so he's making third-round money, which is not that great," Saban told reporters Saturday after the Crimson Tide's spring game. "He'd be the first guy taken at his position this year, probably, and make $15-18 million more. So, the agent makes out, the club makes out, and now they've got a guy that's going to play for that kind of money for three more years."
More and more underclassmen are declaring for the NFL Draft:
I partly agree with Nick Saban. There are some guys that declare that don't even get drafted. In some cases, it seems that one more year in college for these players would benefit them, but there are a lot of factors to consider. For example, some players will declare because they are looking at a potential academic suspension. Others declare because of financial issues (for both themselves and their family). In my opinion, we know both of those issues can be solved by the powers that be. A booster would be able to help a family if they are struggling paying bills for one more year and we all know the academic issues can be solved with a simple phone call. However, it is hard to tell a guy that he can't go and achieve his dream of making it in the NFL and to start cashing checks. That seemed to be the opinion of former Alabama safety Ronnie Harrison:
It appears that the unnamed player in the Nick Saban quote was Harrison. Just as Nick Saban made valid points, so did Ronnie. I do have one gripe with him, however. What the hell is going on with his random capitalizations?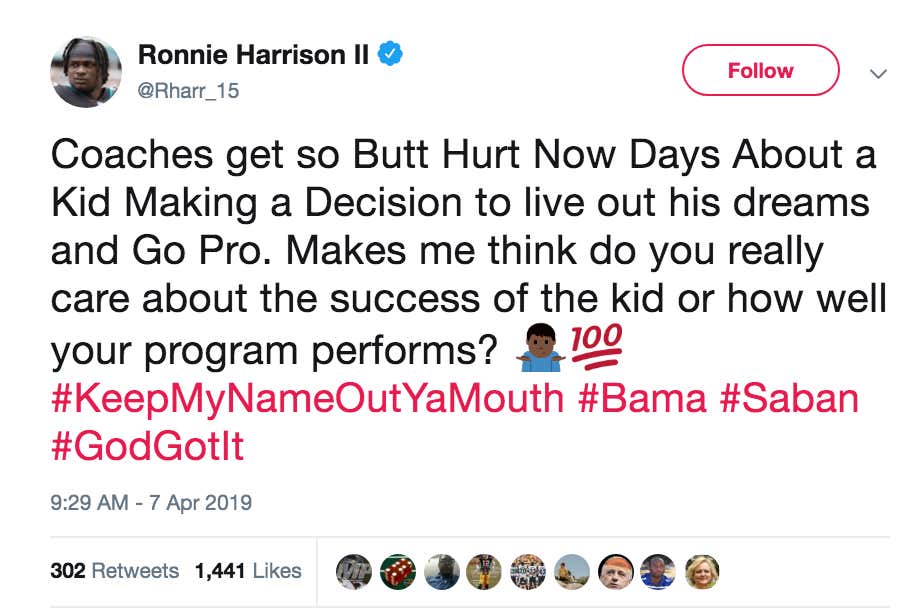 How does such a thing occur? After "Decision" it seemed that he was going back to lower case, but then capitalized the g and p in "Go Pro."
Ronnie asking if Saban "really cares about the success of the kid" is weird because Saban was saying that he was vastly underpaid coming out of school. That is a compliment of Harrison. Somebody pointed this out in the replies and Ronnie still didn't seem to get it:
Maybe an extra year in school would've benefited him? Who knows.